Howlin' Max Messer Combines Roots and Rock n' Roll to Cast a Musical Spell on Listeners
Posted On November 9, 2017
---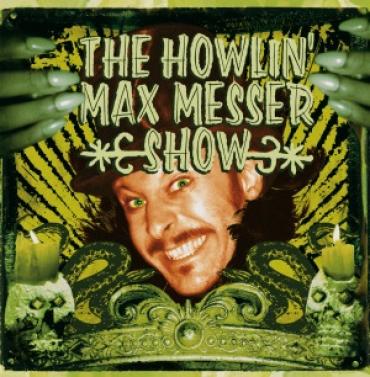 When I received the latest couple of releases from Germany's Off Label Records and read the album covers, one of the artist's names reminded me of the kind a '90s FM radio disk jockey might give himself, a name to yell out to listeners between spinning popular rock hits and breaking for advertisements. The Howlin' Max Messer Show is what this band calls itself. Truthfully, I didn't have a lot of hope that the album would be very good. But, man, was I wrong. Most of the songs are actually quite good. Messer and his band of mystical musicians don't just write a hell of a song; they play with skill and feeling. This is yet another perfect example of the wise, old saying about not being able to judge a book by its cover.
The Howlin' Max Messer Show's self-titled full-length is a weird, dark ride down an otherworldly musical highway of surreal rock n' roll, voodoo-billy fuzz and death-country. The journey begins with "These Tears," moves through strong standouts like "Stranger in Me," "Why I Cry," and "Make It Mine," and ends at "Wastelands." A fitting destination for such an album.
As far as their sound, The Howlin' Max Messer Show reminds me of a combination of The Slow Poisoner, Hank Ray, and Steve Train and His Bad Habits. Speaking of Steve Train, according to the liner notes on the album, he contributed backing vocals to track three, "Why I Cry."
All of the songs were recorded in the band's hometown of Augsburg, Germany at Poembeat Studios.
If you can appreciate music for weirdos that blurs the lines between genres, the Howlin' Max Messer Show's album may be something to explore.
The self-titled album by The Howlin' Max Messer Show is available now on CD and vinyl formats from Off Label Records.
Check out the video for The Howlin' Max Messer Show's "These Tears." It's more rock n' roll than roots, but it gives the listener an idea of what to expect from this artist.
---