Homespun Homecoming
Posted On November 15, 2016
---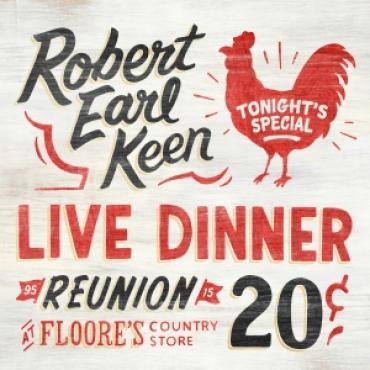 Others may lay claim to the title of Ambassador of Music from the Great State of Texas, but few others reflect that birthright more than Robert Earl Keen. For more than three decades, he's steadily ploughed the realms of authentic Americana, furthering a tradition shared by the likes of Townes Van Zandt, Lyle Lovett, Nanci Griffith, Joe Ely, Willie Nelson, Shawn Colvin and all the others that have made Lubbock and the southern hill country in particular such a wellspring of contemporary country music.
Keen may not boast as high a profile as some of his contemporaries as far as those that live beyond its borders are concerned, but his work is every bit as influential overall. The list of those who have covered his songs is certainly impressive, given the fact that many of the aforementioned artists have all dipped into his catalog at various times over the course of their individual careers. Consequently, with 18 albums behind him, it's apt that Keen take the time to celebrate his status, a feat he accomplishes on the two disc Live Dinner Reunion. Recorded in Floore's Country Store, the same landmark honkytonk that hosted a pair of his live recordings two decades back, its music comes across as both celebratory and satisfying as it did in the beginning. As evidenced by the sing-alongs; these songs are purely populist in their intent. Keeping company with his astute backing band and a spate of special guests — Lovett, Ely, Cory Morrow, Bruce Robison, Reckless Kelly's Cody Braun and emcee Cody Canada in particular — Keen delivers these a rousing, feel-good festivities by intermingling music and occasional anecdotes, all of which keep those party precepts intact.
Not surprisingly then, the majority of the tunes included herein are plucked from his back catalog. Most come across as rousing in every way, from the upbeat intents of "Shades of Gray" and the jaunty strains of "T For Texas" and "Ding Dong Daddy From Dumas," to the robust ramble of "Ninety Nine Years For One Dark Day," the steady strut of Keen classics like "The Road Goes Forever" and "Gringo Honeymoon," and the rowdy rocker "Amarilo Highway." Yet there are also some surprisingly gentle musings in the mix as well — "This Old Porch," "I'll Go On Downtown" and "Feelin' Good Again"," among them. A superb sampler of sorts, Live Dinner Reunion is both an apt primer for the uninitiated and a well timed refresher for all those who consider themselves rabid fans already.
---