He Said, She Said
Posted On October 2, 2016
---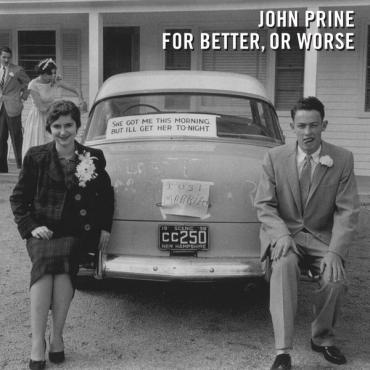 Even in younger days, John Prine's voice was never a birdlike trill, and a couple of bouts with cancer have left their scars, but, boy, does the Maywood Mailman sound like he has aged gracefully.
On the eve of his 70th birthday, For Better, Or Worse (out September 30 on Oh Boy! Records) returns to the male-female duet format, with a guy best known for his own writing reviving songs by others, with help from a couple generations of female artists who plainly bask in his company.
The spectre of Hank Williams (who never lived to see 30) seems to hover over this project, with three of his songs, one with his granddaughter Holly, highlighting the album. The best of these is the Luke the Drifter solo recitation, "Just Waitin'" that ends the album and could pass as one of Prine's own wry vignettes. But the real keeper here is the unlikely harmonizing with Alison Krauss on the classic waltz of "Falling in Love Again," hardly a country song, but disarmingly, intimately gorgeous. Iris DeMent returns for a couple, including the opening "Who's Gonna Take the Garbage Out," which updates the Loretta Lynn sassiness perfectly. As a placeholder until the next release of new Prine songs, this satisfies just fine.
---