Handsome Jack a Song-Powered Trio
Posted On October 17, 2018
---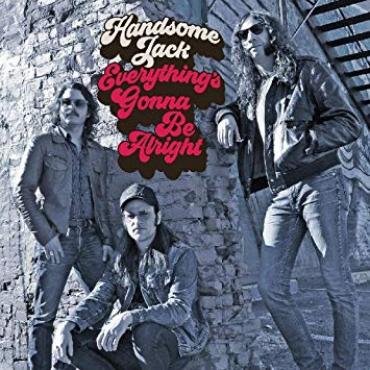 The term power trio can have connotations. You might think of 70s bands, like Cream or Mountain. Guys with long hair jamming out on songs, soloing over each other until the song no longer exists. Handsome Jack, however, is a power trio of guys with long hair, that respect the song. There's plenty of guitar and drums on Everything's Gonna Be Alright, but it's all rooted in keeping the groove going, rather than band members playing all over each other.
While Handsome Jack is a trio, they're reminiscent of the four-piece Creedence Clearwater Revival. Both bands share a similar swampiness—tremolo-charged guitars lazily floating over big beats. Handsome Jack is from upstate New York, but listening to them, you might first think somewhere in Louisiana. "Keep On," is probably the best example of this sound, although singer/guitarist Jamison Passuite has a much deeper, more gravelly voice than John Fogarty. On "Holding Out," Passuite channels Screamin' Jay Hawkins, beloved by Creedence, on a track that trundles along to a stoner rock groove courtesy of drummer Bennie Hayes.
The band also has some very nice moments of soul music, as performed by a rock band. "Baby Be Cool," given a big horn section and a female singer, could be a lost prom song. In Handsome Jack's hands, it's a swinging soul number stripped down to its essence (although the band can't resist tacking some horns of their own onto the end of the track). "Why Do I Love You the Way I Do" is also a lost soul classic, sounding like the band Looking Glass, Passuite's clean guitar carrying the track, with the trio's vocal harmonies filling in the gaps. And here, once again, the soul horns come in at the end of the song to sweeten the otherwise lean track.
Handsome Jack's versatility is impressive. Power trios tend to sound similar to each other because of the limits of the instrumentation. You have a bass player holding down the bottom and a guitarist filling in the empty space, usually with ringing strings and distortion. The drummer is keeping the beat and someone is singing and playing over it all. The form lends itself to a certain kind of generic, rock/blues sound. Handsome Jack, with their tight harmonies, and willingness to experiment with tone and beat, transcend the limitations, creating a surprisingly complete album. It rocks in a familiar way but by focusing on songs rather than jams, Handsome Jack have created a genuinely interesting album.
---