---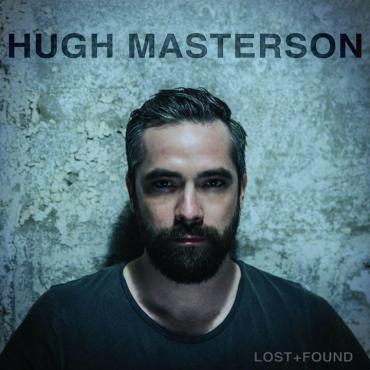 There's an episode of Mad Men in which Don Draper asserts that, "when a man walks into a room, he brings his whole life with him." Songwriters have always known this. On his new EP, Hugh Masterson isn't afraid to unpack the dichotomy of life. Appropriately titled Lost + Found, its 20 minutes are a cohesive, self-reflective journey from one end of the spectrum to the other: loneliness and redemption, love and loss, the atrophy of staying put and the freedom of letting go. While these themes are in no way new to country music, what makes Lost + Found a bold debut is what Masterson does with them. "Don't know why I came here/Don't know what I'm fightin' for…I'm somewhere in the middle of lost and found," he laments on the album's title track, playing with the notion that, so often in life, it is not the extremes that surprise us, but the in between. That when we're lost, we want nothing more to be found, but the instant we're found, we sometimes long to be lost again.
Masterson knows a thing or two about the in between. Halfway between his hometown and Nashville, a move to Milwaukee turned into the inspiration for Lost + Found. In a story made for a song, a broken heart brought him there and a terrifying mugging with a tire iron, (an incident that would later become the inspiration for the album's title track), provided him with the enough-is-enough push to finally try his hand at Nashville. Before that though, Masterson grew up in Butternut, Wisconsin. Far from the lights of Music City and the Nashville community he now calls home, Butternut is a piece of endangered Americana. At just 1.61 square miles and a population in the hundreds, it is small enough to be deemed a village instead of a town. In terms of geography, it is almost closer to Canada than the US. It's the kind of place that still hosts annual Pioneer Days and, instead of a destination, is perpetually on the way to somewhere else. As a Midwestern gal myself, my familiarity with places like these has been lifelong, as well as the knowledge that if you're going to survive any kind of an adolescence in a town like Butternut you learn pretty quickly to make your own fun. For Hugh, this came in the form of music. Some of his earliest influences were his piano playing grandmother and his uncle who, along with his band The Dairyland Aces, provided pre-game entertainment for a season at Wrigley Field. As anyone who has older siblings knows however, there's never any greater or cooler influence than an older brother. "My older brother took to the guitar and he pushed my parents to get my twin brother and I drums and a bass," says Masterson. "He taught us how to play and we had a little family band."
Adolescent ambitions later became a reality when Hugh and a few close friends formed a hometown band The Wildbirds, and later on their second incarnation, Hugh Bob & The Hustle-a mix of heartland country, rock influenced honky tonk and jangly, Flying Burrito Brothers rhythms. The band's new direction also marked a change in job description for Hugh; from not only guitar player, but guitar player, songwriter, and lead singer. "Our singer became my bass player and I became the songwriter, guitar player, and singer for the first time. It was something I always wanted to do but was too afraid of, I suppose."
With some songwriting under his belt and a warm welcome from the many like-minded musicians in Nashville fighting to keep traditional country alive in a modern context (Joshua Hedley, Margo Price), it wasn't long before the seeds for Lost + Found began to grow into an EP. As is often the case, once Masterson moved to Nashville, Hugh Bob & The Hustle found their new long distance relationship too difficult to coordinate, leaving him on his own to chart new solo territory.
The result is Lost + Found. Released June 2nd, the six song EP is gaining the attention of Nashville and beyond. As a Michigan native, I'm proud to say that it was recorded in its entirety right here in Benton Harbor, MI at Key Club Recording Company. Masterson enlisted not only the help of his former Hustle bandmates, but also Bill Skibbe (producer), Justin Glasco (mixing), and Hans DeKline (master) to achieve its ultimate sound: one part Midwest Americana to two parts Lower Broadway honky tonk. With a foot in each, Masterson achieves a unique and ear perking debut.
A standout destined for singlehood is the album's title track. Having endured more than the average amount of hardship to arrive at its lyrics helped. "The song 'Lost + Found' was the first song I ever started writing. I had been mugged in Milwaukee and my jaw was broken in two places," Masterson recalls. "I spent a lot of time in my house playing guitar and thinking after that. I started playing those chords and wrote down the first lyrics…I let that sit around for years until I started making this record." The finished product burns with a gritty, honky tonk intensity: "I got beat up just walking 'round town/hold my head up high still on the ground/I don't know why I came here/Don't know what I'm fightin' for/Somebody showed me the door/yeah, somebody let me go."
But as fast as he can sear through "Lost + Found" or the swaggering, Chuck Berry-like speed of the tongue-in-cheek "Bigger Man," Masterson can switch to the kind of heartfelt Americana that brings to mind the early days of country rock. The album's opener, "Everything To Me," has a distinct Band-like groove. "You and me gonna last forever/gonna live long in the big disaster…Hold me, don't you own me?/Yeah, you fuel my fire," Masterson sings in a sexy, country fried ramble that would make the late Levon Helm smile. Similarly, "Show On The Road" will stay with you for days. Its open highway escapism coupled with the perfect backing vocals of Nashville singer-songwriter Jaida Dreyer, brings together an infectiously catchy road song reminiscent of Whiskeytown-era Ryan Adams. Masterson combines the best sounds of early alt-country with his knack for introspective songwriting on this one, which I expect to find on an Apple Music Americana playlist any day now. Rounding out the EP are two tales of fading love: one you wish would stay, and one that can't fade fast enough. "Small Town" is a bar closing slow dance. Filled with heartache, Masterson's poignant lyrics explore the age old question of why it's so easy to fall in love, but so hard to keep it going. The limbo is palpable as he sings, "When we were young we could do anything…Now here I am the loudest man in the bar/And you and me barely talk anymore/Oh it's never enough/You and me that's what I'm dreamin' of." In contrast, "Leaving," is that moment when plaintive, hopeful love becomes a much needed memory. "Said you were leaving, make me believe it now," Masterson sings over an easy rhythm; a perfect summation of the album's lyrical strength and musical maturity. "Leaving" isn't so much an album closer as it is an indication that it's time to press play again.
When he's not recording or playing shows, Masterson's other creative outlet and main income is woodworking. "Being able to build and work with wood makes me feel a little closer to where I grew up," he says. It is this sense of place, both where he's from and where he's going, that informs his work in whatever he does and makes him such a noteworthy new addition to the Nashville scene. If Lost + Found is any indication, his woodworking and his music may soon be battling for day job status. Having already opened for such acts as The Lone Bellow and Nikki Lane, as well as increasing nods from a growing number of reviews, one gets the feeling that writing about Masterson now is like watching a wave before it reaches the shore. With more of his own shows and what is bound to be an increasingly busy schedule on the horizon, I had the chance to chat with Hugh about the making of Lost + Found, the state of Nashville, and what's next.
Do you feel as if you've gone through the transition that the EP's title implies?
Ha! I would say not. "Lost + Found" is more about feeling like you're in that box they had at school that you would look through when you lost your mittens. The line in the title track is "I'm somewhere in the middle of the lost and found." I think we're all continually learning and trying to grow and make sense of our path.
What comes first for you, music or lyrics? When and where do you do your best writing?
Usually, the music comes first. I'll put some chords together and a melody starts coming out and then words and feeling present themselves. I've found that my most productive writing comes in the morning. The best scenario is waking up and having coffee in front of me and sitting at the table with a notebook and my guitar. It also helps to not be effected by anything else. I keep my mind clear by not checking social media or reading the news.
Who/what do you count as your major influences?
I grew up in a really isolated area and we relied on NPR, WOJB (small radio station in Northern Wisconsin), Hee-Haw, and music that came from the jukebox at the bar in town. I liked blues, rock, folk, early American music, punk, etc. I've never only liked a certain artist or genre. I'm terrible at making lists of my "top" anything. Growing up in the Midwest I admired Bob Dylan, The Replacements, The Jayhawks, Greg Brown, Bo Ramsey, etc and felt a fondness to the likes of Taj Mahal, John Hiatt, and Lucinda Williams. Discovering Elliott Smith changed a lot of things for me.
Whenever I go to Nashville there's such a sense of community. As a relatively new resident, what's your take? If you were faced with someone younger than you wanting to pack it up and try their luck in Nashville, what advice would you give?
I've been here for two and a half years. I love it and of course at times I miss the Midwest deeply. The community in Nashville is a really beautiful thing. There are so many musicians here who are struggling and thriving at the same time. Everyone knows the fight that everyone is in and there's a lot of support because of it. One of our best friends, Ben Eyestone, recently passed away. He was a drummer in a bunch of touring bands based out of Nashville. The neighborhood and the city came together like nothing I've ever seen before. Gravitating to his house for a candle light vigil, raising money, putting on a benefit show, supporting his family that came to town, sharing vehicles and bedrooms, making dinners, etc. In such a painful time it was also one of the most beautiful things I may ever be part of.
If someone was thinking about moving here because of music I would warn them that Nashville is also competitive which should be seen as a good thing as well. Rent keeps getting higher and you need to work whatever jobs you can get to keep paying the bills. When I lived in Milwaukee I could work a few shifts a week and focus on music the other days. Here I'm building cabinets in the heat 5 days a week. I have friends in big touring bands that are looking for house painting jobs when they're not on the road. If you come here and your family isn't funding you, you won't be sitting around on a porch writing music every day, you'll be working or you won't have a porch.
What are the realities of producing a record?
Well, we worked with Bill Skibbe and he helped us get tones and setup the room and a lot was done at Key Club Recording Company. I sat on the music for a while and then I had to find someone to mix and master, but I also had to find people to add some mojo to it. Finding horn players, back-up singers, harmonica, etc. You try to bring what was in your mind to life. What it sounds like to You in Your head while working with other people.
Is there anyone you'd like to work with in the future?
There's a ton but I'm happy working alongside anyone that is excited, has good ideas, talent, and patience for a song. If I have to say a few I would say T Bone Burnett, Jack White, and Daniel Lanois.
What would you like people to take away from the EP?
I'd like people to hear music that is a little more mature than the first record I put out with Hugh Bob and the Hustle and to feel a little closer the feelings that went into writing those songs. There was a lot of loss, confusion, and wonderment about moving forward and moving on. I think they'll find this as a bridge to the next album.
What's next? Shows, full length record, etc?
I'll start doing more shows now that the music is out. I'll be playing at Americanafest (9/16) at the Basement at 11 PM. I've been writing lots of new songs and will be putting together a new record and I'm excited to bring a new energy to my fans.
Lost + Found is available on iTunes. In addition to AmericanaFest, be sure to check out Hugh's website for upcoming show dates at hughmastersonmusic.com.
---