Gaelynn Lea Focuses on Appreciating the Moment on 'Learning How to Stay'
Posted On September 5, 2018
---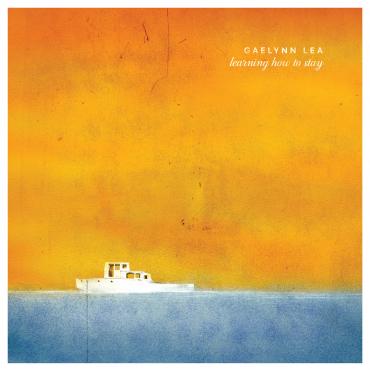 Like many others, I discovered the music of Duluth violinist and singer-songwriter Gaelynn Lea shortly after she won NPR's 2016 Tiny Desk Contest. Since winning the contest, Lea and her husband, Paul, quit their jobs, sold their house in Minnesota, purchased a van, and began the adventure of touring. The couple has covered a lot of miles in that time, with Lea playing over 250 shows and sharing her unique music with audiences in 42 states and seven other countries. To say it has been a pleasure to watch and hear Lea evolve as an artist is an understatement, and she certainly continues to surprise and delight listeners to this day.
Despite her busy touring schedule, Lea somehow found the time to write and record her third full-length album. While in the past she favored a minimalist approach and recorded her albums mostly using her violin, voice, and a looping pedal, Lea ended up enlisting the help of a complete backing band comprised of Minnesota-based musicians, as well as several guest musicians, to realize her vision for these songs. Titled Learning How to Stay, this 11-song album is further proof that Lea is an important American artist of our time. With quality production and the added instrumentation from various talented players, Lea is branching out from her already established sound, which combines elements of Celtic fiddle, experimental folk, and classical to incorporate pop, country, and fringe rock, among other styles.
The journey of a Gaelynn Lea song seems to begin with a good ear and a big heart and work its way from there all the way down to the spirit. While Lea's earlier material is haunting and raw, her latest work is decidedly fuller and more polished, yet it continues to be emotive, positive, genuine, and soulful. In addition to her distinctive vocals, Lea's unique violin playing technique, in which she holds the instrument like a small cello, has given her a style all her own.
The standouts on Learning How to Stay are "Bound by a Thread," "I See It Too," and "Lost in the Woods." Also included in this collection of songs is a very cool full-band version of the song with which Lea won the Tiny Desk Contest, "Someday We'll Linger in the Sun." You can always count on Lea to record some instrumentals for her albums, and on Learning How to Stay she gives us renditions of Larry Unger's "Jim and Judy's Wedding" and the traditional Finnish folk tune "Metsakukkia" ("Forest Flowers").
Gaelynn Lea, who was born with the genetic condition osteogenesis imperfecta (more commonly known as brittle bone disease), is also a disability rights advocate and public speaker.
Recently I had the pleasure of briefly discussing Lea's new album with her. This is what she had to say about it.
The last few years have been quite eventful for you as an artist. What have been some of the highlights?
There's been so many highlights, it's pretty hard to sum it up. But in terms of touring, I think just the vast amount of ground we've covered and all the different terrains we have seen in the US has been super fun. Even though we don't get to explore much outside of the car, driving through the desert and the mountains and the forest is pretty inspiring. I have played shows in 42 of the 50 states, and a lot of them I would never have seen if we hadn't been doing music. I also took my first three trips overseas for musical performances, and that's not something I really envisioned for my life before Tiny Desk Contest.
More specifically, getting to know The Decemberists has been a huge treat. They were one of my favorite bands in college and I saw them perform live once back in 2005. About four months after the Tiny Desk Contest, I got an email saying that Chris Funk (their guitarist/multi-instrumentalist) wanted to do a short video on my music for CNN's Great Big Story.
He flew out to my hometown of Duluth before we even left for touring (August 2016) and filmed a video for a day and a half. That sparked what has become a pretty cool friendship. He's one of the nicest people I have met through music. He sits in with me when I come out to Portland, and he even invited me to play on a track on The Decemberists' newest album. Because of that recording I was asked to open for them a couple times in Minnesota, and I just got done playing in their Travelers' Rest Festival out in Missoula, Montana. That surely would have been fun no matter what, but it was made even more special but the fact that Chris and Jenny and Nate all played on my last two songs with me to a packed tent. It was one of the funnest shows I've ever played. Who knows what will happen in the future, but I just can't believe that we know each other now as actual people and friends. My college self would not believe me if I had a time machine to tell her.
Would you mind explaining the meaning behind the title of the new album — Learning How to Stay?
I was trying to figure out a connecting thread for this album because sonically the songs are pretty diverse. I realized that all the lyrics really focus on being awake and alert in the present moment, even if the moment is sad or uncomfortable. … Ultimately this album is about learning how to stay open throughout every situation.
The night I was naming the album I had just done a show in Madison, Georgia, and I sent the band a bunch of different options, and we'd all decided over group text Learning How to Stay was a good fit. And then later that evening I picked up a book by the Buddhist teacher Pema Chödrön and literally the title of the chapter I was starting was "Learn to Stay," so I took it as a good omen and the name stuck after that.
Lyrically, what would you say are the main points of conveyance throughout the album?
Specifically, "Dark to Light and Dark Again" is about aging and determining what's important even if our bodies deteriorate over time.
"I Wait" is a song about taking the disability rights movement seriously. I've never actually written a song specifically about disability before, so this was a fun challenge for me. I wanted it to be specific enough that people with disabilities would recognize themselves in the music, but I wanted other people to be able to relate to it as well.
"The Last Three Feet" is about coming around to forgiveness by being willing to meet in the middle.
"I See It Too" is about being friends with people who see the world differently than you.
Most of the other songs touch on appreciating the present moment, appreciating life for both its beauty and its pain, and gratitude. Pretty broad concepts I guess!
Musically, you don't seem to be bound to a single genre or subgenre. Do you always have a solid idea of which direction you would like to go as far as style and sound, or do you simply start playing and let the piece form organically with only a vague idea of what you'd like it to be?
One thing I really love about music is that you can shape a song so many different ways. I think the origin of songs is a little bit mysterious and comes from a higher mental space, so it almost feels like they come out of nowhere. But then as they continue to form themselves in your mind, generally there is some sort of intention or energy behind them. But even then, you can twist and shape the energy in different ways to create a vibe or sound. For example, I re-recorded "Someday We'll Linger in the Sun" to be more of a rock vibe, with a slightly more intense or aggressive energy. … But I think the meaning still holds true either way it's played. And when I play "I Wait" solo I can't do it the same way as a full band, so I slowed it down and changed chords. But it's still the same song. So I guess what I'm saying is … I don't have a solid genre in mind when I play, but the mood and meaning of the song can inform any number of sonic possibilities.
Is there anything else you'd like to share about yourself and/or your music?
I am really excited to release this album in part because I want there to be more artists with disabilities represented in the media and our music culture. That's definitely not why I play (I play because I love it) but it's never far from my mind how much harder it is to tour and book shows because venues and hotels and transportation are not as accessible to me as my able-bodied counterparts. I want to keep speaking out about accessibility and disability representation in the music industry that so that someday it will not be harder to have a disability and be a professional musician. We have a long way to go, but I think at least the conversation is getting started. There are other people out there doing what I'm doing and if we collectively get loud enough then hopefully change will come faster.
---