Folk-Christmas Songs…Fresh & New…Invigorating & Memorably Comforting
Posted On December 16, 2018
---
CD Photo of duo: Andrew Hall // With truck / Photo: Lisa Buchanan // Performing in color / From Musiqueroyale // Seated together / Naming the Twins Promo
For the holidays I have two interesting full seasonal albums, one new single release by a reliable, wonderful female artist and another I consider a new classic from eight years ago. This collection is the first:
From a Nova Scotia-based duo Naming the Twins (Kathleen Glauser and Robbie Smith) — they provide holiday listeners with their fine harmonies and vocals energetically spread over 12 Christmas songs that are sung in a manner that makes these songs work whether it's Christmas or not.
Most of the album are originals so for some looking to get away from the traditional songbook this may do the trick.
Composed in a folk song style Kath's lilting, sincere, clear and warm voice opens "Sing the Winter Away," and Robbie starts as if he just decided to join her. The song's comforting melody won't immediately stick in the minds of people wanting to catch on and sing along but the chorus is indeed immediately infectious. With continued listening's this could easily be something we could sing every year.
The song has wonderful acoustic accompaniment and though Robbie has a good male voice in the tradition of folk singer masters Tom Rush, Tom Paxton and Mickey Newbury — the thrill on this is Kath Glauser's sparkling vocal. She possesses that rich "Georgy Girl," "I'll Never Find Another You," attraction that The Seekers' incredible Judith Durham brought to their repertoire.
This song also just reverberates with a joy that would lend itself to singing it with children in elementary school. And that's a big plus.
Nice Nova Scotia fiddles begin "Christmas on the Shrimp Boats," with a shiny upbeat and memorable melody which generously puts smiles on cold ears. The sprightly accordion is different for a holiday tune, but it works excellently. The songs seem to not only celebrate the holidays but winter itself – which usually gets a bad rap. Christmas is all about brisk weather, spouts of breath from your mouth, red noses, and the song would go well with whiskey and coffee, hot chocolate and peppermint.
Glauser and Smith are enriched with folk vocals that blend together seamlessly and become at times a unified voice.
What I find rewarding is that the songs are not taking a point of view of silliness, novelty, and simplicity. They each seem to have a message, a story, and if they do get into your ears your heart will follow. "We're one storm away from our home," is an unforgettable lyric in "One Storm from Home," and that is a strong statement. This is more than just a holiday tune. It's a great folk tale. Riveting. After Smith sings lead on many of the words toward the end Kath's warm female vocal joins his – and it's enough to motivate tear ducts as they sing together. Wonderful performance.
Kath sings lead on "Winter Awakening," and her vocal recalls the voices of the late Mimi Farina (sister of Joan Baez who sang with a far warmer tone) and the 60's Ian & Sylvia. The song will remind listeners of moments in Judy Collins' career, as well as, the legendary Sandy Denny. A deep cello and bright fiddle fill the speakers and there is at times a nice medieval touch on acoustic guitars. The feeling is reminiscent of groups like Strawbs, Fairport Convention, and Amazing Blondel. Robbie Smith sings along with Kath but in such low control that he doesn't interfere with her presentation.
"Caroling On," has a Charles Dickens' atmosphere to it and Robbie's voice is borderline Tom Rapp from Pearls Before Swine – yet, it's Robbie's voice that is far more attractive. This overflows with Christmas spirit and I would suggest listening to it with the scent of pine trees and a cup of hot tea, and the crackling of wood in a fireplace. By the end of the song, you will wish the world was as perfect as this song suggests.
"When the Carols Began," continues in a Christmas tradition but there is never a suggestion of this time of year being solely for Christians. It is just an offering of universal peace to everyone in the world – a message that just doesn't get through to many. Kath's voice and Robbie's radiate despite the religious overtones – a listener can make this work for themselves no matter who they are or where they come from.
Track 7 has poetic lyrics in "Painter of Wintertime," – if Joni Mitchell consciously wrote a Christmas oriented song this would be close. Knowing Joni is a painter and singer, I could hear her cover this song even now. I have heard Joni is trying again despite her health issues. This would be such a beautiful song for her to cover. Kath's vocals are pristine, and you can understand every word she sings. The clarity of the acoustic guitars, the tinkling of the piano and all the musicians involved in this track are striking. There is no showboating, yet it all comes together like…a Christmas song should.
Robbie sounds a lot more Irish on this upbeat very seasonal Nova Scotia style fisherman Christmas song. "A Christmas Wish." It has a deep Irish-Appalachian feel. I can hear old Shane McGowan of The Pogues sing with Christie Moore on this almost saloon song. The tin whistle adds so much flavor and the fiddle and accordion carry it all along down a festive road.
Kath returns with her succinct vocal and Robbie underscores her with nice deep warm vocals. "Angels in the Snow," — a basic ballad – lyrically very poetic, but it's sung with such poignancy and feeling. This is almost in lullaby fashion and perfectly suited to a Christmas melody. This is one of my favorite Kath vocals – there are moments when I hear the emotional equivalent of the late Judee Sill in her voice. ("Jesus Was a Crossmaker," "The Kiss").
The introduction to "Frolics in the Snow," is some distinct acoustic guitar picking layered with accordion and it's a short and sweet instrumental bridging the song into "Klondike Christmas," sung by Robbie. This one is like a Christmas song written by Jack London. Told in a story-like manner, an entire little short story unravels, and this too would be a wonderful song to sing to little children gathered around. This is close to the style of Peter, Paul, and Mary, or the Kingston Trio. As it progresses, it's easy for the assembled to join in. I love the way Kath's voice intercepts Robbie's – like the singing dynamics of Golden-Carrillo ("Fire in New Town").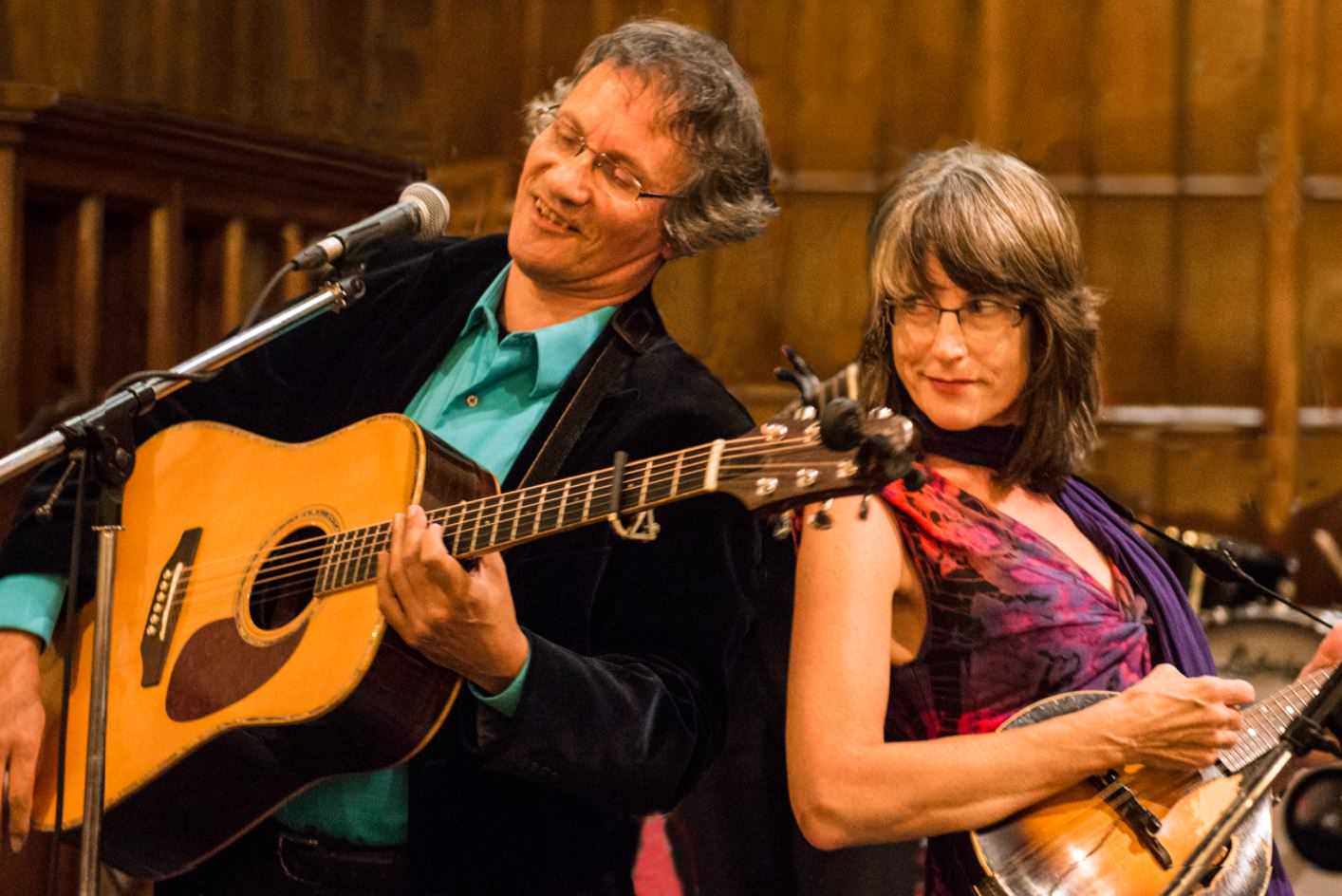 The only misstep is "Lay Down Your Weapons," which is sung in a good-natured way and is well-intentioned. But it's dated in its plea. We live in a world today where there are people who don't want us to exist. This "militia" has taken their war to the citizens of countries, innocents, shoppers, vendors and the like. And they don't wear uniforms. It isn't about war anymore the way past wars were fought between countries, governments. It's terrorists. We will always need soldiers now if we want to sing our songs in a free society. Call it a necessary evil…but they are not society's optional equipment. They are mandatory.
A better song that would grab attention and be just as strong: that "we are behind you – support you – pray for you – and thank you." You just can't lay down any weapons today anymore. It's too volatile, and even though I like this song, adversaries with agendas don't care about songs. They want you gone. Serious stuff. We protested the Vietnam War and ultimately it ended but look where we are today. It's sad but true, I believe we need to endorse and support the courage of our soldiers – they are the ones who take up arms, risk their lives, so we shouldn't have to.
Sorry for the lecture – but Christmas itself has come under fire and we above all should protect that. Even if it's in song.
The exceptionally sung and written twelve-song 44-minute collection was produced by Bill Garrett except "Winter Awakening," which was produced by Paul Mills. All the musicians involved were proficient and provided excellent, solid musicianship.
The CD art is a six-panel full-color package and a Christmas collection should always have a lyric insert – people will want to sing along. They will.
Website: http://www.namingthetwins.com/
Facebook: https://www.facebook.com/NamingTheTwins/
Bandcamp: https://namingthetwins.bandcamp.com/
Disclaimer: The opinions expressed in this review/commentary are those of the author and do not necessarily reflect the official position of No Depression. All photography is owned by the respective photographers and is their copyrighted image; credited where photographer's name was known & being used here solely as a reference and will be removed on request. YouTube images are standard YouTube license.
John Apice / No Depression / December 2018
---