Fleetwood Mac's Second-Bestselling Album Gets the Deluxe Treatment
---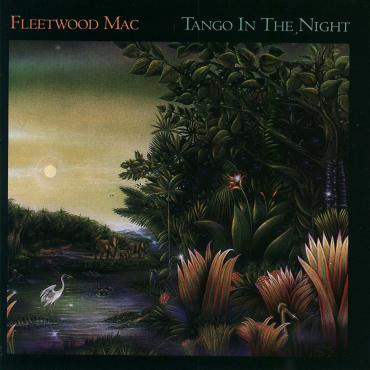 According to conventional wisdom, Fleetwood Mac's peak occurred between 1975 and 1977, when the band—reinvigorated by the addition of Lindsey Buckingham and Stevie Nicks—issued an eponymous album and Rumours. Many critics viewed the 1979 follow-up to the latter LP, Tusk, as a bit of a disappointment, and after that it was all supposedly downhill—way downhill.
I'm not buying this party line, as I've noted in my reviews of deluxe reissues of Tusk and 1982's Mirage. I think those albums were largely terrific, and I can say the same about 1987's Tango in the Night. I'm probably not alone in rejecting the critical consensus about Tango, moreover, since the CD has sold more than 15 million copies and ranks as the second-bestselling album of the group's career (after Rumours).
The record, which started out as a Buckingham solo project and wound up being his last album with the group, has now joined the Fleetwood Mac reissue series. And, like its predecessors in that series, this repackaging lives up to its "deluxe" billing. Three CDs respectively deliver a 2017 remaster of the original album; 13 B-sides, demos, and early and alternate versions; and more than a dozen 12-inch mixes of five Tango tracks. There's also a DVD that includes videos for five of the tunes and a high-resolution stereo mix of the LP; and, for those who miss the pre-digital era, a vinyl record that contains the 2017 remaster. If all that's not enough to keep you busy, you can turn to the enclosed oversized booklet, which features an essay about the album, plus lyrics, photos, and credits.
The rhythmic original LP, which sounds better than ever thanks to the remaster, is loaded with pleasures, not to mention hit singles. Among the highlights: Buckingham's "Big Love," which gives Donna Summer's "Love to Love You Baby" a run for its money in the sensuality department; and such ear candy as "When I See You Again" and "Seven Wonders," both with passionate Stevie Nicks vocals; and the sublime "Everywhere," "Little Lies," and "Mystified," all sung by Christine McVie. Songs like these leave no doubt that Fleetwood Mac were masters of melody and production and that any one of its three vocalists would have been enough to make another band famous. A few tracks, such as "Family Man," deliver more studio wizardry than emotion but the bulk of this material is the real deal.
Disc two is stronger than you might expect. "Down Endless Street" is as catchy as anything on the original album and, while you can see why Tango's versions improved on some of the outtakes and demos here, they're virtually all interesting and well-executed.
It's difficult to be as enthusiastic about disc three, which dilutes everything that's special about Fleetwood Mac by introducing disco beats and embellishments. If you're nostalgic for Studio 54, this is the record for you. If not, you'll likely prefer the songs on the original album.
I have mixed feelings about the DVD. It's good to see the videos—which feature "Big Love," "Seven Wonders," "Little Lies," "Family Man," and "Everywhere"—but it would have been better to have some concert material from the period; what we have here instead are pretty visuals accompanied by a lip-synching band. As for the high-resolution version of the album on the DVD, it sounds even better than the CD; but it would have sounded better still if it were a 5.1 surround mix.
Happily, the album is being made available in several formats. Casual fans can opt for a single CD with the remastered album, though I'd recommend that listeners seriously consider a two-CD package that incorporates the disc of outtakes and other rarities. The everything-but-the-kitchen-sink edition described above is a somewhat more debatable (and, of course, pricier) purchase, but if you're a big fan of the group, you might well be glad to have it.
BRIEFLY NOTED
Jon Zeeman, Blue Room. If you enjoy acts like Jimi Hendrix, Johnny Winter, and the Allman Brothers, step into Jon Zeeman's Blue Room for some blues/rock guitar-focused jams. The joint is jumping on such originals as "Hold On," and on terrific covers of Robert Johnson's "Love in Vain" and Hendrix's "Still Rainin', Still Dreamin'." Backing Zeeman is a highly complementary quartet and, on two tracks, the late drummer Butch Trucks. When Zeeman kicks into high gear with his guitar, such as on "Next to You," the experience is immersive.
Sera Cahoone, From Where I Started. Sera Cahoone's first album in five years is a atmospheric winner that blends elements of folk, rock, pop, and country. On a few tracks, such as "Ladybug," thick layers of instrumentation make it difficult to see what's special about her. But most of these lilting tracks—which feature Cahoone on guitar and banjo and a strong backup crew—are well enough sung to remind me of early Judy Collins, and "gorgeous" isn't too strong a word for the vocals on some of them.
Jon and Roy, The Road Ahead Is Golden. One advantage of being a music reviewer is that you get exposed to a lot of music you wouldn't otherwise encounter. Much of it is forgettable but, occasionally, the mail brings a record from an act you've never heard of—or even one practically no one has heard of—that has the mark of greatness. That's the case with this CD from vocalist Jon Middleton and percussionist Roy Vizer, who hail from British Columbia and have been making music together for years. Their work brims with self-assurance and a fully formed world view. If you're looking for a reference point, the Pines are as good as any. But reference points are only good for so much; these guys are charting fresh territory on this cohesive and emotive folk/rock album.
*****
Jeff Burger's books include Lennon on Lennon: Conversations with John Lennon, Springsteen on Springsteen: Interviews, Speeches, and Encounters, and Leonard Cohen on Leonard Cohen: Interviews and Encounters. His website, byjeffburger.com, contains more than four decades' worth of music reviews and commentary.
---