Everyday Encounters
Posted On October 4, 2016
---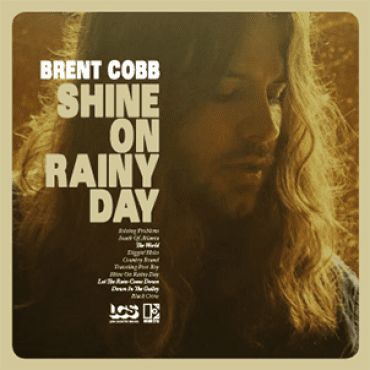 Brent Cobb doesn't put on any false airs. Or at least he doesn't appear to, based on the attitude instilled in his music. His debut album Shine On Rainy Day is as unpretentious an effort as one might ever imagine, given songs about everyday aspirations, life in the country and the typical challenges encountered along the way. Its themes are hardly profound — opening track "Solving Problems" is a perfect example, a simple rumination on the joys of sharing small talk — but the themes are built around the simplest of situations, the kind that most folks will find easy to relate to.
Not surprisingly then, the arrangements and melodies are as low cast as the songs that they inhabit, and if Cobb's good old boy attitude seems somewhat impassive at times, it's only because he seems to take the rigours of life in stride. Whether it's a road song like "South of Atlanta" or simply the rural rambling described in "Country Bound" and "Traveling Poor Boy," there's always a scenario to reinforce that notion. Even when Cobb steps out of his good old boy facade — either in talking philosophically through "Shine on Rainy Day" or, conversely, sharing the hard luck happenstance of "Let the Rain Come Down" — he always seems prepared to take each encounter in stride. Only on the final entry "Black Crow," does he find an insurgent stance, allowing a gruff demeanour to usurp his pervasive easy going attitude.
In the end, Cobb comes across as a kind of Everyman, albeit one who's unfazed by life's ups and downs. A blend of attitude and inspiration, Shine on Rainy Day may be the ideal antidote for today's troubling times.
---