Every Song Counts on Dori Freeman's Sparkling 'Every Single Star'
Posted On September 25, 2019
---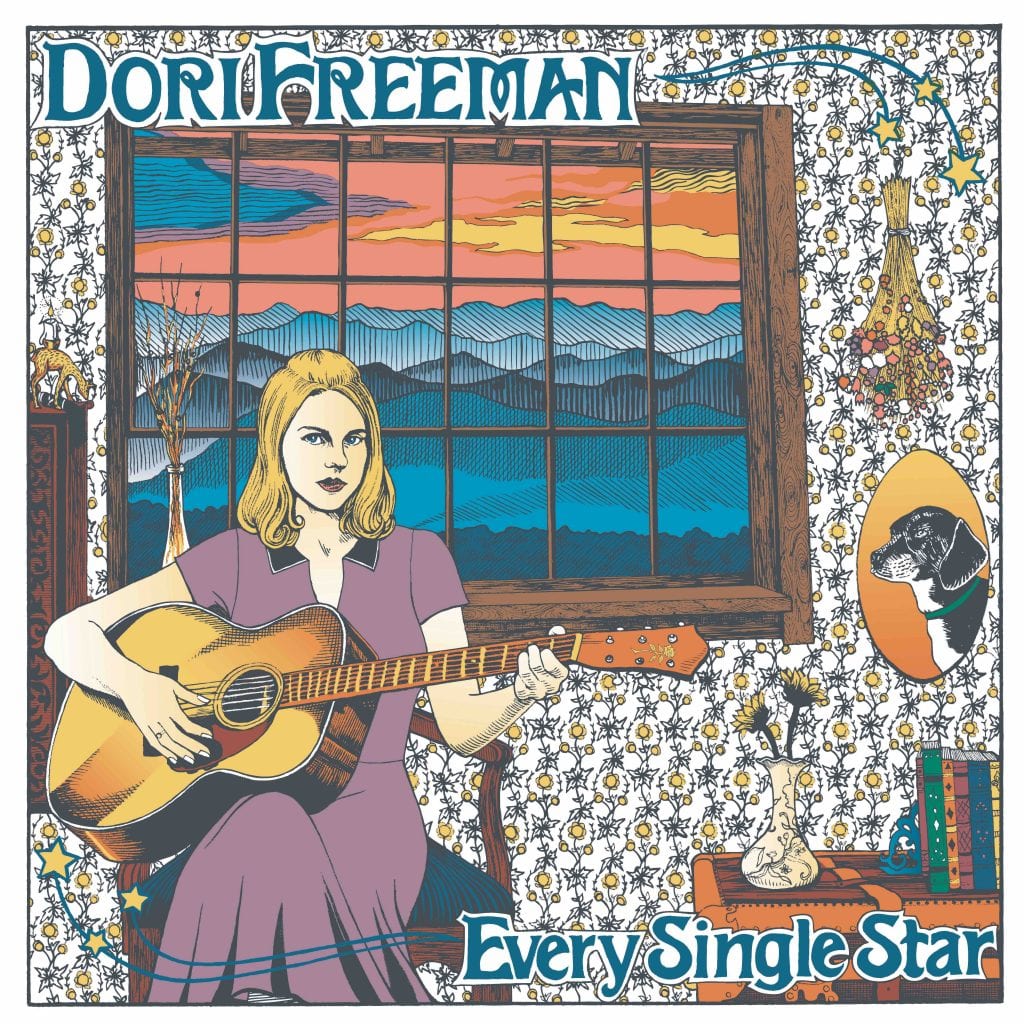 Teddy Thompson has produced albums by both Dori Freeman — all of hers, in fact —and a more established twangy redhead, Allison Moorer. The latter woman's song, "A Soft Place to Fall," was the centerpiece of a scene in The Horse Whisperer in which Robert Redford and Kristin Scott Thomas dance slowly at a barn party, their hands doing whatever they can to the smalls of each others' backs and the knuckles of each others' hands without tipping the whole dang town off to the fact that they're in love. Their relationship is illicit, and yet you root for it. That's the movies.
In real life, Thompson is a handsome, middle-aged bachelor, while Freeman is in her 20s, happily married and raising a young child. They're friends, business partners, and creative collaborators. That's reality, and that's worth rooting for.
"2 Step," off Freeman's third album, Every Single Star, is Teddy and Dori in the movies. Thompson has grudgingly acquiesced to singing on Freeman's tunes in the past, but this is a full-blown duet — with him singing the first verse, and dipping down into his macho lower register to do so. The tune begins with Thompson beckoning Freeman "to dance once more … on the open floor." She's twice shy and reluctant, replying, "I don't want to dance the way you did before. Had your chance and left me standing at the door."
The song's chorus reveals that theirs is a chemistry that can't be interrupted by mere behavioral indiscretions. "I fall every time, I'm yours and you're mine," they sing together. Star-crossed lovers, made more appealing by the impossibility of it all. It's a very convincing bit of escapism.
Freeman has made three near-perfect albums; if there were a Kentucky Derby for singer-songwriters, she'd be the undefeated, morning-line favorite. She enlisted Thompson's services as producer via a Hail Mary Facebook message in 2014. Freeman was a fan, and it took Thompson about 10 seconds to become a fan of hers. No wonder: Hers is the purest voice there is, a mountain stream that's all minerals and no mud.
Every Single Star, Freeman's most cohesive album, doesn't give fantasy much of a chance. No stranger to romantic hardship, she's a happy woman now. She's found a man she loves — Nicholas Falk, the percussionist in her band — and that man adores her young daughter, who's the subject of both the bouncy "Like I Do" and the album-closing lullaby "I'll Be Coming Home." (If Freeman were to record an album full of lullabies, it'd be a big seller.)
Freeman has said she was listening to a lot of Linda Ronstadt as she created Every Single Star, and nowhere is that more evident than on "Go On," a rollicking kiss-off to a former flame. Freeman has let heavy drums and guitar riffs into her life, and it serves her well — the angelic voice hovering over the devil's backbone. Yet the next tune, "Darlin' Boy," finds her returning squarely to the land of Appalachian waltzes, questioning whether the man she's smitten with will ever settle down.
That's reminiscent of the sort of love Redford and Scott Thomas exhibit when their belt buckles press together on the dance floor in The Horse Whisperer. Who knows if it'll last? And in such charmingly seductive moments, who cares?
---