Elliott Murphy's Prodigal Son, and More New Releases
---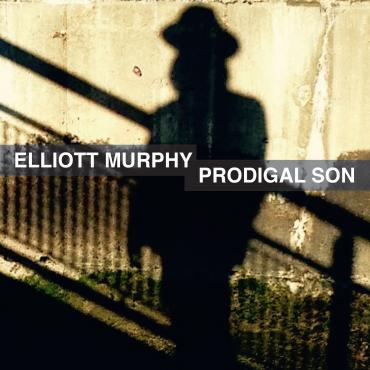 When Elliott Murphy released his memorable debut album, Aquashow, in 1973, he seemed to be on a fast track to the big time. It didn't quite work out that way, thanks to bad record company deals and other assorted hard luck. But the elusiveness of superstardom didn't stop him from making super LPs: in the more than four decades since his debut, he has issued about three dozen of them, and they've virtually all been noteworthy. I wouldn't go quite so far as Bruce Springsteen, who says in the new film The Second Act of Elliott Murphy, "I don't think he's ever written a bad song," but he has written a hell of a lot of great ones.
You'll find some of them on Prodigal Son, his well-sung latest release and his first album of new material in three years. The record—which Murphy's son Gaspard produced, mixed, and arranged—features his longtime band, including guitarist extraordinaire Olivier Durand, and bassist Laurent Pardo, who died shortly after the CD's completion. A gospel choir chimes in on several selections, such as the Bible-inspired title cut.
Murphy, who once sang a lot about fast cars, teenage love affairs, hanging out, and growing up, is now 68 and focused largely on other subjects. Several of the songs on Prodigal Son—including "Wits End," "You'll Come Back to Me," "Chelsea Boots," and "Let Me In"— find him contemplating marriage, mortality, the demons he talks about in Second Act, or some combination of the above. Then there's the violin-spiced, nearly 12-minute-long "Absalom, Davy & Jackie O," a cinematic tale of lust and violence with as much fast-moving action as Dylan's "Lily, Rosemary, and the Jack of Hearts."
It's not a perfect record: there are places where the instrumentation seems more grandiose than grand and none of the melodies strike me as being quite as indelible as those on such earlier gems as "Irish Eyes" and "Come On Louann." But Murphy's albums have always delivered more than enough pleasures to make them worth owning, and this is no exception.
BRIEFLY NOTED
The Spinto Band, Nice and Nicely Done. Originally released in June 2005, this power-pop gem is getting a well-deserved second chance with a deluxe reissue, available on vinyl and via digital download. The record couples the original album to a dozen previously unheard and equally impressive songs from the same sessions. Loaded with hooks, harmonies, and hot guitar licks, these high-energy tracks display a band bursting with talent and ideas. Only two of the 23 exuberant, upbeat numbers clock in at more than four minutes, and many run less than three. The Spinto Band grab you in the first few notes, deliver a clever bit of tightly constructed ear candy, and get offstage. If you like such acts as the Flamin' Groovies, the Raspberries, the Undertones, Psychedelic Furs, and Squeeze, you're probably gonna flip for this stuff. Here's hoping this reissue will lead to new material from the group, which—typical of its quirkiness—is reportedly now planning a tour to celebrate the 10th anniversary of the 12-year-old Nice and Nicely Done.
Arthur Alexander, Arthur Alexander. You may not know Arthur Alexander's name, but you probably know his early 1960s songs, including "Anna (Go to Him)," "You Better Move On," and "Every Day I Have to Cry Some," which have been recorded by many major artists, most notably the Beatles and Rolling Stones. If you're a newcomer to his work, you might want to start with The Ultimate Arthur Alexander, which collects his best-known country/soul material; but once you've got that on the shelf, pick up this reissue of an eponymous 1972 LP, which combines the original album with both sides of two contemporaneous singles and a pair of previously unreleased tracks. The record—Alexander's second and one of only three LPs released by him in his lifetime—benefits from his fine, unaffected vocal work and his songwriting talent. It also demonstrates his good taste in other composers, such as Dennis Linde, who is represented here by four tracks, including "Burning Love," the Elvis Presley hit. Alexander—who died in 1993 at age 53, spent many of his later years out of the music business and working as a bus driver. He deserved more acclaim than he received in his short lifetime and ultrashort career; perhaps this reissue will belatedly help him get it.
Jen Gloeckner, Vine. If I didn't know this was a new release, I'd be inclined to say "they don't make 'em like this anymore." But apparently they do. These home-recorded multilayered soundscapes are dreamy and at times psychedelic; rely as much on computer programming as on instruments like guitar, flute, and cello; and include the sort of trippy lyrics you might expect from songs with titles like "Row with the Flow," "Firefly (War Dance)," and "The Last Thought." Occasionally, this is closer to gimmicky than to great, but for the most part it works. At its hypnotic best, it reminds me of the other-worldly recordings that Julee Cruise made for David Lynch's original Twin Peaks.
Sarah Jane Scouten, When the Bloom Falls from the Rose. Canadian Sarah Jane Scouten showcases a major talent and a whole lot of versatility on her third full-length album, which finds her adept at writing and performing folk, folk/rock, Western swing, and honky tonk. Featuring 10 originals plus a pair of traditional Canadian songs, the album recalls artists ranging from Patsy Cline and Emmylou Harris to Nanci Griffith and Linda Ronstadt. Highlights include "Man in Love," a pop-flavored country song; "Crack in Your Windshield," an effusive tribute to her brother; and "Bang Bang," a country rock rave-up novelty number. The backup band—which incorporates accordion, pedal steel, and clarinet, among other instruments—is terrific; but Scouten's fine vocal work is the main attraction throughout.
*****
Jeff Burger's books include Lennon on Lennon: Conversations with John Lennon, Springsteen on Springsteen: Interviews, Speeches, and Encounters, and Leonard Cohen on Leonard Cohen: Interviews and Encounters. His next book is set for publication in early 2018. His website, byjeffburger.com, contains more than four decades' worth of music reviews and commentary.
---