Doug Paisley's Starter Home Is a Well-Constructed but Sad Little Abode
Posted On November 1, 2018
---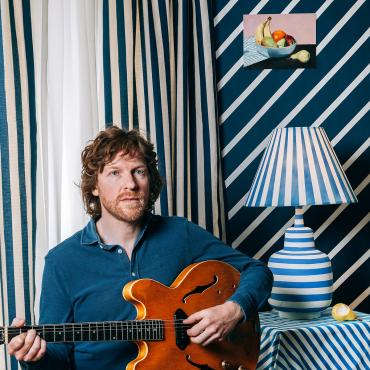 A classic still-life image –a painting of a bowl of fruit – hangs on the wall above Toronto singer-songwriter Doug Paisley on the cover of Starter Home, his new record. He's sitting in what appears to be a typical living room with his guitar.
But something has gone awry. Maybe it's the blue-striped pattern that covers the walls, the drapes, the lamp, and the table that points to melancholy. Or maybe it's the half-eaten pear – real life now, not still-life – that sits on that table.
Press play for confirmation: All's not well. Or all is just as we expect in middle-class America, with material trappings and problematic diversions covering over a tamped-down dysfunction.
Paisley is back in his typically understated fashion. No Quarter Records tucked Starter Home into the tail end of the calendar year, mostly a slow season for new releases. Sadly, this pithy LP – his first since 2014's Strong Feelings – is likely to escape the attention of most critics. But it deserves wide acclaim for how its cunning insights and stark imagery depict this nation's common emotional malaise, starting right at your kitchen table.
The album begins with the title track, which serves as a metaphor for the complacency that can seep into relationships. The song starts positively enough: There's a mortgage, a celebration, and a "pretty garden," among other common superficial markers of domestic bliss.
Then a problematic roof and a jerk neighbor emerge, before quickly shifting to marital infighting. In the end, there's a for-sale sign outside promising the American Dream to another couple. But Paisley's protagonists seemingly remained in that structure a long time, perhaps due more to inertia than anything else.
"Maybe in time we should have moved on," Paisley sings. "We stayed here all alone in a starter home."
That sense of detachment, disconnection, and isolation pervades Starter Home. While the album contains some moments of contentment, there's an existential dread that simmers below the surface throughout.
"No Way to Know" carries the dull pain of longing and regret. "Mister Wrong" drifts through tales of an unfaithful and emotionally abusive partner. "Drinking with a Friend" is cold comfort over a cold one.
By contrast, "Dreamin'" is introspective, wise and – around the two-minute point – booming. Paisley brings in a resounding choral crescendo, turning a spare reflection into something grand and triumphant.
For all its resigned bleakness, Starter Home emits a radiant warmth that's snug and often comforting. If this seems incongruent, maybe it's just a feat of clever design. The sonics are rich and complex, giving off something familiar that generates some semblance of peace amid the lyrical turbulence.
A trifecta of collaborations between Paisley and fellow Toronto artist Jennifer Castle close Starter Home. Castle – independent music's secret weapon – helps Paisley reinforce the record's core themes through songs like "Waiting" and "This Loneliness," adding vocal heft to the blues.
Perhaps as a slight antidote, they end Starter Home with "Shadows," an uncharacteristically jaunty will-they, won't-they tale of a maybe forbidden and certainly fleeting romance. "Whether we're wrong or whether we're right, it will be the same," they sing. "We make our choices deep in the night. It's a dreamer's game."
An upbeat duet brings Paisley's blue and bittersweet effort to a close. It's a fitting cap for a sneaky little folk record that is filled with tension and contradictions.
---