Don't Judge Book By Cover: Blistering Soul-Blues, Cabaret, Spiritual Ballads & Rap – Wow
Posted On November 30, 2018
---
Though the album cover is quite alluring this young lady is all blues but with a pounding theatrical no holds barred showcase. This is not your Uncle's Muddy Waters or Bessie Smith. Arkansas-born Tammie Shannon's All of Me is filled with blues licks and saxes but she pours so much honey and gasoline over it that you come away from it all with sweat beads on your forehead.
Track one is "I Got Rhythm," – not the classic song but a foot stomper performed by excellent musicians.
Tammie Shannon may not be a blues-purists idea of down-home blues singing but you can't deny she has soul, energy and can sing with high octane. However, the beat-heavy rap angry urban song "Bulletproof," doesn't hold my interest. Not after the opening fiery number.
It may become a hit, but it certainly drags on a pair of ears brought up with rock and real blues. It could win points for bravery, but Tammie is not 16-years old. "Breakable," however, is more juvenile but I will give Tammie a pass on this one. She has nice pipes that sustain her faithfulness in what she is doing. And uses them wisely. She fills a void left by Amy Winehouse and at least her voice is not that millennial monotone boring presentation. She shows the younger ladies how it should be done. On this song, with certain lyrics, she has some interesting moments — from a childish vocal to a wise-woman tone. This is well recorded and presented. Will the younger audience buy it? Well, so long as they don't see or realize Tammie isn't in high school anymore.
Another one-word song title – "Collide," is sung with a gnarly modern woman's Etta James crossed with Nina Simone without the deepness. Tammie does show good inflection on the important words and the band maintains its tight soulful blues arrangement. This is just that – a cross breed of soul and blues and Tammie does succeed with the anger, angst, and grittiness of life. Except for the brief falsetto, the song could have been re-arranged and well-sung by the likes of Billie Holiday. Tammie holds some superlative notes and from the sound of this song – really gets into it with body and soul.
Yet, another one-word song title – "Bitch," is a hot little Janis Joplin-Genya Ravan (Ten Wheel Drive) – Candy Givens (Zephyr) workout with some horns. Tammie never fails to provide the incendiary vocals. I am not a big fan of this kind of music, but this is done with verve and poison. This sounds like she hired Blood, Sweat, and Tears to back her up – and if you liked that type of music from a bygone era Tammie will satisfy. Of course, Tammie's "Bitch" is not as invigorating as The Rolling Stones' classic of the same name – but, though the two songs are not related, they are both lit gasoline.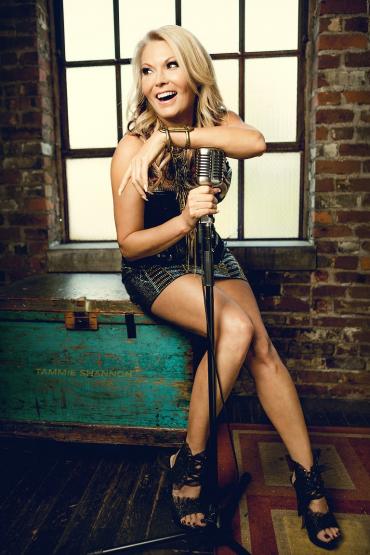 More in line with a true 50's cocktail blues ala Julie London – "Cumin' with You Boy," is a slow dazzler of a blues stroll. The arrangement is tight, and the musicians cook and simmer, boil and fill the room with many aromas. This is Tammie Shannon's forte. This is where she shines the best. Even her occasional Minnie Ripperton (solo and with the Rotary Connection) high notes are done well with the machine gun notes of the lead guitarist. A blues purist would be more inclined to shake his head positively with this tune. Maybe the next time Tammie should add a slinky saxophone to spice things up and add some smoke.
"No More Tears," has devilishly good retro 70's soul guitar, slashing 1-2 drum beats and soulful backup singers. If that Philly soul was a staple in your collection back in the '70s this is a refreshing return without sounding oldie-oriented. This has some dynamics to it. Tammie sings well and her peculiar voice here is good because – well, she doesn't sound like anyone. She has a good original approach and she maintains its circuitry throughout. She displays some Freda Payne ("Band of Gold") syrup, and Brenda Holloway power ("Look What You've Done") and driving soul like Millie Small ("My Boy Lollipop") – which has a very similar voice to Tammie only I believe Tammie has more blues in her voice than Millie.
Finally, the one song that moved my ass "I'm On That," – has great vocals, incredible instrumentation, and guitar sound, dark blues, nice atmosphere and it bleeds slowly. A wonderful cool Tammie Shannon number. This has all the necessary edge and it's gripping as a simple infectious tune. Ms. Shannon's voice nails down the attention required of stubborn ears – her jazzy inflections really work in this slow creeper that has all the fuses lit with the addition of wonderful backup singers. A lot of genuine soul in attendance. This is where it's all gone…it seems Tammie has cornered the market of basic rich 60's soul. Motown? You still in business? Are you listening?
Maintaining a soul-her wind – (little play on words) — Tammie takes her motor down a notch and sings a soulful slower tune with more sincere lyrics and the 70's retro guitar still percolating. "Father Time," is a tight dependable and wonderfully written song. This song as well is where Shannon should be. Leave the rap to the younger girls but she should keep her foot on the accelerator of the bluesy tunes with all the theatrics she can muster. She's virtually the only young lady doing this kind of musical inferno with this kind of gusto and quality and she looks good too.
I can only think of the old band 1994's Karen Lawrence ("Once Again," "Bring It Home") — being her equal. Karen went on to more "fame" with Blue By Nature.
From these songs, Tammie opens "Made Up Mind," with a piano. Here she shows diversity. This is highbrow saloon blues, cabaret style. Her vocals shine with good enunciation, phrasing, and intonation. Tammie does quite well with this song. Lots of bits and pieces of Billie Holiday, Sarah Vaughn, Amy Winehouse, and Nina Simone with…with…even the late Karen Dalton for feeling. Dalton was more of a folk singer, but her voice had so much character. Dalton had a special way of pronouncing her words. She had lost a tooth in the front of her teeth and never replaced it, even though she was an attractive girl. She said if she replaced that tooth her singing would be affected. So, she sacrificed her looks for her art. This is a great Tammi Shannon song. One of her best.
"Fool for You," returns Tammi to her more theatrical Bette Midler both legs in the air blues. Now I have new respect for Ms. Shannon because she shows a more humorous side and she pulls it off with Broadway style. Her band is marvelous. This woman can sing blues, ballads, and she could high step it in a Broadway musical if she needed to. Singers Helen Schneider and Annie Golden are a lot like that.
This tune has some nice guitar, bass, organ and piano work – all boiling at the right time. The pianist just colors the song with energy and in an old saloon style that never goes out of fashion. Great, great dance number.
After all the bawdiness, the blues and romp Tammie Shannon bravely throws in a religious spiritual tune and she shines. Piano-heavy again, her voice is velvet smooth when it needs to be, gritty when it has to be and soulful throughout. "I Believe," is a real showstopper. Took me by surprise. Her backup singers are rich with their voices and the drummer just drives the tune. This is quite a departure from what the album was – this shows just how diversified Ms. Shannon is and an entire album of this type of music would be stunning. There isn't one blessed thing I would change or even suggest. A little masterpiece hidden away on her collection and it's worth the find.
Staying within a slower genre Ms. Shannon allows her song a few more electrical elements into "Whatever You Want," and though I prefer acoustic instrumentation she keeps it to a minimum. I believe this song would be better if it was warmer. The beat is too sharp, processed. Let an acoustic drum keep the beat on a tom-tom, subtle and low. Backup singers are beautiful. Even all the synths are kept a safe distance from overpowering Tammie's surreal, and restrained vocals. A song like this can easily get away from a singer and become cheesy. But whoever arranged this for Tammie did an admirable job.
A return to her quirky Valerie June, Amy Winehouse cum Nina Simone vocal. I like it. The backup singers — in that gospel dark mode and Tammie's vocals about as black in spirit as she can go – and that's a compliment. I can just imagine what she would do with Gospel music.
"Won't Let Me Down," is another jewel. It's not the song I would have end the album with but it's fine. Once again, Tammie's lead guitarist is soulful, and just tossing out those delicious guitar notes all over the joint. Lots of power here, decorated in sweet ambience and beautiful thudding drums. Toward the end, there is a little Janis Joplin vocalese and it's perfectly placed. The song is 4:36 and it doesn't out stay its welcome. Tammie and Genya Ravan (Ten Wheel Drive) – "Morning Much Better," are soul-sisters from different generations.
The album ends with a single version of "Bulletproof," – and this is the rap tune I don't care much about – however, if you absolutely must rap at least follow Tammie's lead and put a good story together. She has. No matter. I prefer so many other songs in this collection one misstep hardy tarnishes the effort. Tammie Shannon, I thought would fall into that one album, thank you, see you later bin.
But as the album proceeded, TS had so many excellent tunes and sang so well that I'm looking forward to another fiery collection. Well done lady.
However, the album art, as attractive as it is, doesn't really hint to the music enclosed.
Tammie must be more conscious of what her artists produce based on what she sings and apply the album artwork appropriately. If I didn't know better, I would have thought the album was a dance album, disco, novelty songs and not a serious stab at the blues with some rap, a good measure of serious ballads and excellent singing.
Put on a fedora and stand under a streetlamp with blue rain falling all around you near both a blues club and a cabaret at least…and yes, it's been done before but that's what the music is. You'll sell more.
There are 14-songs on this independent album. No info was provided for individual musicians, producer or other credits. I was not critiquing from a hard CD, so I cannot comment on the packaging, nor do I know if any lyrics to the songs are included.
Be sure to read the interview with Tammie Shannon posted by No Depression's Americana Lady December 21st, 2017.
Website: http://tammieshannonmusic.com/
Facebook: https://www.facebook.com/tammieshannonmusic/
Soundcloud: https://soundcloud.com/user-593802096
Disclaimer: The opinions expressed in this review/commentary are those of the author and do not necessarily reflect the official position of No Depression. All photography is owned by the respective photographers and is their copyrighted image; credited where photographer's name was known & being used here solely as a reference and will be removed on request. YouTube images are standard YouTube license.
John Apice / No Depression / November 2018
---