Donna The Buffalo Offers Something for the "Herd"
Posted On November 8, 2018
---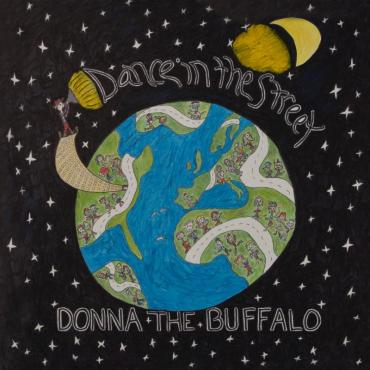 We have all seen it – that recurring moment in mainstream Hollywood movies when the main character goes into a redneck/country bar to browbeat the bartender into telling where someone can be found. In the background is a band playing music. It is frustrating for music lovers because the band usually sounds interesting but somehow the music is too distant to get a grip on.
So it is with Dance in the Street, the latest album by veteran Americana band Donna The Buffalo. There is quite a lot there, but it is all a bit intangible.
My suspicion is that Donna The Buffalo, who have been playing since 1989, are one of those bands that give great live concerts but somehow don't capture the full magic in recordings – or, at least, they haven't here. I have not heard them live, but I base my assumption on the fact they have had a 29-year career, have toured with the likes of Little Feat and Los Lobos, and have a following of die-hard fans big enough to warrant a nickname, The Herd.
The band itself emphasises its gig rapport. Says co-founder Jeb Puryear: "The fans, they show up to be a part of it. We show up to be a part of it. And we don't have an intimidating vibe where we're different than them. If a scene is really on, it doesn't matter whether you're watching, listening, dancing, or playing – it's on, everybody knows it's on and it feels great!"
This is not to say that Dance In The Street — the band's first album in five years — has nothing to offer. The Herd, of course, will love it and it does have some standout tracks.
One of those is the title track, "Dance In The Street." Try to imagine Americana rap sung by Lou Reed and you will sort of get there. Absent a bit of doo-wop here and there, it is essentially a driving drumbeat with Puryear sing-talking a poem:
For change of rule, we had better stand
Before there's nowhere left to land
Doomed to histories repeat
It's time to dance in the street.
Another standout is "Top Shelf," a country tune sung beautifully by Donna's other co-founder, Tara Nevins. It is about making love/life better:
You can't always be thinking you got something coming to you
Life is just what you make it.
As both sets of lyrics suggest, the band has a goal with Dance in the Street of making some social commentary with an emphasis on self-empowerment. Puryear puts it this way: "We feel the album provides an enjoyable ride between the general and the personal, from both male and female perspectives."
How successful Donna The Buffalo is in achieving this goal will depend on how closely the listener concentrates. It is not immediately obvious and somewhat in the background. A bit like that band in the Hollywood movie, in fact.
---