Devilishly Textured Melodies, Soulful & Swampy — Spoonful of Flavorful Tunes
Posted On October 22, 2018
---
Johnny Chops is at it again and it's another rewarding little collection of interesting tunes all sewed together into a tapestry of bluesy grit and soulful originals. Lubbock, Texas' Johnny "Chops" Richardson has been doing music for two decades and where he doesn't advance in his style he does indeed maintain consistency with what he does best – once you get past his almost Tom Petty appearance.
This being his sophomore album he has assembled a crackerjack team of musicians who have a who's who resume of performing and recording with name acts. There's Reckless Kelly's co-vocalist Cody Braun, Eric Borash (John Fogerty, Radney Foster, Jack Ingram), Aden Bubeck (touring bassist for Miranda Lambert), and a few more. If nothing else, the Chops-man satisfies with each and every delectable morsel.
This self-titled collection starts with a potent, swampy rocker that Johnny Chops is well-known for – and he doesn't disappoint. A slow, bluesy, voodoo drenched melody on "Believe." The guitars are tuned as tight as a barbed wire and the construction of the song is a bit left of cryptic. Translation: headphone worthy melodrama without any campiness and novelty. More of a Ry Cooder slide would have added some James Whale Freaks to the arrangement. Chops — as always, is in fine voice and the band, as expected, delivers.
"Medicine," follows and is a little more standard and forgiving. Guitar lovers will enjoy the circuitry in this chilling rocker. This is more an exhibition in guitar prowess than a vocal tune. But then, Chops segues into "I Just Want to Make Love to You," – the Willie Dixon classic that features the smoky blues seduction vocals of Brandy Zdan and the duet is perfectly placed on the LP. The momentum is maintained and it's a well-balanced effort. The contrast between Johnny's hefty vocal and Brandy's affecting vocal is nothing less than spirited.
Melodic piano and brushes on the drums accompany Chops' honeyed saddened vocal onto "When It Comes to You," and the guitars, as usual, wander around in a blues haze. But, they add their notes effectively and leave behind in their wake a nice smoky late-night almost last call saloon-feel – without sounding totally like a bar band. That's proficiency.
The diversification thus far is good on the album – no formula followed except for being true to the genre. "Ten Cent Talkers," has a taste of The Blasters that runs across the forked tongue of Lucifer on this devilishly textured melody. Chops' form is a soulful impulse very much in the tradition of musicians such as Eric Amble, Scott Kempner, John Doe, and Dave Alvin. A Question Mark and the Mysterians ("96 Tears") & Sir Douglas Quintet ("She's About a Mover") Farfisa type organ pumps notes at a nice pace. It doesn't add silliness or campiness because the song has a reliable intriguing arrangement. Nice full-bodied performance. Decorated with lots of bouncy instrumentation.
Johnny Chops has managed to maintain a sound with his basic approach that sustains his style in an absorbing manner. More dark cabaret, blues, and noir add a provocative touch with "Only When You're Breathing." This could have been in the film From Dusk Til' Dawn, alongside the likes of Tito and Tarantula music, and that "Dark Night," tempo of The Blasters. This is a beautifully creepy curiosity. Pieces of the marvelous Dead Can Dance with Brendan Fraser. Fragments of Michael Gira's Swans, and just an abundance of penetrating notes without exploring those bands deeper cross-cultural forms. Chops has good lyrics throughout his music, as played. It fits the bill perfectly. Johnny sings with good authority as well. The tune fades and comes back much the same way as The Beatles' "Helter Skelter." I like those little surprises in a composition.
First somewhat laid back the next song features a pleasant simmered down vocal with electric piano. Old fashioned male vocal backup, a snaking lead guitar and a relaxed MOR commercially radio-friendly approach. "Taking a Chance on Me," is too saccharine for me and it's a little like the early Michael Stanley Band until they matured sonically. They have many great energetic songs but occasionally they too dipped into this kind of texture – which tends to melt with repeated listens. At least it proves Johnny Chops could sing some laid-back soulful material effectively if he had to. But Johnny Chops in a latter-day soulful groove – is performed with some effectiveness.
But, this is not what I expect from Mr. Chops. I like my Johnny Chops cooked with some moisture left in. Is it a stretch? No, Johnny does soul music respectfully – as well as here — with help from the Gospel Starz. Lots of help from the Gospel Starz – who have a musical resume 40 years long.
Johnny is just doing what many artists probably should dare to do. Challenge themselves. Chops' voice doesn't have that Al Green, Solomon Burke texture. But, despite my comments, I will give Chops' an A for the effort and the balls to try something like this. In addition to the fact that few do this kind of old soul music anymore – and the conclusion of the tune is worth the price of admission anyway. I think Chops should do another tune with the Gospel Starz despite my earlier thumbs down. Hey, I can be wrong. Give it a listen and decide for yourself. It won't hurt.
"Gimme Sugar," comes back to the righteous swampy beat with thick guitars. Chops has a little echo on his voice but it's just enough. This would be a great track for Chops to pitch to veteran rocker Johnny Rivers ("Memphis," "Secret Agent Man"). This was his style at one time and this Johnny Chops song is alive and exuberant. Wonderful guitars and drums – probably the best, most attractive track on the album. It follows all the old traditionally reliable routes of this kind of music, but Johnny Chops modernizes it nicely.
With an old-fashioned harmonica added to this rocker and its driving chords and piano, Chops proves he's a good rock and roll singer in the Jerry Lee Lewis frame. The song "Rock Bottom," is nothing special except that it's fun and isn't that what R&R is all about? Or was? It's all here. Nice way to wind down a fine album with muscular sound polished with gasoline and bourbon.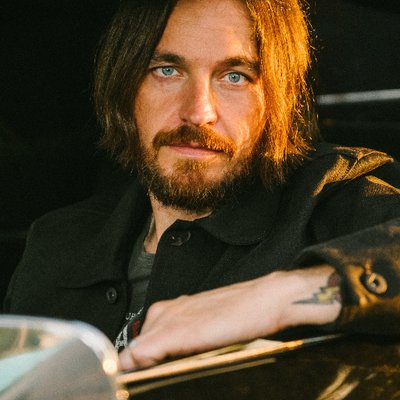 There are 11-tracks on this 49-minute album and it's worth the trip down that path if you like The Blasters, Drivin' & Cryin', the BoDeans, and bands such as that. Johnny Chops satisfies once again. The album was Produced by David Abeyta and Johnny Chops and recorded in Austin, TX. Art and Layout on the CD: Chris King.
Website: https://johnnychopsmusic.com/
Facebook: https://www.facebook.com/johnnychopsmusic/
Disclaimer: The opinions expressed in this review/commentary are those of the author and do not necessarily reflect the official position of No Depression. All photography is owned by the respective photographers and is their copyrighted image; credited where photographer's name was known & being used here solely as a reference and will be removed on request. YouTube images are standard YouTube license.
John Apice / No Depression / October 2018
---