Deer Tick's Double Album
Posted On September 13, 2017
---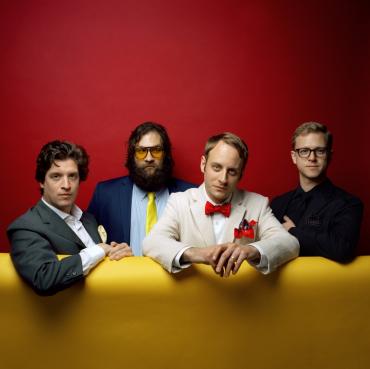 After a decade of making music together, Deer Tick continues to evolve as a band and explore new and exciting territory, all while remaining consistently good. And while they've always straddled the worlds of introspective, acoustic ballads and loud, brazen bar-rock, their records have featured a strong, well-curated representation of those two sounds.
The crooning "Song About a Man" joins the explosive "Easy" on 2008's  Born on Flag Day, and the slow and steady "Electric" shares a set list with the boozy singalong "Let's All Go to the Bar" on 2011's Divine Providence. And a Deer Tick live show inevitably results in a hearty mix of quieter acoustic and piano-driven ballads, and all-out raucous punk rock.
The Providence band continued to strike that balance on their last record, 2013's Negativity, but leaned deeper into catchy melodies and energetic, pop hooks. Their latest record keeps mining the depths of these two sonically different worlds, but with a surprise twist: two albums instead of one. Deer Tick Vol. 1 and Deer Tick Vol. 2 separate the aesthetics into a low key acoustic set and a loud rock and roll one, respectively, making for a total of 20 tracks to delve into, and more than making up for the four years of waiting for their next release. Vol. 1 features the folksier version of the band, with highlights like the twangy "Cocktail" and the dreamy, heartbreaking "Sea of Clouds," and Vol. 2 is filled with amped-up pop-punk rock songs like the phenomenal standout "Jumpstarting" and the booming guitar-heavy "Don't Hurt."
The best thing about these records is the fact that, despite growing up, Deer Tick still remain wholly themselves. In particular, lead man John McCauley has matured and moved on from the days of opening beer cans with his teeth and drinking them in one long gulp on stage, and settled down a bit. And instead of robbing his songwriting of depth or emotion, this chapter (which includes sobering up, marriage and fatherhood) has opened up a new door for him – one that confronts aging, death and past failures in a way that's smart and succinct.
It's impossible to say that either collection is better than the other, because truly, they're best enjoyed all together like one big album, on shuffle or back to back. Both have standout tracks that'll encourage repeated listens and join the ranks of your favorite Deer Tick songs. Guitarist Ian O'Neil and drummer Dennis Ryan jump in on lead vocal duties, too, adding more layers to an already dense double album. Vol. 1 and Vol. 2 represent a clear-headed and progressive move for a band that loves to push the envelope, and the upcoming tour is sure to be a celebration of that.
---