Courtney Patton Soars on 'What It's Like To Fly Alone'
Posted On February 16, 2018
---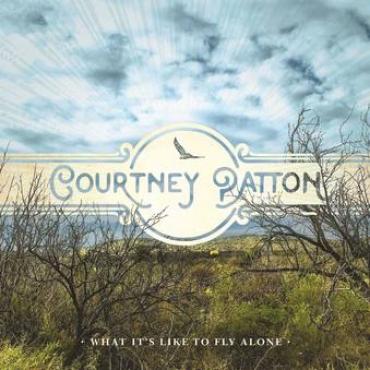 On February 16th, singer-songwriter Courtney Patton follows up her extraordinary 2015 release, So This Is Life, with her eagerly anticipated third album, What It's Like To Fly Alone. Continuing to draw on true life and personal experiences, the twelve-track collection is replete with well-crafted, vividly emotional stories of everyday people who encounter struggle, love, and loss – yet through it all resolve to persevere.
Album opener "Shove" acknowledges those sentiments via a spirited declaration of continuing on despite the trials and tribulations that come along the way. "It's still a long way up to getting back to who I was/And I watch the leaves fall down about ten times and grow back up/Before I find the nerve to say I just can't climb another way/I need a shove." 
That's followed by the fiddle and mandolin led title track which at first blush appears melancholy, but really is an affirmation of personal strength; the solemn "Round Mountain" a story song about a farmer's wife who commits transgressions and ultimately decides to forge her own destiny, and "Open Flame" where, over a stirring acoustic guitar and piano, there is courage in the decision to end a relationship "It might burn but it won't leave a scar/Let's just walk away."
Among a weary troubadour, there is tenderness felt on the rootsy "This Road To You," deep sadness, guilt, and regret on "Devil's Hand" the tale of a sinner who "grabbed the devil's hand for a minute to see if it felt as warm as it looked," intent on "I've Got One Waiting," and devastation on "Words To My Favorite Memory" an astute take on how songs can trigger memories that shatter. "The words to my favorite memory were playing when mine fell apart."
Patton rounds everything out with the Owen Temple and Kelley Mickwee penned "Gold Standard," the utterly relatable "Sometimes She Flies" which recognizes universal truths, "Red Bandana Blue," for friend Kent Finlay, and the extremely loving and compelling "Fourteen Years" about the tragic loss of her sister.
Throughout the self-produced project, which features an all-star line-up of musicians – Chip Bricker (piano), Heather Stalling (fiddle), Lloyd Maines (pedal steel, lap steel, dobro, mandolin, baritone guitar, electric guitar and acoustic lead guitar), Giovanni "Nooch" Carnuccio (drums) and Jerry Abrams (bass), respectively – there is a beautiful balance between the instrumental interplay and Patton's always strong, yet sensitive vocals that only compliment and enhance the poignant storytelling present.
Via layered narratives that relay tales of heartache, loss, and ultimately determination, Patton delivers a stunning album that not only touches the listener, but empowers them to find their own happiness and inner fortitude as well. On What It's Like to Fly Alone, it's clear Patton doesn't simply fly, she soars.
Originally appeared on The Daily Country
---