Courtney Marie Andrews' Unmistakable Authenticity
---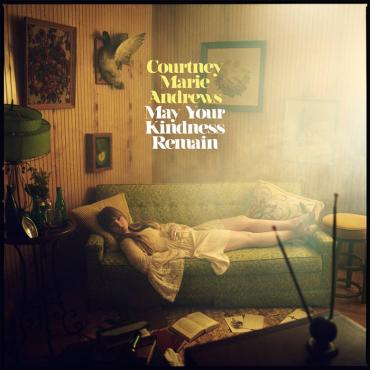 Courtney Marie Andrews possesses an authenticity that's rare in artists in 2018. She never comes across as anyone other than who she is. There are no frills in either her songwriting or her performances. Her voice is pure and natural and it fills the space in an uninhibited, unselfconscious way. That honesty and rawness came across in last year's Honest Life, and on stage in support of that record. She sang songs about being a hardworking musician, but also about being a young woman in the midst of trying to figure out who she is. Her highly anticipated follow-up, titled May Your Kindness Remain, finds Andrews continuing to pursue an authentic life, despite obstacles – be they financial, romantic, or existential. That same full-bodied voice takes up every last inch of each song, maybe even more than before.
On "I've Hurt Worse," we get a song about settling that is oddly, somehow, still romantic. It feels a little like a drinking song, and in it, Andrews sings the praises of a lover who keeps her on her toes by being completely unreliable and terrible. "Took You Up" is a swooning tribute to an unfanciful love filled with unglamorous backdrops and gritty situations. But Andrews finds the silver lining in all of it, whether it be "frozen dinners/when money's tight" or "makin' love on a laundry pile." It's a jolt of reality that brings us back to the present; back to what matters most. Hint: It's not the finer things in life.
The album's title track takes a similar approach to life, and Andrews' message is clear. When it feels like you have little left to offer, remember it's what's inside that counts. Being a good person trumps everything. It's genuine without feeling saccharine or lecture-y. On "Rough Around the Edges," she confronts her flaws without self-hatred or condemnation. She's just trying to accept herself for who she is.
Throughout, there's a Western aesthetic that has always permeated Andrews' songs. She manages to make us feel like we're in the passenger seat of her tour van as she drives us across a sun-drenched desert. It's solitary, but it's warm and inviting, whether it's the occasional tinkle of piano keys or an earthy strum on an acoustic guitar.
Andrews could have gone in a few directions after Honest Life. She could have drawn from the sweeping melodic pop of a song like "Rookie Dreaming" and put out a true folk pop record. Or she could have leaned into her darker side, like on the more outlaw sounding "Table For One" and put out a country rock record. But instead of allowing herself to be pushed or overproduced, she has remained true to her craft and made a genuine rootsy singer-songwriter collection of songs. Her strong narrative voice and even stronger vocals feel truer than ever on May Your Kindness Remain.
---