Country-Alt-Folk Singer-Songwriter With Shades of Baez — Dark, Optimistic & Melodic
Posted On January 24, 2019
---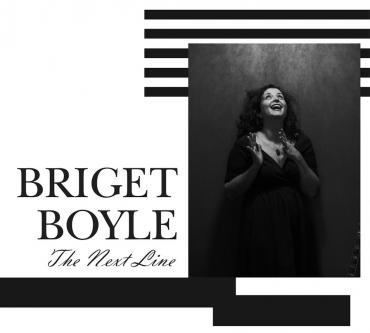 Released last year I finally had a chance to listen to Oakland, California's Briget Boyle's pristine vocals on a fine laid back but a well-produced 11-track collection. Strains of cellos and acoustic guitars with many little reminders of the past built into Ms. Boyle's voice and those reminders are all fine, excellent songbirds. Briget does have her own style and tone – and has a wonderfully appealing singing approach. Her voice seems almost without fault. There are generous touches of Judy Collins though maybe she doesn't have Collins' depth and range, maybe she's a little more Jennifer Warnes – a major backup singer and soloist who has appeared on many artists albums and sang primarily with Leonard Cohen.
The Next Line is a well-arranged album with wonderfully inspired songs. Though the instrumentation is spare the playing is precise and accomplished. Sometimes less is more, indeed. "Pick Up," has a nice string break and the lyrics are written to allow Ms. Boyle a rock approach. The catchy hook in the title itself is repeated quickly. There are many instruments in attendance and they are all well-recorded and separated. Briget, who also plays acoustic and electric guitars on this session, shines on this track and with the next – "Middle We Meet," she continues with a nice short (2:44) rock ingredient and the fiery guitar that either she plays or is performed by either James DePrato or Jon Monohan. Not sure, because there is more than one lead guitarist listed and none are identified clearly. However, the performances are admirable. Briget doesn't possess a distinguished vocal. Not like say, Grace Slick, Janis Joplin, Debbie Harry, Stevie Nicks, Amy Winehouse, Joan Baez or a Judy Collins, but…her exceptional vocal prowess and pure vocal are quite attractive.
"Salty Tears," has good lyrics – at least she is not prone to clichés and she does try to tell a story. Ms. Boyle is not quite in the category as a Joni Mitchell, Melanie Safka, Judee Sill or Dory Previn as far as writing – but that does take time. Briget hits credible notes in this average song and the Michael Shiono's bass adds a coating to an otherwise adequate tune. It ambles along, never takes off. The song spotlights good musicianship but it's all the Jennifer Warnes' type vocalizing that is the focus. And in Briget's case – that's not a bad thing. She can carry the tune and she does have power. This has a jazz feel to it – it's not necessarily jazz but it has that scent of a Madeleine Peyroux.
Basically, a cliched title since "Breathless," has been used to death since the 1950s. The song is a little tale and even in its simplistic structure the music supports it nicely, and Ms. Boyle doesn't fail. She has a voice that is excellent for ballads, folk and middle-of-the-road but I wonder, wonder, wonder, if there's a basis for blues in her tone. She seems to suggest it at times as she pronounces her lyrics and holds her notes with ease. Another excellently played song. Her musicians are all obviously proficient. David Zirbel provides sublime pedal steel.
One of the better tunes is "Before Your Eyes," — the song is a typical upbeat song with start and stops, clever storyline lyrics, and Briget's fine, lucid vocals. One thing is certain in regards to the style of Briget Boyle is a lack of showboating even though she could let loose. She doesn't. When she hits her high notes, they're all in their proper place – and not for pomposity. She probably knows that would diminish a song like this which has more sincerity than dynamics. Her voice is not as perfect as say a Sandy Denny, or as deep as June Tabor. But there are subtleties and it's always pleasant on the ear. Ms. Boyle at least understands the value of the human voice as applied to lyrics that matter.
A little darker is "Who Are We to Blame," and this voice is more in tune with English folk singer Linda Thompson ("Telling Me Lies") – because this may well be the best song on the album. It has angst, beauty, a grinding lead guitar and penetrating melody with good lyrics. She's still not up there with Mitchell, Sandy Denny, or even Linda Thompson but you can tell, you can hear that this woman has the goods. This is gratifying.
With a warmer voice Briget Boyle is accompanied with an upbeat steady drum and acoustic guitar picking – "Sank the Seas," has that old fashioned 60's pop song melody feel. On this track she is Joan Baez resurrected only Ms. Boyle is not ever grating on the ears like Joan, at times, could be. This is another winner – quite a delight to listen to. Briget never has any issues finding her groove. I think she is a vocalist who knows her limitations and never pushes. This track features some nice strings and Briget's vocals are one long colorful ribbon unfolding across a barren field.
Atmospheric and slow is "Pray for Daybreak," another darker song and this reminds me of the New Zealand country singer-songwriter, Donna Dean when she sings her slower songs. Dean's songs have been covered by American artists such as the 2010 Grammy-nominated song by Rhonda Vincent — "Destination Life." The same brandy rich vocal, perfect diction, and the haunting pedal steel as it soars over the vocals without being obstructive. The lyrics are also superior. Married to a melody with perfection.
Briget continues with another memorable melody and lyric on "Heart-Shaped Mirror," and it's a perfect country vehicle as well. But here it's a standard ballad sung with powdered sugar sprinkled all over the notes perhaps for commercial effect – strong trumpet punctuates the tune. This is not Nashville country, this is more like what you would get out of New Mexico and Arizona. This song can easily penetrate your mind and you'll be singing it all day. The opening lyric: "There's a heart-shaped mirror in my chest, it's covered over with a bulletproof vest, it's got jagged edges that protect, the parts interior I tend to neglect…" Nice. Briget also mentions in the song: "…but I've never been good at being a puppeteer." Wonderful imagery.
An electric guitar solo in the old-school tradition with its heavy notes is gripping. It seems Ms. Boyle's most interesting performances are all coming late in the game on this LP. This is a pleasure and after repeated listens I have figured it out. It's not what you'd expect from the country-singers who belong to the commercial country music club. This is a little piece of art. It's thought out and it has sensibility. If I was a song pitcher, I'd send this to Emmylou Harris, Shawn Colvin and – I'm too late now, but Linda Ronstadt would have been ideal as well.
Briget must realize that if her album doesn't make the top 50 of the charts it doesn't mean established singers wouldn't appreciate her writing. These are great songs.
The final song is "Keep It Simple," and that's exactly what Briget does. It's slow, whispery and the vocal in headphones would probably put Briget Boyle in your lap. This is great late-night listening or a tune to play when a disc jockey is closing shop. While some listeners may say it's not exciting what you must remember is this: the vocal control it takes to sing that slow, low and maintain the sincerity without rushing it is what makes it special. Someday, a female jazz singer or lounge singer is going to discover this song – a deeper vocalist like Madeleine Peyroux who has a near-Billie Holiday tone would mesmerize her audience with a song like this. A good way to say goodnight to an audience. And Briget Boyle is worth coming back to.
All songs were written by Ms. Boyle. The 46-minute album was produced by Michael Shiono (bass, Moog, piano, string arrangements) and executive producer Tim Boyle. The LP was recorded in several studios in California. The CD was designed by GuangYuan Lim and Bob Ciano. Cover black and white photography by April Renae.
The CD package is a beautifully laminated standard four-panel tray with an 8-page stitched lyric book inserted into a die-cut slit on the inside cover.
Website: http://www.brigetboyle.com/
Facebook: https://www.facebook.com/brigetboylemusic
SoundCloud: https://soundcloud.com/briget-boyle
Disclaimer: The opinions expressed in this review/commentary are those of the author and do not necessarily reflect the official position of No Depression. All photography is owned by the respective photographers and is their copyrighted image; credited where photographer's name was known & being used here solely as a reference and will be removed on request. YouTube images are standard YouTube license.
John Apice / No Depression / January 2019
---