Coming Back Around
Posted On September 26, 2017
---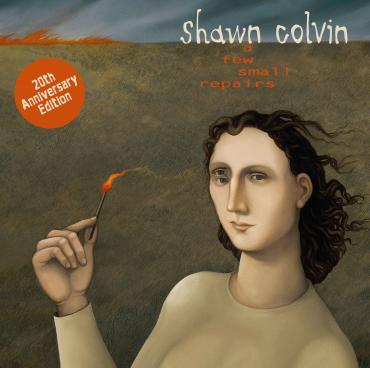 Twenty years ago, Shawn Colvin released A Few Small Repairs, a lustrous poetic masterpiece painted in broad swaths on life's torn and tattered canvas. The album contains some of Colvin's most memorable work, including "You and the Mona Lisa," "Nothin' on Me," "The Facts about Jimmy," "Get Out of This House," and the Grammy Award-winning "Sunny Came Home." The music reveals a singer whose phrasing and delivery combine the sonic ethereal tones of Laura Nyro and the jazz-folk of Karla Bonoff, and the lyrics tell stories of people we've encountered ourselves in our own lives, expressing emotions we've also felt.
A newly remastered and expanded version of A Few Small Repairs is now available on CD, digital, and, for the first time, on vinyl. The remastered version contains seven rare and unreleased bonus tracks, live tracks from shows at venues such as the Ryman Auditorium, KFOG, and the Columbia Records Radio Hour. The bonus tracks aren't the reasons to listen again to A Few Small Repairs. This version of Colvin's album blossoms with her raw emotional vocal delivery, her operatically gorgeous melodies, and her defiantly honest lyrics. After 20 years, A Few Small Repairs holds up as a testament to Colvin's canny ability to see the torn fabric of our lives and to spin out threads that can repair that raggedness. Yet it's also in the ragged desolation of living that redemption comes to us through simple acts of defiance, loss, risk, acceptance, and love. The musical structure of "If I Were Brave" echoes Stephen Sondheim's "Send in the Clowns," depicting the "happy couples on their way to New Orleans/They're only renting time and space/to fill up with their dreams/And dreams are what they'll have when they have gone." It's an almost perfect expression of the illusions we often use to hide from ourselves and our lives. The bright and sprightly, "Nothin' On Me," delivers a declaration of independence in a jaunty soul-infused tune.
The new remastered and expanded version of A Few Small Repairs worthily celebrates Colvin's songwriting and singing and takes us back to a time when Colvin emerged as one of our most brilliant singer-songwriters.
I caught up by phone recently with Colvin for chat about the record and her music:
Why re-release this album now?
Colvin: I don't know. It's a real special record, and it's special to a lot of people, I think. I've always wanted to play one of my records from top to bottom, and I'll be doing that with A Few Small Repairs on my tour this fall.
What did the album teach you about yourself as a writer?
It taught me to worry less and to trust my instincts and to have fun. It taught me not to succumb to pressure to rush to write the songs. In each record before A Few Small Repairs we felt like we had to have a single for radio. By the time we got to this album, though, we didn't feel like we had to speak to radio anymore, so there was no pressure, no fear of failing; it was a time of freedom. I gave myself permission to write about characters and to tell stories instead of writing confessional songs as I had on the first three albums.
If the album were released today, how do you think it would be received?
Well, there's no such thing as free form radio now, which made a huge difference at the time. People don't buy records. I still think of records as a piece, and they're not perceived as such anymore.
What's one book you won't leave home without?
Hmm; well, The Sun Also Rises is one of my favorite books in the whole world, so that might be it.
How has your approach to songwriting changed since A Few Small Repairs?
It changed when I had my daughter. My time management changed a lot. I found it very difficult to write in my own house. I'd go away to a studio in another town; that's how I wrote the book [her memoir, Diamond in the Rough], by getting out of my house.
Does music still have the power to transform us?
More than ever; in times of confusion and uncertainty as a people and a country and uncertainty about our future and our children's future, art becomes more and more a touchstone. Music is a religion. It's an inspiration, and it delivers healing power.
What's next for you?
Writing songs with John Leventhal. Working on what I'll call a one-woman show based on the book and writing music for it. Making a follow-up to the lullaby record [Holiday Songs and Lullabies].
---