Colorado Singer-Songwriter's Smart Music & Lyrics Makes for Interesting Country Collection
Posted On November 26, 2018
---
The opening song to 26-year old Colorado singer-songwriter Andy Sydow's ten-track third album Reasons for Departure is the title track – and it starts piano-driven, slow, pensive and is quite warm. No fireworks or showboating just a light-hearted ballad with some nice lyrical references:
"…I hope your sense of humor keeps you crazy, even if I'm just a joke to you." Later in the song the simple but thought-provoking: "…arrivals and departures, may they never take who you are." This is what Nashville and Austin music alleys should be producing. Not the sugar-coated, cliché ridden pop that passes for country, alt-country and whatever today. My biggest argument about the music industry, or rather, the contemporary "music club," — emphasis on the word contemporary — is that people focus on whether an individual is a good guitarist, proficient bass player, fiddler, drummer, and piano player. And they try hard to acquire the best for their band because they want to sound good. But they seldom if ever, even if they have a good composer, focus on the lyrics. The story their music is supposed to tell. They write their own lyrics with little or no practice. So, while the performance is good, the music is catchy, the lyrics remain insipid, inane and bordering on — well, stupid.
Not so here. Here you have a singer-songwriter like Andy Sydow. Who is he? Well, even if his CD of songs doesn't climb the charts and sell out Madison Square Garden, or the Ryman Auditorium — there are many great singers recording who should at least listen to this man's songs. These are not lyrics that are insipid, inane or stupid. Sydow doesn't have a voice that is powerful like an Elvis Presley, Jim Morrison or as character shaped as Dave Matthews and Jimmie Dale Gilmore. But he has melodies, and he has lyrics, and he shapes his musical clay into images that few writers today are capable of.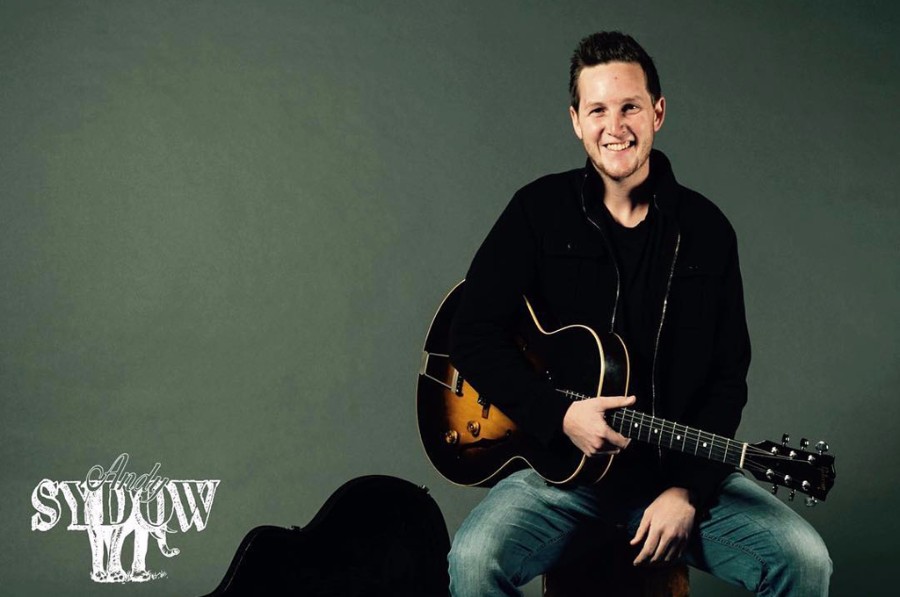 We have lost writers like Leonard Cohen, Mickey Newbury, J.J. Cale, Gene Clark, Townes Van Zandt, Guy Clark, and so many other magical songwriters. Someone needs to fill the void. And some of these writers are hidden — like Andy Sydow.
"Directions to the Moon," abandons the piano and a nice dark fuzz-toned guitar greets the listener with haunting backup singers introducing the slow-burning vocal of Andy – a little more surreal. However, the song does not delve into hokey, corny or silly. "I wanna feel my winters under a beating sun," – "…surrounded by different colors but mostly blues, innocent and helpless like a big balloon." Clever. Not genius. Just clever.
Not like much you would've heard elsewhere. Andy takes chances, paints his canvass with a bold brush and not by numbers. This isn't his best but it's the challenge that I appreciate. It's spacious and creates atmosphere. Sydow's vocal is somewhat from the school of early Elton John ("Skyline Pidgeon"), Bruce MacPherson, Phillip Gooodhand-Tait, Larry Weiss ("Rhinestone Cowboy"), and Steve Goodman ("City of New Orleans").
So, you see, Andy is in good company. Despite the comparison, he does have his own style and it's polished and interesting. "…it's time to forgive all my weaknesses, it's time to move on." Nice optimistic advice. All found on "Who I Want to Be." The nice upbeat "Secret Rodeo," has typical driving pop country energy. Luke Maxson adds a nice touch with a Hammond-organ type lead over a thudding Troy Thrasher drum beat. Andy's voice is more aggressive without being angry. "I run my hands through the air, till I feel like something's there." The lyrics are basically simple but threaded together in a manner that is creative. As creative as say lyricist Bernie Taupin (from Elton John) – maybe not yet. But Andy's on that road for sure.
"Hearts Go On," is a reminiscing song between high school pals. Innocent, at times suggestive, honest and brings a small smile to the faces who can relate to Sydow's tale. "…she stopped giving the time of day, makes you wonder what you could've done…" This is about as excellent a rock lyric with angst as you can get – circa the 1960s when the creativity was at its zenith. Sydow segues into a lyric like "I was the penny you left in the wishing well…" and he slowly unravels a slow ballad of sadness in "Shame on Me," — not an earth-shaking tune, but Andy's voice is sincere and sung in a voice seldom used by today's artists. Maybe they never lived these issues or maybe they have no clue how to express this kind of loneliness the way Andy has found a way to do. If nothing, Sydow sounds like he may have experience with every subject he has written about. And that can only be a good thing.
A bluesy intro seeps from "Lonely Love," and though Andy doesn't have a traditional blues voice he manages to squeeze out what is necessary to infuse the lyric. "She used to live in a cardboard town, with her tail in the air and her face to the ground." Suggestive? Maybe, but not offensive. This is a slow ballad as well and it tells an excellent countrified story. Other country artists would just have to add heavier steel guitar, fiddle and whatever makes a country song stronger nowadays. Andy has laid out the lyric, the map and the sour taste of a lonely love. Chris Daniels and Andy play the guitars and they stretch the notes out into a blistering painful tone – but all to our listening satisfaction.
The piano returns on "Jenny's Masquerade," – a shy song between youngsters. Despite the loneliness of some tunes, the angst, and the adolescent feel of some lyrics – Andy seems to write songs in a very wise-man style. This is an excellent tune. Invigorating at times, and though Andy's voice does not have power – there is a sweet strength in his tonality. Beautiful.
Deep bass opens "Bus Driver." with a crisp beat. My only criticism is that at times it almost sounds like the drummer is mixed down too low. I could hardly hear his performance. There's nice piano that takes off midway through and that too should have been mixed a little hotter. A great piano piece by Andy himself. The song has all the elements for a great rocker – but, there are areas that are seemingly held back, and the song should've been fireworks but came off just like a firecracker. That can be remedied.
In an old-style country manner, "Whispering Moon," written with Nic Clark – showcases Andy in a more traditional country style. Even the late George Jones could have done this song and with lots of vigor. The guitar interworking's is tight, and despite the antique arrangement the song holds strong and is a wonderful way to conclude the album. For the most part, the majority of Andy Sydow's songs are all of a high quality and he should be taken seriously not only as a performer, but as a viable songwriter who has tunes that others can reap.
Only time will tell if he will follow in the footsteps of those I already mentioned as well as Kris Kristofferson, Jerry Jeff Walker, Phil Ochs, Hoyt Axton and the like. The man has stories to tell and he recounts them with style.
The 40-minute album is packaged in a heavy cardboard 4-panel black and red illustration with a stitched 16-page 4-color insert with lyrics and credits. Nice packaging by G. Carr & Salli Ratts of G. Carr Illustration. The album was produced by guitarist and backup vocalist Chris Daniels at both Coupe and Tessitura Studios.
Be sure to read the interview Andy had with No Depression's Americana Lady in April 2018.
Website: https://andysydow.com/home
Facebook: https://www.facebook.com/andysydowmusic
Soundcloud: https://soundcloud.com/andysydowmusic
Disclaimer: The opinions expressed in this review/commentary are those of the author and do not necessarily reflect the official position of No Depression. All photography is owned by the respective photographers and is their copyrighted image; credited where photographer's name was known & being used here solely as a reference and will be removed on request. YouTube images are standard YouTube license.
John Apice / No Depression / November 2018
---