Chris O'Leary's 7 Minutes Late is a Wonderful Shot to the Nervous System
Posted On January 17, 2019
---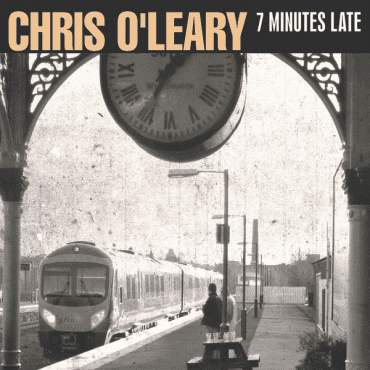 There's a startling moment on "She Ain't Coming Back," the fifth song on Chris O'Leary's 7 Minutes Late. O'Leary howls over an acoustic blues groove, the desperation reaching such an intensity and emotional rawness that it actually triggers the response similar to what parents feel when they hear a baby crying. It's primal and almost bypasses the ears by going straight for the central nervous system.
It's a singular moment on a fantastic album, but the honesty of it is a consistent theme throughout the dozen tracks. O'Leary taps into some serious emotional energy, deploying it not as a weapon of scenery-chewing, but rather as what seems to be a candid expression of himself.
O'Leary is a singer/harmonica player best known for his work with The Band's Levon Helm. The Helm connection is significant, as the two share a similar sensibility. Helm, like O'Leary, had a seemingly effortless depth. Helm could access and deliver the depths of not just his own psyche, but the listener's, with a naturalness that could feel frustratingly impossible. I mean Helm sang like that while playing drums. Who does that? O'Leary uses a similar combination of depth and ease across the album. He doesn't have a wide vocal range, but he's able to convey a lot of emotion with his sweet, plaintive voice.
Stylistically, the album covers a lot of ground, which is interesting since O'Leary wrote all of the songs himself. There's country blues, like the aforementioned "She Ain't Coming Back," but there's also more straight-forward electric blues, like "What the Devil Made Me Do." He works with a horn section across the album and also explores some New Orleans-style blues/funk. "Driving Me Crazy" could almost be a Dr. John song. And then there's the title track, which is trippy and airy, but not particularly bluesy. It just glides along, the music gently pulling the listener as slide guitar pulls the song up and down, almost like bobbing along on an ocean of air. O'Leary's vocals narrate the journey (accompanied by some solid backup vocals), but his harmonica assumes an important role, taking the lead with a beautiful, lyrical rideout that isn't the typical blues riffing. It's an inspired track across the board.
The album also features some beautiful guitar work, mostly courtesy of Peter Hopkinson and Greg Gumpel, but also from Pete Kanaras and Chris Vitarello. There's a cohesiveness to the sound, though. Each solo and guitar part is thoughtfully constructed, and, like O'Leary's vocals, tap into an emotional honesty. There's nothing overly clinical about the guitars; it's all just talented musicians expressing themselves as simply as possible.
O'Leary and his band deftly move between blues/Americana-adjacent genres and while the songs are all strong, musically and lyrically, the considerable strength of the album is the performances, which all practically vibrate with an authenticity that makes the album stay with you. It's challenging to describe because it's an energy that almost lives between the notes, rather than because of them. But the energy is there and it takes an already-strong album to another soulful level. Unlike a crying baby, 7 Minutes Late is something you'll want to keep in your ears.
---