Chip Taylor Gets His Words Right
---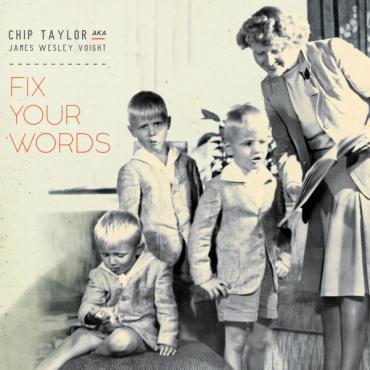 No one has had a more unlikely career in the music business than Chip Taylor. Like his contemporaries Carole King, Neil Sedaka, and Neil Diamond, he found success early on as a songwriter penning hits for others. His song "Wild Thing" became one of the original anthems for the British invasion after becoming a breakout hit for the Troggs in 1966 and later, a tune famously deconstructed by Jimi Hendrix at the Monterrey Pop Fest in 1967. And if that wasn't enough to stake his claim to fame, his other major hit, the oft-covered "Angel of the Morning," was clearly the clincher.
After a successful stint as a gambler, Taylor resumed his recording career, releasing albums that offer a well-seasoned perspective on the ups and downs just plain folks and families typically encounter in life's oftentimes challenging journey. His latest, Fix Your words, is no exception, and like his last outing, A Song I Can Live With, it's primarily autobiographical in nature. Lately, Taylor's seemed eager to tap into his own upbringing for inspiration — the cover features a a photo of him and his brothers as children getting a reading lesson from their mother — and it's a combination of reflection and remorse that echoes through the album.
Indeed, it's the latter that seems to resonate with the lingering effect. With his raw weary vocals barely rising above a whisper, Taylor's whiskey-soaked resolve makes Fix Your Words a somber affair to say the very least. The arrangements are similarly subdued, but given the tasteful participation of a tasteful team of backing musicians (including guitarist John Platania, previously with Van Morrison), the music is as tender and emotive as its sentiments suggest. While certain songs, such as "Whatever Devil Is In Me," "If I Am," "Love Knows the Clouds," "A Little Bit Underground," and the half-spoken, half gasped "The Ground Moving Around Me," create a visceral impression with their croaked introspection, there's not a single selection here that doesn't beg the listener to lean in and linger. Those that worship at the altar of Willie Nelson, Kris Kristofferson, Tom Waits, and Johnny Cash will find a full measure of resilience here.
---