Chicago Farmer Tells Us All His Midwest Side Stories
Posted On September 20, 2016
---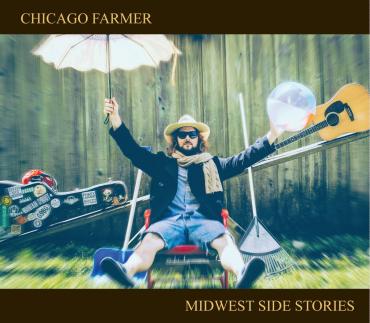 "I wanna sing you a sad, sad song, that I wrote to make you smile", sings Chicago Farmer (Cody Diekhoff) on the opening track of his upcoming release, Midwest Side Stories. That line goes a long way to summing up Diekhoff's ability to capture a listener regardless of subject matter. This latest effort from the Illinois staple does not have the bluegrass feel of his last release, Backenfort, Illinois, instead leaning heavier on a folk to folk rock sound. What still remains is his warbling vocals, delivered clearly and out in front of the recording allowing the stories contained therein to shine. And that is where Diekhoff shines, as a phenomenal storyteller in the vein of Prine, Earle, and his somewhat mentor, Todd Snider (who provided a glowing recommendation in the liner notes of the record).
Midwest Side Stories is strong from start to finish. Starting with the aforementioned "Umbrella", which would serve perfectly as a show opener giving the crowd a hint of what is in store. Later, the slow paced "Rocco and Susie" tells a heart wrenching story of a middle class family spiraling from suburban paradise to cooking meth in their garage. "Skate Board Song" is a tongue in cheek statement of the state of our social priorities cloaked in the form of a protest song lamenting the beaten down rights of the skateboarding youth. Another standout on the record is the homage to his upbringing, the appropriately titled, "Farms and Factories". The album closes with its only cover, John Hartford's "I'm Still Here" is given a jolt of energy by Diekhoff that delivers even more defiant hopefulness than than the original.
After a few listens to the record it becomes apparent that Chicago Farmer has a refreshingly firm grip on where he comes from. The songs are covered to the elbows in dirt from the fields and smell of the sweaty factory floors. If the Midwest is looking for a voice, the search is over. Diekhoff will be heading out for an album release tour this fall and it is a show that should not missed.
The album officially drops on September 30th and can be ordered over at www.ChicagoFarmer.com.
---