---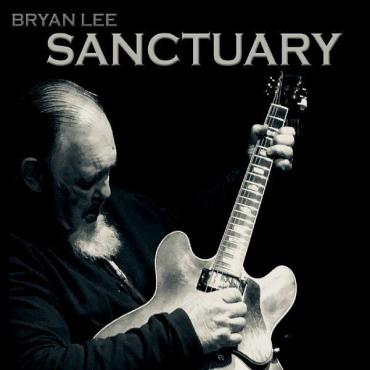 There is something godless about the blues and rock and roll. Perhaps it's because of bluesman Robert Johnson's alleged deal with the Devil. Perhaps it's because of Bob Dylan's run of religious albums, which made many rock fans uncomfortable. Or maybe it's related to John Lennon proclaiming the Beatles more popular than Jesus. Whatever the cause, it's considered unusual when an artist moves from the secular to the religious. But it's not necessarily a bad move as Bryan Lee shows on Sanctuary, a beautiful departure into gospel, soul, and religious blues.
Lee is a blues singer/guitarist, perhaps most famous for his seculary work with fellow blues guitarist Kenny Wayne Sheppard. In 2011 Lee dreamed an arrangement of "The Lord's Prayer" while on tour in Norway. He recorded it the next day, along with an original spiritual blues song, and nothing came of it until earlier this year when producer/engineer Steve Hamilton offered to help him complete a religious album. Sanctuary is the result of that offer.

Lee with Kenny Wayne Shepherd
Sanctuary is overtly religious, but isn't serious or sanctimonious. The tracks are freewheeling blues and gospel with explicitly Christian themes. Lee's voice is like Dr. John, but with less of that swampy New Orleans bristle. His guitar playing is beautifully emotive, evocative of Albert King. Lee is a generous performer, giving plenty of spotlight to his keyboardists, Jimmy Voegeli and Iver Olav Erstad, who both do an amazing job using organ and piano to give the tracks a church-like breadth while also simultaneously keeping things blues-y.
"Fight for the Light," the album's funky, gospel-inspired first track, sounds like a standard but is a Lee original. Many of the album's original tracks will send listeners to the liner notes to see if they're standards or originals. For the record, only three of the album's eleven tracks aren't written or co-written by Lee.
Lee includes the version of "The Lord's Prayer," recorded in Norway in 2011, that began this album's journey. It's a fascinating track, featuring plenty of the aforementioned piano and organ, and interestingly, not much guitar. Lee has a good voice, but not a breath-taking one. What makes the track work is the sincerity and devotion of the vocal delivery. Not only did the arrangement come to him in a dream, you can sense how much the dream impacted Lee. "Jesus is My Lord and Savior," the other Norway track, is also included here, and the Lee original is no less compelling. Musically, it's a standard blues, but lyrically it's about redemption and being a better person. Lee's lilting guitar glides over an organ groove that comes right out of the world's funkiest skating rink. Religious music can often be perceived, rightly or wrongly, as square, but this track is as cool as a Norwegian ice hotel.
Sanctuary is a pleasant surprise. It's reminiscent of Paul Thorn's Don't Let the Devil Ride, released earlier this year, and which also features a blues artist turning to religious music (in Thorn's case, the gospel music of his childhood). Lee has created an authentic, sincere album that captures his devotion without flaunting it. Lee's faith and love of the blues are intertwined and it's great hearing him use each to express the other.
---