Bloodshot Records Celebrates 25 Years with Musical Love Letter to Chicago
Posted On November 7, 2019
---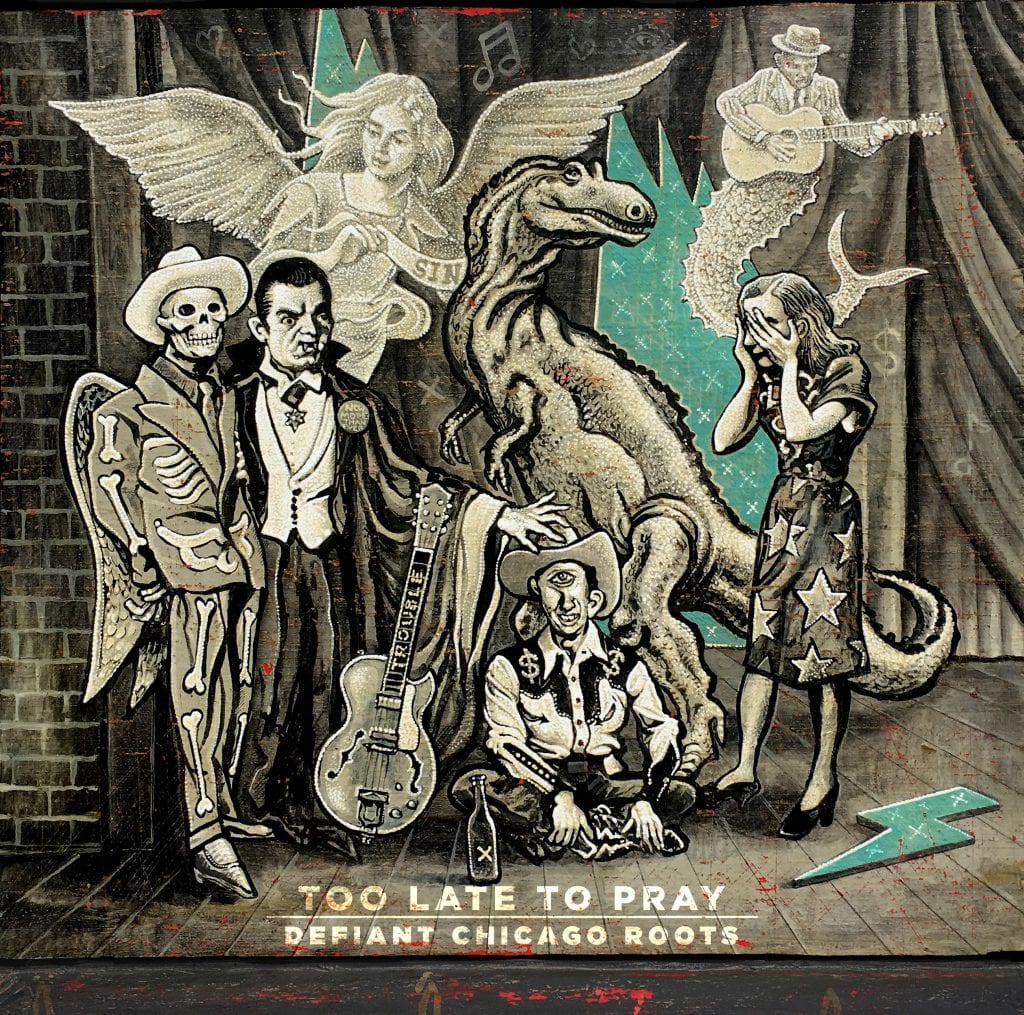 Unbelievably, it's been 25 years since the inception of Chicago's iconic indie label Bloodshot Records. To those that know them, Bloodshot is as much a part of the fabric of its hometown as anything, but for those new to the label's output, Too Late to Pray: Defiant Chicago Roots wouldn't be a bad place to start. Like their debut 1994 compilation For a Life of Sin: A Compilation of Insurgent Chicago Country, Too Late to Pray brings together an eclectic group of artists that, one way or another, lovingly pay tribute to the city's country punk roots. Familiar voices like longtime label mainstays Robbie Fulks and Jon Langford share space with new ones like Wild Earp & the Free for Alls and Half Gringa.
Whether right on the nose, like "I Am a Big Town" by Langford's Hillbilly Lovechild (with Steve Albini) and "The Last Honky Tonk in Chicago" by Wild Earp, or just a sonic sampling of local beauty, like with Half Gringa's "Wearing White" and Sima Cunningham's "Weeds and Daisies," Too Late to Pray never stays in one place too long. Each track takes us on its own journey, some especially twangy like The Family Gold's "The Sun is Going Down," others with a bit of throwback swoon like on the glorious golden-throated Kelly Hogan channeling Patsy Cline on Ella Fitzgerald's "Gotta Have My Baby Back."
Some surprises can be unearthed, too, like Freakwater's cover of the Rolling Stones track "Sway," and The Handsome Family's take on Leonard Cohen's "Tower of Song." What makes this compilation so compelling, and what gives it that unmistakable Bloodshot stamp, is that those moments can live comfortably side by side with spare rootsy gems like Jess McIntosh's "The Sweetness," and the soulful power punk of Bethany Thomas and Tawny Newsome's "Dinosaur." Too Late to Pray is a reminder that Bloodshot is still one of the most fascinating and rich sources for music 25 years on, and in its true defiant spirit, feels no need to fit in. Instead, it paves its own way.
---