Bill Frisell Joins Roots Music, High Art, and a Spirit of Adventure on 'HARMONY'
Posted On October 2, 2019
---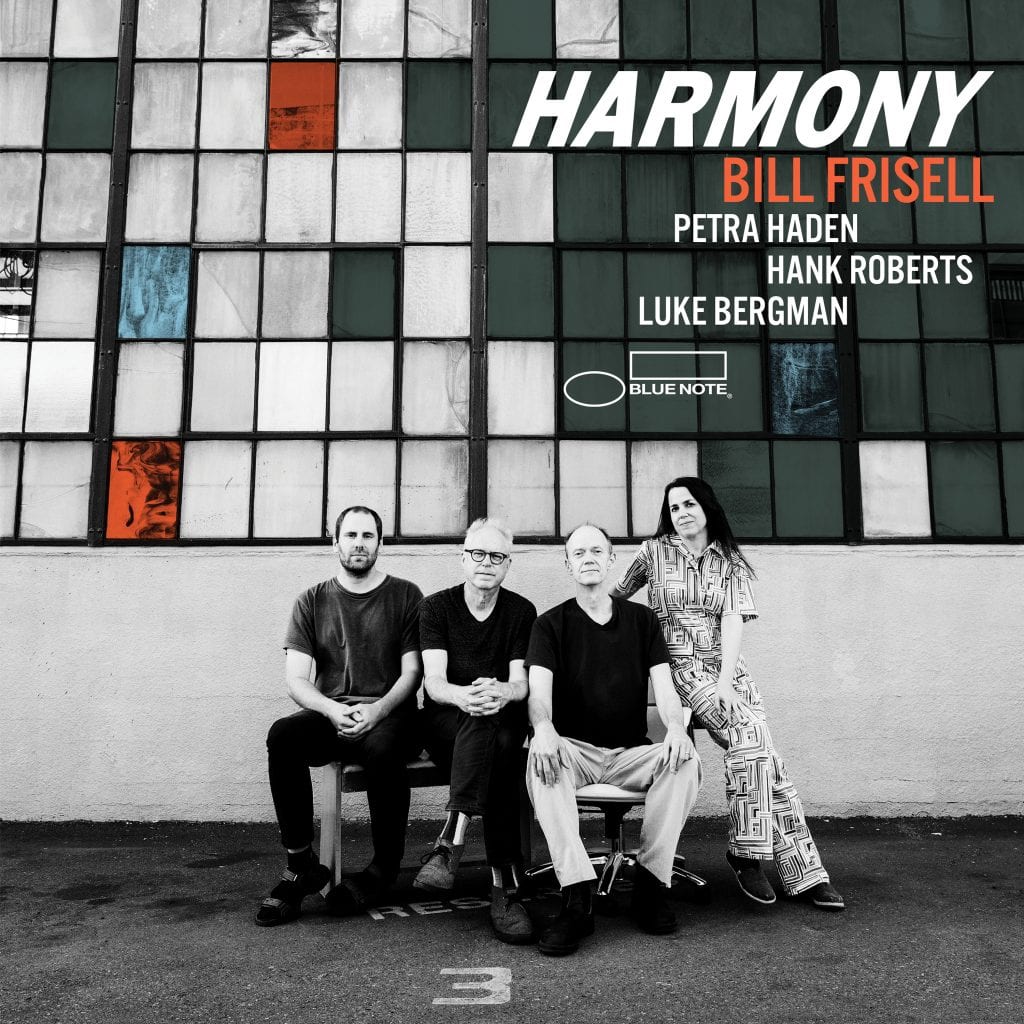 In September 2017, deservedly celebrated jazz guitarist Bill Frisell brought his project titled "Harmony" to the ArtsCenter in Carrboro, North Carolina. It was a concert of staggering beauty, with Frisell and his collaborators melding divergent forms of American music. Rather than seek these forms' common root, however, Frisell assembled a delicate new creation — a soaring, ethereal branch of American music's evolutionary tree with touchstones in roots music, high art, and experimentalism.  "At moments," as I wrote at the time, "this reverent junction of American folksong, jazz, and new music polyphony truly did feel like a form of sacred music."
Now Frisell has released HARMONY — the record — on jazz label Blue Note Records. Working with the same ensemble of Petra Haden, Hank Roberts, and Luke Bergman, Frisell presents gorgeously captured and immersive versions of jazz standards like "On the Street Where You Live" and "Lush Life" and folk numbers such as "Red River Valley" and "Where Have all the Flowers Gone." Some are original works, too, and all explore the same placid, ethereal aesthetic.
As a recording, HARMONY soars above worldly concerns. As a jazz record, that works. As a folk record, it's a little too flawless — a little too removed from the literal and figurative hard wooden chairs of life (and of ArtsCenter).
"Many days you have lingered / around my cabin door / oh, hard times come again no more," Haden sings over sparse guitar as her collaborators harmonize. "Hard Times" is HARMONY's cerebral, ambient interpretation of 165-year-old folk song "Hard Times Come Again No More."
This tune owes its longevity to dealing directly with worldly concerns, and it's not alone. Folk songs and traditional numbers are the music of the people for being approachable topically, experientially, and musically.  Put plainly, "Hard Times Come Again No More" is at its most effective when something in the song, be it the playing or the vocal qualities, infers that the musicians have been through what the listener has. Historically, these sympathetic imperfections have been established by the plaintive wail of country vocalists, the reflexive insistence of autoharps, or the persistence of banjos, the sharp slashes of mandolin, or the deeper chop of acoustic dreadnoughts. The most celebrated recordings are technically imperfect, but emotionally sublime.
The HARMONY aesthetic serves "Lush Life" and "On the Street Where You Live" beautifully. These songs are less mired in everyday troubles, and the nightlife escapism of the former and romantic warmth of the latter are couched nicely in fluid, lyrical fretwork. "I used to visit all the very gay places / come-what-may places / where one relaxes on the axis of the wheel of life / to get the feel of life / from jazz and cocktails," Haden sings on HARMONY's version of the Billy Strayhorn-penned standard.
In a way, HARMONY explores two divergent directions: escape and engagement. The jazz numbers explore escape, and they do so with finesse and heady warmth. Lyrically, the folk numbers engage with the messiness of life — loneliness, brutal luck, mortality — yet are less served by transcendence. With its poignant instrumentation, "Where Have all the Flowers Gone" comes close — but only close.
HARMONY is a bold and fascinating move, and it's one that honors American music's long and ongoing tradition of experimentation and recombination. And, really, it could just be one stone among many on the path to a new form of American music that incorporates new music's space and patience, jazz's virtuosity and phrasing, and the Great American Songbook's wealth of lived experience. Even if this iteration doesn't work, Frisell and his collaborators should be celebrated for taking the steps they have. These arrangements work fantastically in a concert setting, after all. On record, though, it's just a little too perfect.
---
EDITOR'S NOTE: Harmony is the result of a commission from the FreshGrass Foundation, a nonprofit to support roots music of which No Depression is also a part.
---