Big Personality Shines Through on Latest from Steve Poltz
---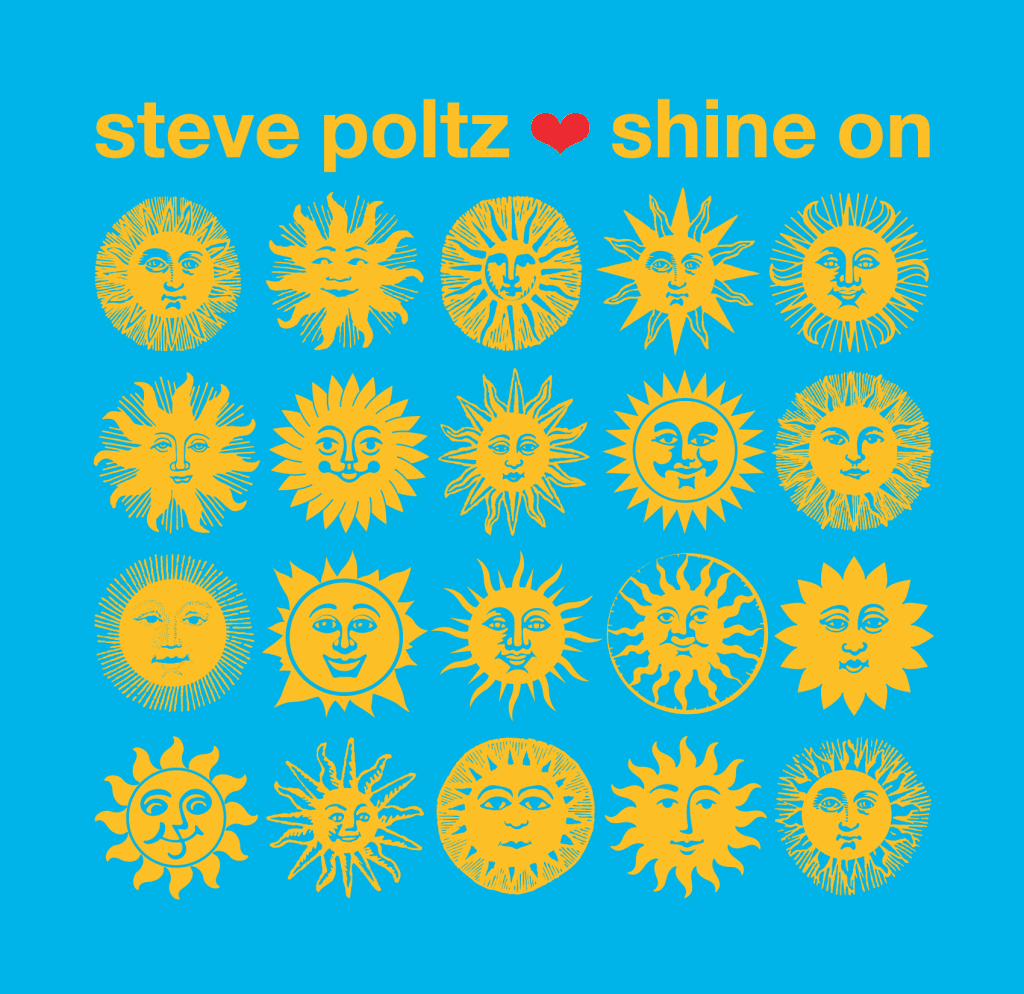 Steve Poltz stretches his legs on his new album Shine On, breaking out a variety of moves that reach beyond the familiar witty strummer trope. The Canadian-born, San Diego-based singer-songwriter has worn numerous hats over the years, from leading college rockers the Rugburns to co-writing Jewel's hit "You Were Meant for Me" to solo artist for two decades and a dozen albums. The Jewel hit earned him a major label deal, but he shook off those constraints and has been on his own ever since, self-releasing on his 98 Pounder Records, and sometimes licensing it to small imprints … until now.
Shine On is Poltz's debut for respected indie imprint Red House/Compass Records, and he rises to the occasion with ten tracks showcasing enough different facets of his musical personality to resemble a variety show.
A sardonic provocateur with a lighthearted acoustic-driven wit, Poltz has suggested at times a sunnier, less psychedelic Todd Snider, or maybe a less wan, washed Jackson Browne. Perhaps owing to the expense, much of Poltz's material has been in the strummy folk/acoustic vein with the exception 2014's rocking, band-oriented The Accident. That Shine On sprinkles several uptempo numbers with the quieter, ruminative tracks not only highlights Poltz's versatility but keep things clicking briskly along almost to the album's end. (Will Kimbrough, a versatile artist in his own right, produced and may have encouraged this more felicitous approach.)
The album's highlight is the greasy steak-fried rave, "Ballin' on a Wednesday," where Poltz cleverly sidesteps country music's unspoken blood feud over the preeminence of Friday vs. Saturday to stake his claim on the midweek. The shambling country-rock sound comes with a gratuitous Southern Comfort reference and from behind could be mistaken for Georgia Satellites/Dan Baird. "I wanna work then play, then work the next day," he sings with palpable swagger. "By the time I finish loving you, you're gonna want to call in sick."
The album opening title track is also noteworthy. The pretty, somewhat elegiac, lightly drifting folk-piano tune moves slowly and deliberately, as if hiking while meditating on shimmering dawn, recalling the gentle beauty of unsung folkie Doug Hoekstra with an extra carpe diem bump. ("Kick off your shoes and wiggle your feet," Poltz implores.)
"Pickup Song" is a simmering kiss-off with the coiled, wiry sneer of Warren Zevon and the bar band bristle of Graham Parker, as Poltz doesn't pick up his ex's call because he's in his pickup on his way to pick up someone new. "Over the Top For You" is pretty, finger-picked bluegrass-tinged jam-pop with a fetching melody and winning vocal harmonies, while slow-burn melancholy post-breakup psych-blues "Furthest Star" slinks from shadow to shadow, hinting at an odd, haunting cosmic country ache somewhere between Songs:Ohia and Eels.
The album closes strongly, coming full circle with the mod-tinged anthem "All Things Shine," a sort of spiritual successor to "All the Young Dudes," which paints deadly scenes of murderous chaos (gun at the movies, bomb on a bus). It moves with is-what-it-is resignation, pushing to see this not as a terrible end but a hopeful beginning: "The world stepped over the line / No warning, no sign / It's gonna take some time / But all things shine."
---