Becky Buller Claims Her Niche
Posted On February 13, 2018
---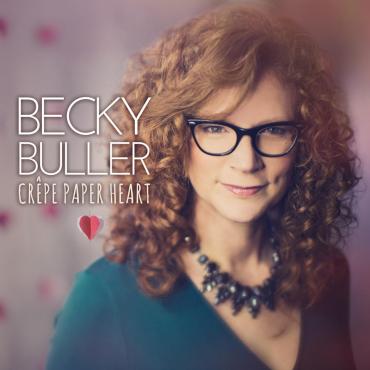 On one hand, "old timey" bluegrass is, as the term implies, a heritage form; on the other, a practitioner in this genre, as with most genres, strives to assert a signature or unique style. The award-winning Becky Buller has succeeded in straddling the proverbial fence. Her songwriting, lyrically reliant on conventional motifs, is melodically inventive; her fiddle-playing both progressive and appropriately derivative; and her vocals singular while remaining sufficiently conformant to the genre's history. Her 2015 release, 'Tween Earth and Sky, illustrated Buller's songwriting range, tunes that utilized slow, moderate, and faster tempos. She mostly mined bright melodies but tested darker territory, notably with the murder ballad "Didn't Die." Surrounded by stellar musicians, Buller generously doled out "solo time," additionally, in key places, demonstrating her own unquestionable virtuosity.
Her latest set, Crêpe Paper Heart, occurs as more pop-infused than 'Tween Earth and Sky – perhaps more significantly influenced by contemporary country – and narrower in its palette. "Another Love Gone Wrong" opens the album with a rollicking melody, Dan Boner's mandolin dancing through the tune. Buller provides restrained accents on the fiddle, Buller and Boner offering well-placed and well-blended harmonies. "Bitter Springs to Big Trees" makes use of the Moses story, Buller merging biblical allusions with riffs on the Exodus epic. Boner on mandolin and Rob Ickes on the resophonic guitar create a balance of sparkling and sonorous fills, the band forging a textural soundscape.
The earnest but slightly sentimental "Heart of the House" conveys the plight of a man whose wife has passed away and whose sons have moved on with their lives, reminding me, thematically, of John Prine's "Hello in There." The instrumental "Cair Paravel," named after the castle in C.S. Lewis's Chronicles of Narnia, highlights the superlative skills of the band, individually and as a whole. "The Rebel and the Rose" shows Buller at her narrative best, a mysterious travelogue about love, suffering, and social change. Buller offers a proficient and rhythmic banjo part, Sam Bush executing compelling strums and fills on mandolin.
"Maybe" offers a tonal variation, a mercurial piece about relational doubt ("When I think about you, baby / I begin to doubt you, baby / Could I live without you / Maybe, baby, I can"). Buller doesn't quite pull off the melancholy and angst-filled vocal tones that the song seems to demand – sparse and moody instrumentation "selling" the piece more consummately than Buller's singing – though the resonance of her voice is undeniable. The fast-paced "Calamity Jane," driven by Ned Luberecki's banjo, serves as a "shout-out" to the legendary frontierswoman, and points to the enduring relevance of such seminal acts as The Carter Family, The Stanley Brothers, and Bill Monroe. The album closes with the a cappella "Written in the Back of the Book," underscoring Buller's absorption of and debt to gospel music. Exquisite harmonies are contributed by members of the Fairfield Four (originally founded in Nashville in 1921). "We have victory in Jesus," the ensemble sings, stressing Buller's command of the template, a tip of her hat to the heroes who have preceded her.
Crêpe Paper Heart is a confident statement from a songwriter, singer, and fiddler at the top of her game, who also, clearly, has a knack for assembling, leading, and inspiring an all-star band. I imagine that this album, with its primarily buoyant melodies and mostly moderate to faster tempos, will readily convert new listeners, fans eager to celebrate a musician who deftly emulates the revered precedents while simultaneously claiming her own sizable niche.
---