---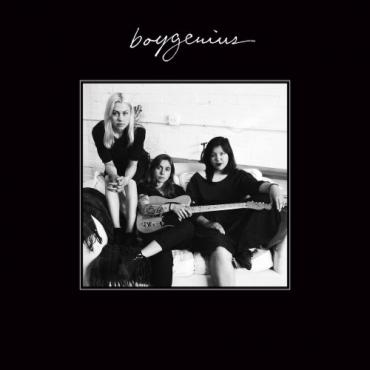 Already established as three of the leading singer-songwriters of their generation, the still-early-in-their-careers Julien Baker, Phoebe Bridgers, and Lucy Dacus have forged a collaborative milestone: a six-song EP that exceeds mere anthologizing (one person's song, then another's, etc.) to invoke a "fourth voice," melodies, moody textures, and poetic lyrics melded in such a way that boygenius transcends – or at least serves as a distinct alternative to – the individual talents of its members.
The eponymous EP opens with "Bite the Hand," addressing how depression, and the isolationism that accompanies it, compromises one's capacity to spontaneously engage: "I can't hear you. / You're too far away. / I can't see you. / The light is in my face. / I can't touch you. / I wouldn't if I could." At various points during the song, the three voices harmonize, bringing to mind 2015's case/lang/veirs. While the c/l/v project remarkably highlights the tonal differences between Neko Case, k.d. lang, and Laura Veirs – the space between their voices as much as the way in which they seamlessly blend – the emphasis in "Bite the Hand," and boygenius in its entirety, is more consistently on gestalt, each artist contributing to a singularized presence. Occasionally this tendency has the effect of anonymizing a song's delivery, though for the most part, it points to an aesthetic chemistry that seems to have stretched each artist in various and fertile ways.
Towards the end of "Me & My Dog," Bridgers sings, "I wanna be emaciated / I wanna hear one song / without thinking of you / I wish I was on a spaceship / Just me & my dog and an impossible view." Melody is compelling, guitars chugging along in the background, voices swelling and shrinking in a primarily acoustic but slightly metallic environment. "Souvenir" is a high point on the album, the vocal achingly eloquent, one of the best performances of Baker's career. Working with mythologized tones and correlatives courtesy of Plath and Sexton – the self-loather cum the saboteur cum the elitist tragedienne – she sings, "Always manage to move in / right next to cemeteries / and never far from a hospital / I don't know what that tells you about me." Instrumental accents and atmospheric fluctuations create a pulsing effect, one of the more evocative tracks of the year.
"Salt in the Wound" again addresses the stress of navigating relational intricacies given depressive leanings and/or PTSD: "I'm gnashing my teeth / like a child of Cain." As the song progresses, guitars grow louder and more distorted, the track approaching shoegaze territory à la My Bloody Valentine or Slowdive, voices importuning as if from beneath a roiling current: the self treading its own dysfunction. The EP closes with "Ketchum, ID," a contrast to the two heavier tracks that precede it, melody delving into the country songbook, reminiscent of the versatile Rayna Gellert (with Kieran Kane and as part of Uncle Earl). A notable line: "Being in love / is the same thing as being alone" perhaps overplays the stock role of the wounded romantic; however, the mix of fragile voices and the precision of melodic segues lend credibility and attest to authenticity. In addition, lyrics such as "I am never anywhere, / anywhere I go" flesh out the experience of dissociation, shedding light on the energetic contractions and disembodiment that are part and parcel of many psychiatric and psychosocial disabilities.
boygenius seems to have prompted Baker, Bridgers, and Dacus to broaden their palettes while concurrently bringing their particular fortes to the process (Baker is the most talented singer; Bridgers is most naturally gifted with pop sensibility; Dacus has the most sophisticated ear for instrumental and melodic shifts). These six tracks cover substantial ground musically, lyrically, and texturally. One hopes that Baker, Bridgers, and Dacus will undertake a subsequent and more expansive project, further navigating the interplay between collectivism and individuality. In the meantime, their EP will keep listeners enthralled, a project that strikes balances between simplicity and complexity, melodrama and high art, the discordant and the harmonious.
---