Authentic Aussie Blues n Roots
Posted On October 11, 2016
---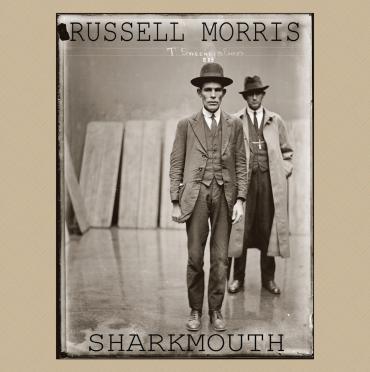 The first album of a trilogy inspired by a cast of characters as vast as the land down under Australian icon Russel Morris released his folk blues and roots rock portrait; Sharkmouth in 2012 to massive critical acclaim and is now setting his sights on the U.S market with an October 2016 release. The twelve original tunes feature the gravelly tenor and spellbinding story telling skills of Morris along with some fine guitar picking. The jargon may be unfamiliar to American listeners, but the tales of seedy bankers, outlaws and hapless schmucks ring familiar to our own wild west mythology.
The set kicks off easily with a sweet little back porch shuffle "Black Dog Blues," then slides into a gospel tinged political rabble rouser "The Big House," which spells out the bank collapse of the great depression, but the words are very close to home of recent events. Morris delivers the tale of great Aussie boxer "Les Darcy," with love of the hero from New South Wales. The set goes full electric for the slinky funk groove of "Bout To Break," featuring some greasy slide guitar work on a tale of the 1927 dock workers strike. The title track is meant to be a warning to avoid the infamous con-man Thomas 'Shark Jaws' Archer. Some more fine picking is at the center of the straight ahead Texas Styled "Walk My Blues." Renee Geyer and harmonica player Chris Wilson, join Morris for the haunting dark tale of the death of a gambling man murdered in a backroom poker game "The Drifter." The procession of Australian legends continues with the theatrical ballad detailing the life of notorious Melbourne-based gangster Squizzy Taylor that could have been taken from the Springsteen or Bon Jovi Songbook. Morris gives us jaunty a hard luck sing along blues "Money Don't grow On Trees," before the sentimental country tinged ballad of "Big Red," champion Thoroughbred racehorse whose achievements captured the public's imagination during the early years of the Great Depression. Morris end the set with a smooth grooving roots rocker that pays tribute to the mysterious Sydney pavement graffiti artist Arthur Stace who has known as "Mr. Eternity."
Inspired by tales of the great depression from his grandmother we are fortunate Russel Morris is now able to share Australian history with America through the gift of musical storytelling.
Rick J Bowen
---