Austin Meade Puts Grunge Vibe to Fresh Use
Posted On February 28, 2019
---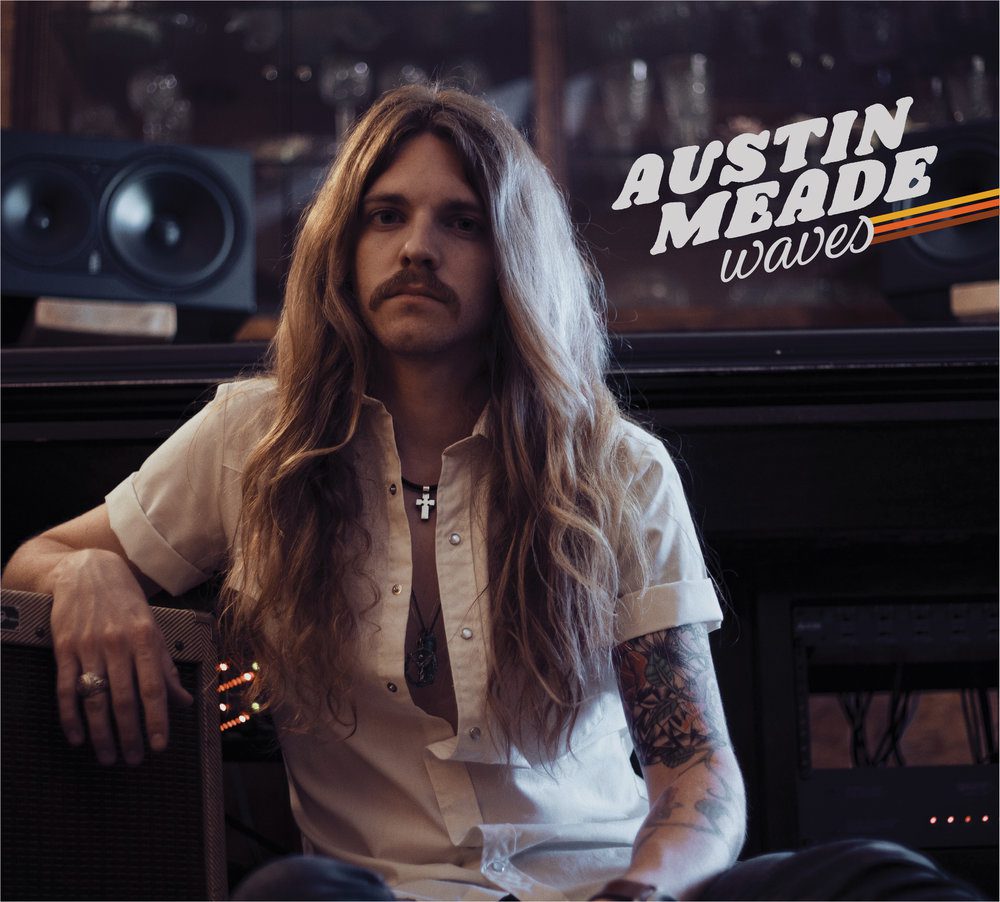 The ripples of grunge are a funny thing. While as a standalone genre, it's pretty much extinct, some remnants have survived, weaving their way into other musical forms. And so the pleasant surprise of singer-songwriter Austin Meade's Waves is not just the clever lyrics, but also the flashes of vintage grunge emotional bombast that might make you check to see if this album was recorded in Wimberly, Texas, or Tacoma, Washington. 
Meade isn't a grunge nostalgia act. His music is firmly rooted in Americana. He makes that clear on "7 Letters," the album's first track, which is textbook honky-tonk country, complete with piano rollicking its way through, above, and under the song. Meade's voice has a Texas drawl but a punk-rock impudence, and it cuts through the drums and guitars like all great rockabilly voices do. The "7 Letters" music is familiar, but Meade's voice, guitar, and energy elevate the song to something special.
There are also tracks like "Waves," which is anthemic and propulsive. The chorus is huge, his vulnerable voice singing against a typhoon of drums and chugging guitar. But where grunge would have soaked every guitar in melancholic distortion, Meade keeps things relatively clean, which doesn't make the music any less sad emotionally, but does make it sound more contemporary.
Meade is also an interesting lyricist. While some of the songs fall into the fairly standard bucket of lamenting lost opportunities, there are some genuinely captivating stories in some of the others. "Pay Phone" is the story of a man on the run with his family, afraid to go to jail, where he would only get to speak to his children twice a week. The song's chorus is all about the burden of the secret, though, which is a less obvious angle to take on an already novel concept: "Some days I want to tell the world / But I can't tell a soul / It wouldn't change a thing / And it wouldn't bring it home." It's also another song with a grunge element, Meade pleading vocals soaring over rolling bass and distorted guitars. 
"Colorblind," with its pretty guitar work and melodic solo courtesy of David Willie, is also clever lyrically, with Meade singing about not obeying the traffic laws of the heart, seeing a "green light all the time" when it comes to falling in love. It's a lovely ballad with challenging-but-not-cryptic lyrics.
Americana often doesn't delve into the darker corners of rock and roll. Everyone will admit to loving Elvis and Jerry Lee Lewis, but people are less willing to pay tribute to guilty pleasures like Bad Company or Pearl Jam. Meade readily cops to his '70s musical influences, and while the grunge impact might remain less explicitly addressed, it's there, and, somewhat counter-intuitively, it gives Waves a contemporary edge that, coupled with the lyrics, makes this an album worth hearing.
---