An Expanded Edition of Fleetwood Mac's Breakthrough Album
Posted On February 25, 2018
---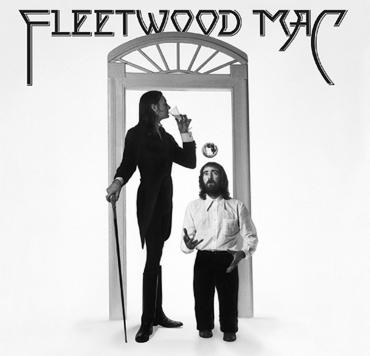 I can't listen to Fleetwood Mac's eponymous 1975 album without thinking of a lunch meeting I had in New York City early in the year before its release. I had arranged an interview with a folk duo called Carlson and Gailmor, whose debut LP was about to come out, and a publicist at their record company had asked for a favor: Would I mind if another fledgling duo joined us for lunch? This couple, explained the publicist, were still working on their own first album for the label and would not be expecting an interview; they wanted to come along merely to get a sense of what it was like to deal with the media and what kinds of questions they might face from journalists if their careers ultimately did take off.
I said "sure," and the couple met us for lunch. The details of our conversation have been lost to time, but I do remember that they seemed ambitious. At any rate, we shook hands after our meal and said goodbye. In the months that followed, Carlson and Gailmor's album flopped. Meanwhile, the tag-along couple's LP came out in September and arrived in my mailbox. It didn't make much of an impression on me, and it didn't sell any better than the Carlson and Gailmor album.
But early the next year, I read some news about this southern California duo, whose names were Lindsey Buckingham and Stevie Nicks: on New Year's Eve, they'd joined a long-lived but struggling British blues/rock band called Fleetwood Mac. It seems that the group's Mick Fleetwood had listened to Buckingham Nicks, the pair's album, and heard what I and many other listeners had missed. Mick was floored by Buckingham's work, and soon he and his bandmates John and Christine McVie and were just as blown away by Nicks—and by the magic that resulted when the duo collaborated with them.
The quintet's first album together—recorded in January and February of 1975 and released that July—is called simply Fleetwood Mac. Self-titled albums are typically debuts (and, in fact, the group's 1968 first LP also bore that title), but the moniker was appropriate. Fleetwood Mac had been around for the better part of a decade and had issued nine previous albums, but the addition of Buckingham and Nicks had resulted in what was essentially a new band.
And what a band they were. Their "debut" album—the group's first chart-topper, though it took 15 months to crawl to No. 1—produced three hit singles, Christine McVie's infectious "Say You Love Me" and sublime "Over My Head"; and Stevie Nicks's "Rhiannon," which instantly established her as a world-class vocalist. And every one of the other eight tracks is just about as good.
Buckingham and Nicks contribute mightily, but so do the other three members, who seem to garner fresh inspiration from the new lineup. Christine McVie particularly shines, both as songwriter and vocalist. Alternating between rhythmic power pop and sweet ballads, the album overflows with rhythm, shimmering harmonies, passion, and energy. The lyrics, virtually all about romantic relationships, are fine too. (Has there ever been a more cogent couplet about the conflicted feelings that a troubled new love affair can generate than Christine McVie's "You can take me to paradise, and then again you can be cold as ice / I'm over my head, oh, but it sure feels nice"?)
The album was remastered and rereleased in 2004 with five bonus tracks, but that was nothing compared with the reissue at hand, which includes three CDs, an LP containing the remastered original album on 180g vinyl; and an audio DVD with a 5.1 surround mix and 24/96 stereo audio of the original album and 24/96 stereo audio of its singles. There's also an LP-sized booklet that includes lyrics, credits, photos, and an extensive essay by journalist David Wild.
In addition to remastered versions of Fleetwood Mac's 11 tracks, the first CD includes remasters of the album's four singles, three of which feature alternate mixes. (The fourth, "Over My Head," is a completely different take.) The 17 tracks on disc two offer early versions of all of the album's songs, presented in the same sequence as the released LP, plus live readings of "Rhiannon," "World Turning," "I'm So Afraid," an instrumental jam, and a fine Christine McVie vehicle called "Why" (a number that first surfaced on 1973's Mystery to Me). The 14-track third CD delivers performances from the tour that followed the album's release. It includes six songs that appear on Fleetwood Mac as well as such earlier high points as Christine's "Spare Me a Little" (from 1972's Bare Trees).
If you don't have the original record, the decision to get this reissue should be a no-brainer; and even if you have it, you shouldn't hesitate to upgrade: the remastering and live tracks are excellent; and while the early versions are generally not quite as good as the released ones, they're nevertheless invariably excellent and interesting. Best of all is the DVD's surround-sound version of Fleetwood Mac, which adds immeasurably to the listening experience.
If you're on a tight budget, be advised that you can buy an edition of this reissue that includes only the first two CDs—no concert disc, no LP, and no DVD. You might save more than 50 bucks, but you might also wind up regretting your decision, especially if you later get to hear a friend's copy of the DVD.
BRIEFLY NOTED
Andrew Sheppard, Steady Your Aim. Andrew Sheppard, who grew up in Idaho and now lives in southern California, has everything it takes to grab your attention: a weathered, evocative voice that recalls early John Prine, major songwriting smarts, and a powerhouse band that's rooted in rock but incorporates elements of outlaw country. This sophomore album is a little uneven but it includes a few instant classics, most notably "Red Wine & White Roses," an intense rocker about two lost souls who indulge in wine and sex, after which "neither of us were in any shape to drive." The woman tells Sheppard they're not likely to make it out alive and not to look at her because she's "always a mess," but he responds, "You look damn good to me / And this is where we are, we got no place else to be." The relationship doesn't appear to end well, as the woman tells him to leave and says, "Feelings are for fools." This memorably emotional album leaves no doubt that Sheppard thinks otherwise.
Sue Foley, The Ice Queen. Canadian blues/rock guitarist/vocalist Sue Foley shines on this soulful latest release, which showcases her versatile vocal and guitar work and features such guests (and Foley idols) as Jimmie Vaughan and ZZ Top's Billy Gibbons. Foley—who sounds a bit like Bonnie Raitt and occasionally recalls Lucinda Williams as well—wrote or in a few cases cowrote most of the program, but she makes room on the set list for a wonderful country blues cover of the Carter Family's "Cannonball Blues" and a rocking version of "Send Me to the 'Lectric Chair," a tune that's most associated with Bessie Smith.
Sam Lewis, Loversity. Sam Lewis carves out a space somewhere between Al Green and Tupelo Honey-era Van Morrison on this terrific third album, his first CD in nearly three years and quite possibly the one that will bring him to a wide audience. Originals dominate the program, which also includes a cover of Loudon Wainwright's "Natural Disaster." I'm not as impressed by Lewis's introspective lyrics as some reviewers; many of them strike me as clichéd or abstruse, and they're sometimes just plain wrong. (Lewis repeatedly says "use" when he means "used," for example, as in "I use to think I was so good at guessing.") But all is forgiven after a few minutes of listening to his rich, engrossing vocals and superb guitar work.
____________________________________
Jeff Burger's website, byjeffburger.com, contains more than four decades' worth of music reviews and commentary. His latest book, Bob Dylan on Bob Dylan: Interviews and Encounters, is set for publication in May 2018. His earlier books include Lennon on Lennon: Conversations with John Lennon, Leonard Cohen on Leonard Cohen: Interviews and Encounters, and Springsteen on Springsteen: Interviews, Speeches, and Encounters.
---