Amy Helm Shines a Light
Posted On September 20, 2018
---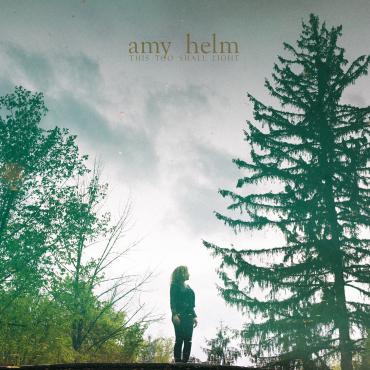 Amy Helm wants us to go toward the light. For her latest, her sophomore solo project This Too Shall Light, Helm is a secular evangelist, delivering her ministry through her music with the intensity of Bettye LaVette, shadowed beautifully by Allison Russell's harmony vocals, buoyed by a stellar studio band including Doyle Bramhall II on guitar and Tyler Chester's keyboards.
Produced by Joe Henry, the album has somewhat of a gospel feel, but wanders around a lot on the grounds outside the church. Helm says the gospel connection wasn't intentional. When she first got together with Henry, he played her Delaney and Bonnie's 1971 release, Motel Shot, telling Helm he wanted their new project to have the same sense of abandon and spontaneity that record had. The project was done in only four days, nothing rehearsed or over-arranged. The gospel feel came from Helm wanting to hear the songs through the filter of a choir-like harmony on every chorus.
Helm says that Henry was the first call she made when getting ready to do the record. "I love the way he presents a singer. I think he has an incredible gift of marrying a voice to a song and choosing material for a singer to sing."
The title cut comes from North Carolina crusty country rock soul outfit Hiss Golden Messenger, fronted by Mike MC Taylor. Producer/guitarist Josh Kaufman (Dawn Landes, Josh Ritter, Bob Weir) brought Taylor to Levon's Barn in Woodstock for a couple of days and the trio did enough co-writes for a future album. Helm says "This Too Shall Light" got stuck in her head, and she thought it would be a good fit. Then, after trying it out, she liked it so much she thought it should be the title of the record. It's gospel soul, a choir composed of Helm and Russell along with Russell's Birds of Chicago partner JT Nero and Adam Minkoff with Bramhall's jazzy guitar licks prodding the melody just outside the church door despite Chester's Sunday-go-to meetin' organ burbles trying to hold 'em inside.
Allen Toussaint's "Freedom For the Stallion" had an unlikely debut as a hit for the Hues Corporation, best known for their 1974 disco hit "Rock The Boat." Their version is slick soul that flows by easily until the lyric reaches out and grabs you by the throat: "Big ship's a-sailing, slaves all chained and bound / Heading for a brand new land that some cat said he upped and found / Lord, have mercy, what you gonna do about the people who are praying to you?"
Helm and company's version sounds like Bettye LaVette fronting the Staple Singers, Helm's voice cracking with barely suppressed tears, Bramhall tossing in celestial shimmery Pops Staples licks.
Rod Stewart's "Mandolin Wind" is Helm's favorite song on the record. She's got some serious Dolly Parton flavor in her vocals but says she wanted to shine her light on the interplay between Bramhall's mournful slide and Chester's Sunday school piano on the six-minute cut.
But for sheer gospel glee, it's hard to beat "The Stones I Throw," daddy Levon and the Hawks' last release in 1965 before becoming The Band. This one's a real aisle-straddler, Chester once again laying down the churchy foundation but barely containing his urge to kick out the jams and go rockin' down the aisle, Helm testifyin' like a scalded sinner. "That song is becoming more and more fun every time we play it live," Helm says. "There is something so raucous about that song and doing it just a tiny bit too fast and probably in a key that's probably a little bit too high for me, but I'm really enjoying it, actually."
The record ends with another tribute to her father, a glorious a cappella rendition of "Gloryland.
"Isn't that a good one? We got that one, I'm really proud of that," Helm says. "I thought my dad would be really proud of us for getting that one." It's a staple on her live shows, one she introduces by saying it's a song her dad taught her but she only got to sing it with him a handful of times. "It's for everyone with someone waiting on the other side." The whole band comes down to the front of the stage to gather around a condenser mic that looks like a '40s radio show relic. But this is the first time she's had another female voice in the choir, with Russell singing the high part and Bramhall and Minkoff on the lower ends, Minkoff shifting his harmony part around celestially on the last chorus.
Helm delivers here like she does live, totally immersed in the moment yet able to reach out and share, taking you along for the ride of your life.
---