Among The Ghosts with Lucero
---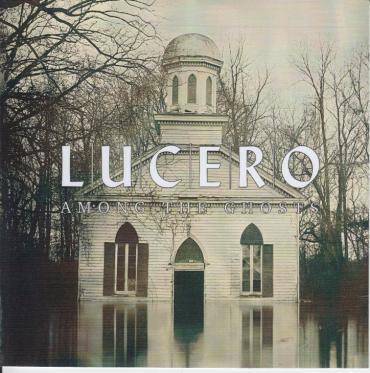 Since forming 20 years ago Lucero have been frequently described as one of America's hardest working bands. To mark their two decades of performing more days than they don't, they will release on August 3rd their ninth studio album, Among The Ghosts. In a sense Lucero have chosen an apt title as, intentionally or not, the album contains links to many points over the past 20 years. It also summarises the southern gothic that is so much of their persona. However, the overriding theme that strikes me is distance; the ground and musical styles they have covered, personally, as family responsibilities take priority and on the broadest scale just how the1990s alt-country that they championed has developed into what we now call Americana.
A part of the Lucero sound has been big arrangements including the horns, reflecting their Memphis home. In contrast Among The Ghosts returns to the band's early days with a more direct rock style. The Drive By Truckers spring to mind as does Jason Isbell's 400 Unit. Those comparisons are hardly surprising as they all have producer Matt Ross-Spang in common.
Among The Ghosts is a sharp reminder of alt-country's rock and indie roots as original members Ben Nichols, Brian Venable, Roy Berry, and John C. Stubblefield along with Rick Steff who joined in 2006, take the listener through ten superb new tracks of blues, rock, country, gospel and R&B. And throughout there is a sense of mystery, almost unease that they work into their songs, all written by Nichols. It's definitely the south but not flag waving, much more subtle than that, more like some of the region's great writers such as Faulkner or O'Connor.
That feeling starts immediately with the opening title track. A haunting riff leads into what sounds almost like a snarl from Nichols. Distance is very much a theme. Sung from the road far from home, Nichols yearns to be back with his wife and young daughter. His ferocious vocals reveal the understandable concern of a parent whose work forces absence from family, "the first words she learns is to say goodbye", and the consequent impact on the child's life.
'Bottom of the Sea' vividly describes the song's subject, a drowning. The effect is a trancelike sinking to the sea bed as consciousness drifts away. Southern gothic features in a meeting with the devil on 'Everything Has Changed', "Somewhere down in hell they call my name". Nichols sings with a haunting echo to keep nerves taut. Venable reaches up with a solo that burns.
The subjects don't get much happier with 'Always Been You' about a divorce, a shoot-out in 'Cover Me' and a crime, 'Long Way Back Home'. But each tells a story with deep feeling. There's no self pity, just acceptance that this is life and we'd better get on with it.
If I had my arm twisted to choose a highlight it would be 'To My Dearest Wife'. The song is inspired by letters written home by soldiers fighting in the Civil War. "To my dearest wife I write/ kiss our baby girl tonight/tomorrow's battle will not wait/ I don't see no other way". The poignancy and inevitability of the words that Nicols sings with no accompaniment are amplified many times over by the band's crescendo.
'Loving' both slows the pace and strips back the arrangements. It's a deeply sensitive song with a simple message, "I want to be good enough for you". It appears in the film of the same name made by brother, Jeff Nichols.
'Back To The Night' is downright spooky particularly during actor, Michael Shannon's spoken part. The title comes from a line in the Jerry Lee Lewis biography written by Nick Tosches. The band adds to the unease creating an effect not dissimilar to the Johnny Cash/Rick Rubin partnership.
Among The Ghosts wraps up with an out and out rocker, 'For The Lonely Ones'. It sounds as if the volume has been turned down then they open up the throttle and left rip. That will be a sensational close to a show. And they haven't completely forsaken their Memphis roots, there are horns too.
Lucero are masters of their craft. Given their relentless touring they could be forgiven for serving up more of the same but they don't. Perhaps the perspective of fatherhood and broader life has contributed, or delving further into their southern roots but Among The Ghosts adds an equally fresh dimension to a band of exceptional quality. Oh, and I see they are coming over to the UK later his year too!
---