ALBUM REVIEW: 'Working My Way Down' 25 Years in the Making for Mike Stinson & Johnny Irion
---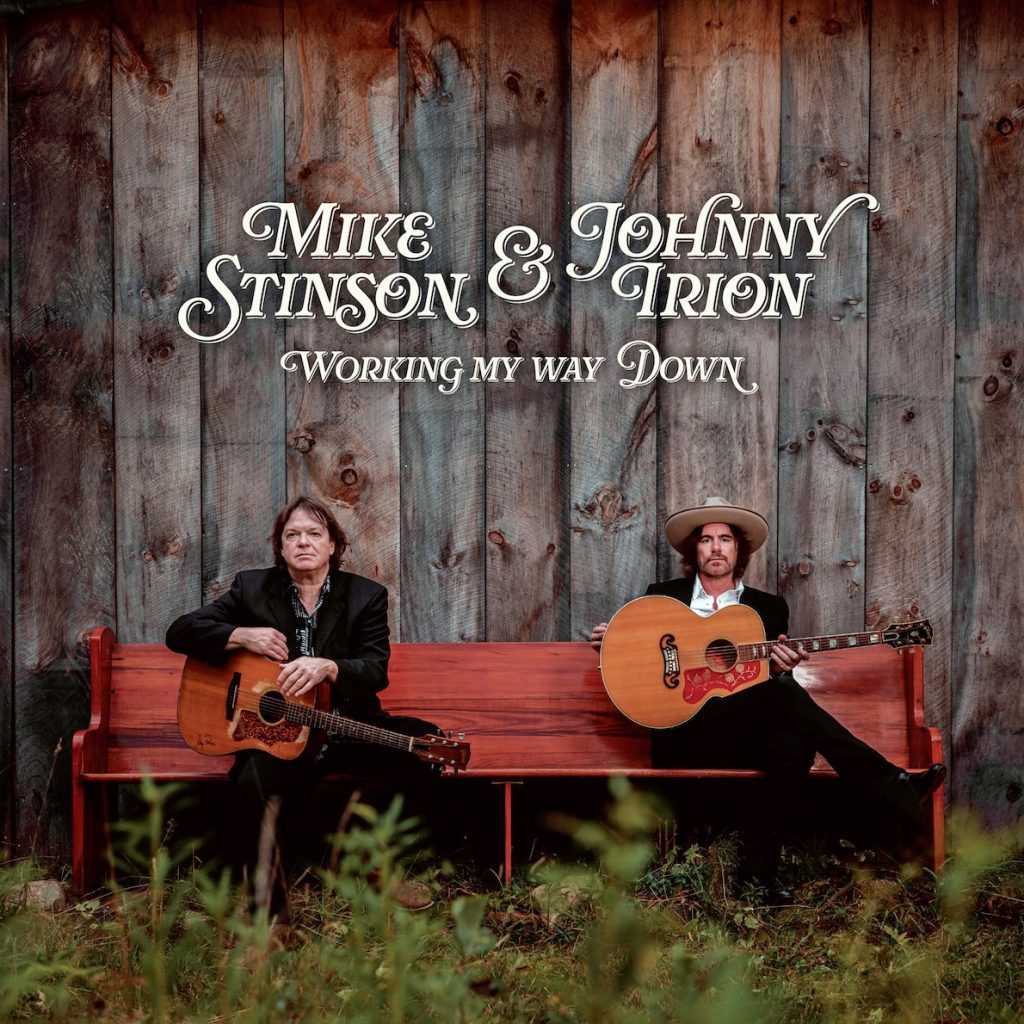 It took 25 years for this project to come together, dating back to the mid-'90s, when Mike Stinson and Johnny Irion were honing their chops as country rock guns for hire in the San Fernando Valley. There, in a rehearsal studio known as The Alley, they hooked up with Stinson's buddy and fellow songwriter Andy Jones, who was inspired enough by his comrades' vocal chemistry to put pen to paper. The band was subsequently derailed following Jones' sudden passing, but Stinson and Irion remained in close contact and resolute in their mission to revive past glories. Working My Way Down is the belated, yet gratifying, result, as Stinson and Irion take on these roadhouse tavern-style rockers head-on, flooding their boozy berths with oodles of peppy brouhaha and fitting levels of witty, world-weary self-deprecation.
The two opening tracks — "The Bottle and Me" and the title track — neatly set out the album's stall, with their broken protagonists chasing down life's dead ends with a bottle of whiskey and a bellyful of acrimony. Stinson is particularly convincing when chumping it up on Jones' loser anthem "Working My Way Down" in a tremulous half-sung croak as imperfect as the character he inhabits. At one point he laments, "I painted your image on the barstool next to mine / Where I spend most every day," over bristling slide guitar and rhythmic wah-wah chicanery, while on "Taking No for an Answer" he sounds like John R. Miller tackling an acute case of the occupation blues: "Tell the boss man he can shove it straight through the break of dawn."
Even Irion's more honeyed tones momentarily cede to frustration, as he brays like a lusty walrus for a wayward internet enchantress on "Cosmic Candy." "For all her subscribers they love her to death / Serving that old time carney burlesque," he bawls over the track's grungy Son Volt-style blast.
Yet, for all its tales of despair and despondency, its sundry social paupers and beleaguered barflies, Working My Way Down is empowered by a defiantly sanguine spirit, a hope-filled resolution that no problem is insurmountable, and a common conviction in Mary Pettibone Poole's aphorism that "He who laughs, lasts." It's also a worthy tribute to friendships that have endured across the toughest of times and demonstrates the musical bonds that drew these guys together in the first place.
Mike Stinson & Johnny Irion's Working My Way Down is out March 24 on Blackwing Music.
---