ALBUM REVIEW: With Honesty and Wisdom, Tim Heidecker Looks Back on 'High School'
---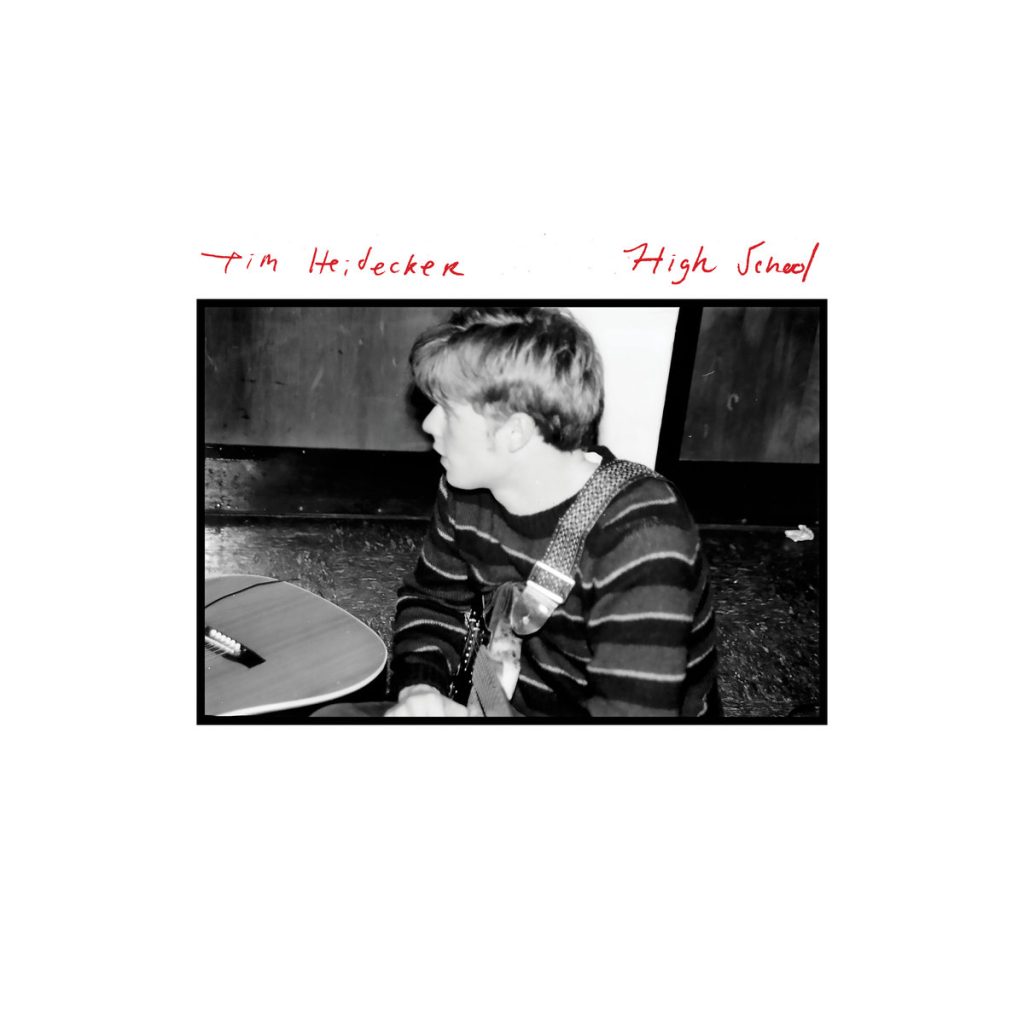 Picturing Tim Heidecker as a sentimental man is considerably harder than picturing the screen persona he's cultivated over years as an actor and comedian: Egotistical, boorish, caustic, prickly, a bit of a blowhard and a fundamental jerk. In movies like The Comedy, Mister America, Us, and the upcoming Spin Me Round, and in shows like On Cinema and Decker, Heidecker plays slimy creeps and delusional doofuses utterly lacking any trace of either self-awareness or shame. He's not a guy you'd expect to hear crooning genuine, gentle songs about various middle age crises.
But here he is on High School, his sixth solo album overall, and his fifth released in the last six years, mulling, pondering, ruing, and altogether singin' the blues. It is, for the most part, a sobering album, with occasional pit stops taken for youthful optimism and anthems to strut to.
None of this is new, of course. Heidecker's work as a musician has matured over time, a likely reflection of his personal maturity, from Cainthology: Songs in the Key of Cain, a nine-track roast of the late Republican presidential aspirant and Trump crony Herman Cain, to Too Dumb for Suicide, likewise a parody record about Trump produced over the course of his presidency. In between these rests In Glendale, where Heidecker begins to take himself seriously, and following them are 2019's What the Brokenhearted Do and 2020's Fear of Death, on which he collaborated with Weyes Blood.
So High School feels like a natural progression of Heidecker's development as an artist, an album shaped around a contrast between vulnerability and buoyancy. Sometimes, it's found on specific songs, where the music bops but Heidecker chews over his melancholy with his lyrics, and sometimes it's found in segues from the bops to the bummers. "Chillin' in Alaska," High School's second track, goes uptempo on a vacation to The Last Frontier, where Heidecker's cousin snatched a crush from under his nose. Your foot will tap along to the drum's beat and the reverberating chorus. Your heart will sink at both Heidecker's misfortune and his cousin's betrayal.
Then "Chillin' in Alaska" ends and "Future Is Uncertain" begins, slowing the pace and bringing down the mood with echo-laden existential anxiety. "The future is uncertain," Heidecker advises on the chorus, "The past is fadin' away." The clinking of piano keys and the swell of synth push the track more toward the former than the latter, but the basic message — that we're all in a constant state of change, every single day, with zero guarantee of what tomorrow will bring — remains. The gear shift is effective, even if it's a drag. Fortunately, Heidecker has other grooves up his sleeve: "Get Back Down to Me," an ode to taking time for yourself and enjoying beach sand between your toes, "I've Been Losing," an up-front admission of failure punctuated by hope and optimism, and most of all "Punch in the Gut," where the minority kid picked on by school bullies gets his justice by laying them all out in the parking lot. (Good for you, kid.)
Fittingly, High School ends squarely in the teenage gaze with "Kern River," where Heidecker tries mightily to hold onto the sensations of youth as his music draws to a close. It's a necessarily bittersweet finale for an album about reconciling his past with his present, admirable in its honesty and impressive in its craftsmanship.
Again: This isn't new. It is, however, the best reminder yet of Heidecker's many faces as an artist. What side will he show on his next album?
High School is out June 24 via Spacebomb Records.
---