ALBUM REVIEW: Tyler Childers Evokes Elvis on 'Rustin' in the Rain'
Posted On September 8, 2023
---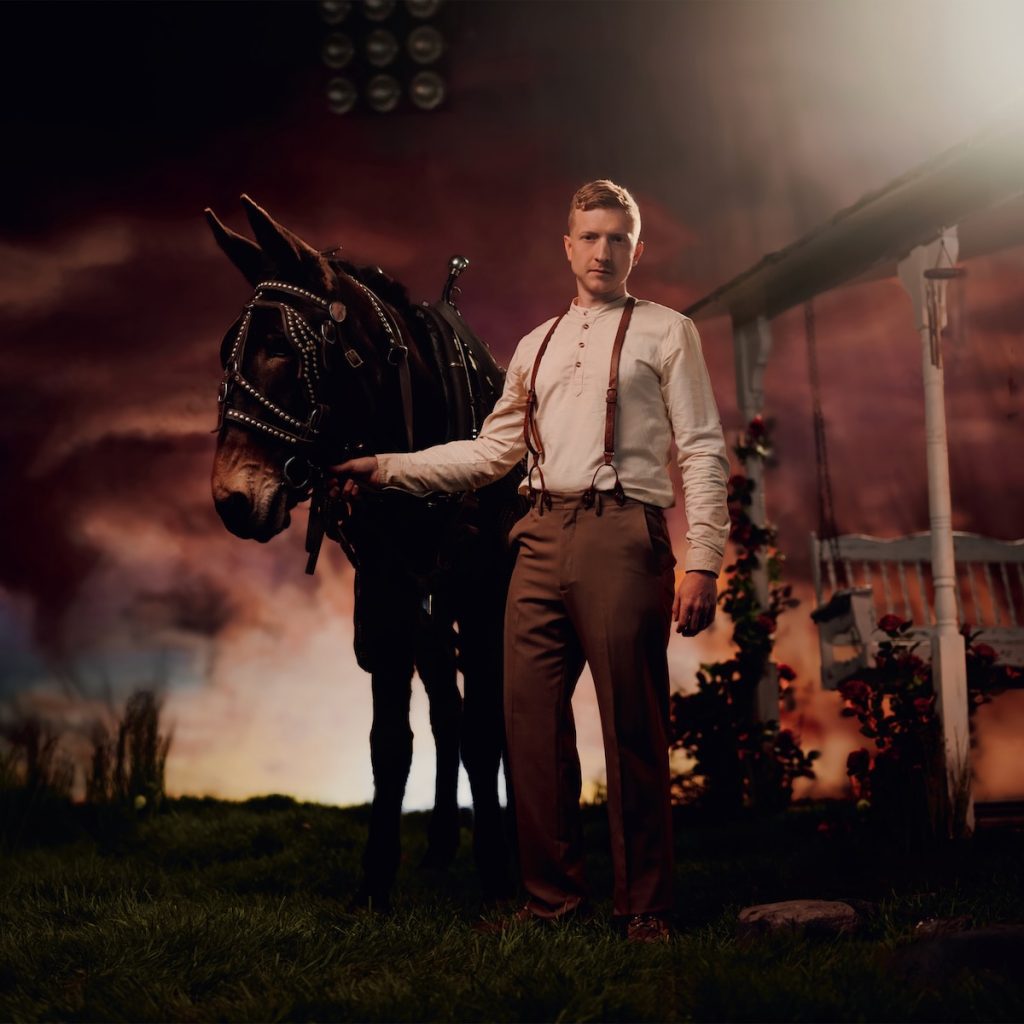 Tyler Childers is an outstanding singer and songwriter, and he heads a pretty killer band to boot. He also knows how to make his albums feel unique. Purgatory and Country Squire positioned him as a breakout roots-country star. His 2020 release Long Violent History veered sharply from that direction, a mostly instrumental set of protest songs against racism. Last year's triple LP, Can I Take My Hounds to Heaven? (ND review), was a fascinating journey into the amorphous nature of a song, presenting eight tracks in three different formats.
His new album, the seven-track Rustin' in the Rain, is a far less challenging or vexing listen than his last two projects. In pre-release materials, he describes it as "a collection of songs I playfully pieced together as if I was pitching a group of songs to Elvis. Some covers, one co-write, and some I even wrote in my best (terrible) Elvis impersonation." It's kind of funny to think of Childers centering an album around Elvis cosplay, and while there are definitely moments that evoke Presley's earlier years at Sun Records, Rustin' in the Rain is a bit deeper than that.
Much has already been made of "In Your Love" and its music video exploring the lives of LGBTQ people in rural areas, and rightfully so. As a piece of art, it's a vital audiovisual presentation that pushes back against country music and artists that demean queer individuals, as well as combatting the notion that rural people are a simple, monolithic culture.
Childers also presents a pair of cover songs, Kris Kristofferson's "Help Me Make It Through the Night" and S.G. Goodman's "Space and Time." He plays it straight on both, delivering sturdy, literal interpretations. While neither of his renditions add anything new to the two tracks, they're noteworthy in that they both sonically fit on an album with each other and with Childers' own material. Just as Childers capably performs a Kristofferson track, one could easily picture Kristofferson singing the record's second track, the lovesick honky-tonk ballad "Phone Calls and Emails." For that matter, Goodman could probably also sing the hell out of "In Your Love" if she chose to perform it. By having these tracks appear alongside his own works, Childers lays out a sort of throughline in country music, a more inclusive one that spans generations and gender.
Looking past the deep thoughts, there is, in fact, a strain of Elvis on Rustin' in the Rain. It's most notable on the title track and "Percheron Mules." They're an amalgam of the King's classic 1950s style and his early '70s comeback material. "Percheron Mules" in particular weds the two approaches well with a backing vocal arrangement that's clearly indebted to the Jordanaires and a melody that's one-part "That's Alright, Mama" and one-part "Burning Love."
Clocking in at about 28 minutes, there's no fat to be found on Rustin' in the Rain. Childers gets in and out with another set of lean, well-structured, and well-performed material. Overall, it's another solid entry in his discography.
Tyler Childers' Rustin' in the Rain was released Sept. 8 on Hickman Holler Records/RCA Records.
---