ALBUM REVIEW: Tracy Nelson Doesn't Miss With First Record in Over a Decade
---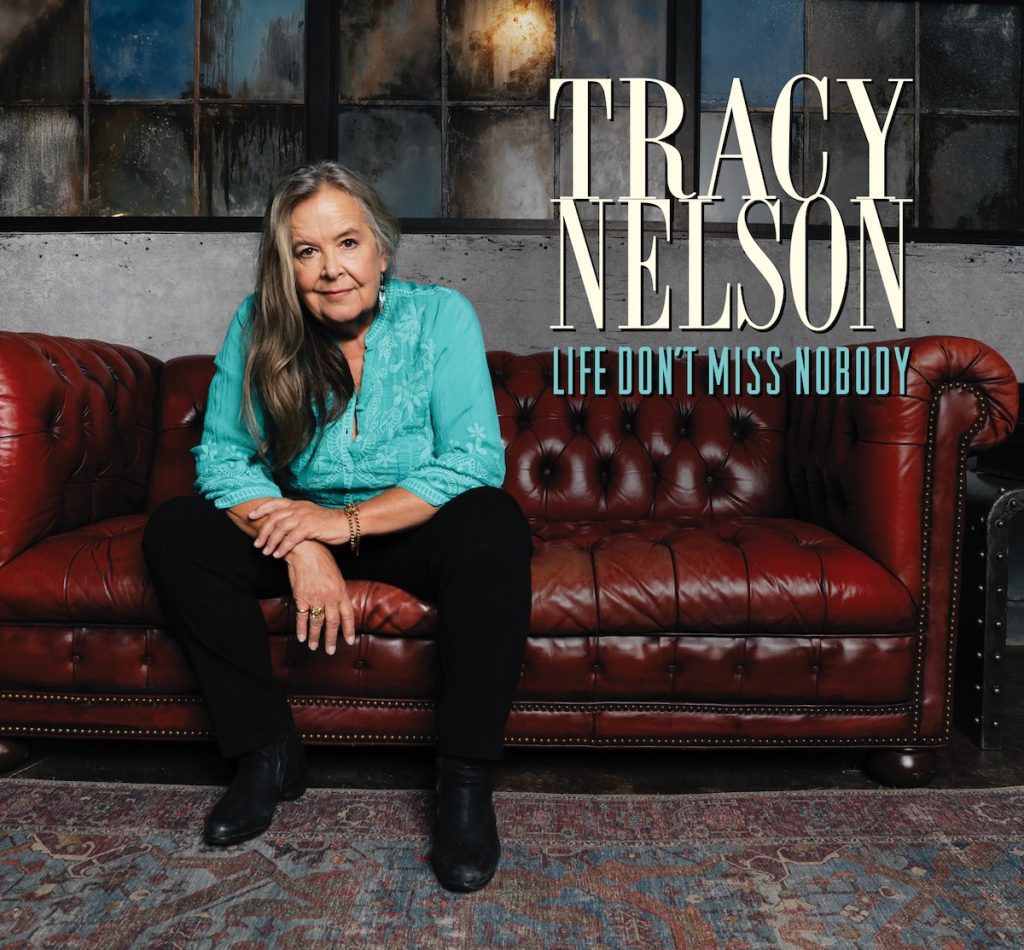 Listening to Tracy Nelson sing is like being inside a pipe organ. Her magnificent instrument makes your whole body vibrate. It's churchy as all get out, but there's plenty of sinner loose in there as well.
Whether looking out of smeared, fly-specked honky-tonk windows or through stained glass, her floor-rattling contralto always shakes up the joint something fierce.
Life Don't Miss Nobody is her first record in over a decade, but it's well worth the wait. An overflowing bucket of stuff on her list she finally got around to doing, the album wanders through a vast musical landscape scooping up gems from Hank Williams and Chuck Berry as well as Willie Dixon, Ma Rainey, Sonny Boy Williamson, Doc Pomus, and Naomi Neville. There's also a co-write with Marcia Ball, "Where Do You Go When You Can't Go Home."
Nelson has a gaggle of old friends and collaborators sitting in, including Willie Nelson and his longtime harpist Mickey Raphael, as well as Ball, Irma Thomas, and Charlie Musselwhite.
Willie and Mickey jump in on Hank Williams' "Honky-Tonkin'," with Tracy roiling the low-down parts while Willie soars effortlessly above in family-style harmony that sounds like their shared surname should have a sibling connection as well. It's their first time back together since their Grammy-nominated collaboration on 1974's "After the Fire Is Gone" (which featured Linda Ronstadt as well).
Nelson is fearless, taking on standards that have been done to perfection but finding room to make her own mark. Following stellar versions by B.B. King and Johnny Adams of "There Is Always One More Time," Nelson takes it to church, her pipe-organ tonsils bouncing the angels around with her heavenly bombast and Raphael doing his best to lead it harpily astray into Willie country. But Tracy prevails, doing stuff with her 78-year-old vocal cords that lesser and younger humans could only pray to pull off.
Les McCann and Eddie Harris' version of "Compared to What" at the 1969 Montreux Jazz Festival is considered the definitive version, but that opinion is going to have to be recalibrated after the performance Nelson turns in here. Written as a protest song by Gene McDaniels (best known for his 1962 hit "100 Pounds of Clay"), its lyrics are still relevant today. Nelson gives it an even-bigger whompin' stick with the ad-libbed addition of the line "Old white men done really run amok — I can't believe it!"
Nelson and company's reggae treatment of "Brown Eyed Handsome Man" reunites Nelson with pianist Ball and Soul Queen of New Orleans Irma Thomas, who both appeared with Nelson on 1998's Sing It. Merging these ladies' vastly divergent singing styles makes it a grand slam every time they come up to bat.
Old friend Musselwhite, who mentored Nelson in Chicago bluesology when she was just starting out, sits in for Willie Dixon's 1984 hit "It Don't Make Sense," another protest song that addresses a still unsolved problem: "You take one man's heart and make another man live / You even go to the moon and come back thrilled / You make a deaf man hear and a dumb man speak / So it don't make sense that you can't make peace."
Everywhere you point an ear on this outing turns up another gem. As long as there's still air in these pipes, prepare to be blown away.
Tracy Nelson's Life Don't Miss Nobody is out June 9 on BMG.
---