ALBUM REVIEW: The Vandoliers Rock the Intersection of Country and Punk
Posted On August 11, 2022
---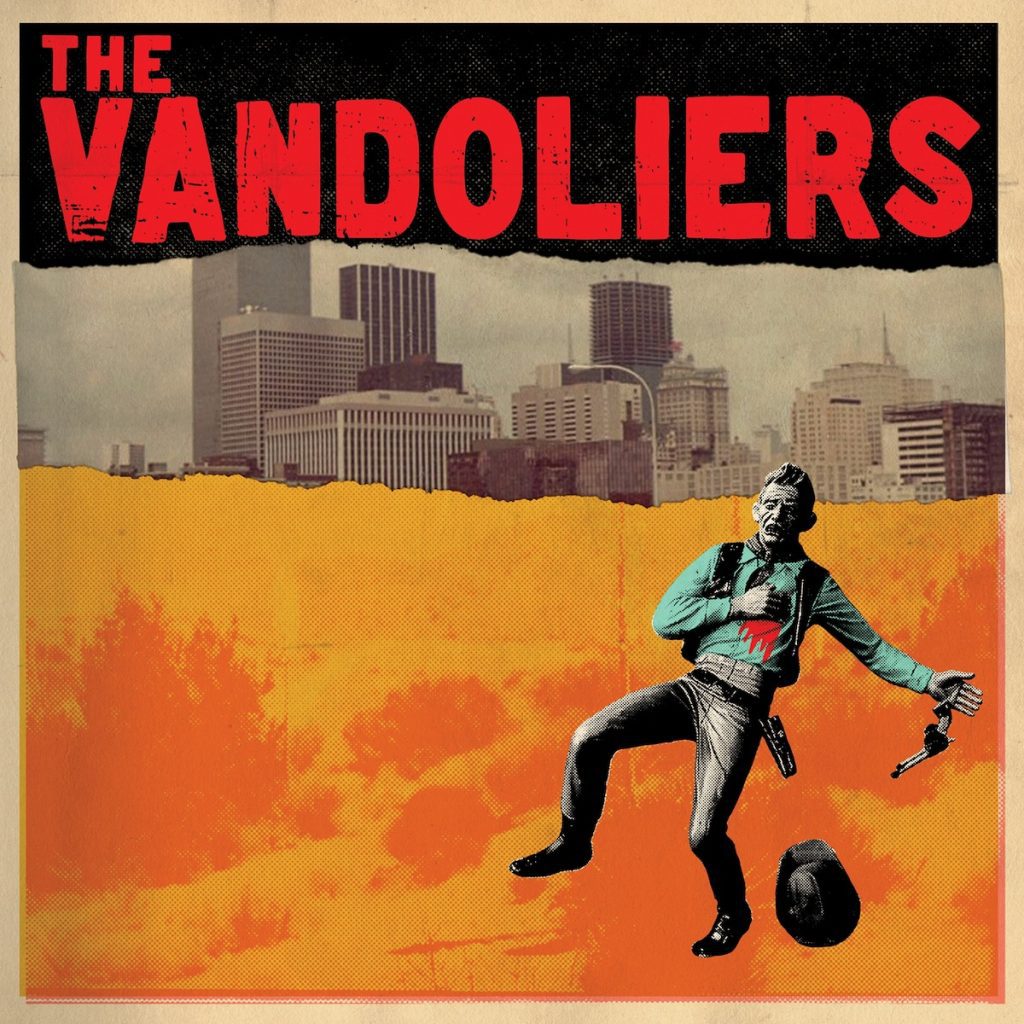 "Cowpunk" doesn't have the ring of a musical subgenre. It sounds like more like a mid-2o00s MTV show where pranks are either played on cows, or played by cows.  Of course, it is a musical subgenre, and Dallas, Texas' Vandoliers own a hefty share of the credit for bringing the niche back into vogue throughout the second half of the 2010s.
The Vandoliers strike a gutsy balance distinguishing the ways punk and country relate to each other as music for freewheelers, walking a line between ecstatic chaos and hip-swinging precision. Mashing one flavor of rebel music with another, granted, reads like a cheap and easy recipe for a sound too muddled to justify the exercise. But cowpunk done right is its own special thing, and on their new self-titled record, The Vandoliers give a lively, throat-scratched, whiskey-soaked workshop on the finer points of weaving Southern twangs with Gold Coast distortion. One minute they play in the key of The Strangers and Buck Owens; the next they switch over to Descendents and Dropkick Murphys.
They keep their genre mixture elastic, too. Certain tracks hew strongly toward one of the band's two faces, and others oscillate back and forth between their frosted side (punk) and their whole wheat side (country) within the same song. Consider The Vandoliers' opener, "The Lighthouse": Travis Curry's fiddle croons over Joshua Fleming's heart-squeezing lyrics, a prototypical folksy tune of yearning, burning love binding two lovers separated by distance. Now consider the follow-up track, "Every Saturday Night," where the band throws a shindig that gets crashed by inveterate wet blankets named Nostalgia and Regret. Nobody likes uninvited guests.
Somehow, The Vandoliers keep the party at full steam. Chunky alt-punk chord progressions help. The spirit, though, is the key, because there is absolutely nothing punk rock about letting buzzkills bring down the energy in the room. So the band bangs heads and thrashes through the bummer vibes in the ultimate expression of cowpunk's hybrid character. Other tracks hew more toward country ("I Hope Your Heartache's a Hit," "Steer Me Wrong," "Down and Out"), while others still lean into rock and roll ("Bless Your Drunken Heart," "Too Drunk to Drink"). All of them play well in sequence with each other. There's never a missed beat where we're given a reason to wonder how these rich musical aesthetics wound up paired together in the first place.
The Vandoliers' sheer variety comprises a pleasure unto itself.  You may at times feel like you nabbed two records for the price of one while listening to The Vandoliers. The best pleasure, though, is listening to these cowpunk mainstays make the compelling case that this category's strange bedfellows aren't that strange after all. Cowboys play by their own codes and mores, which punks happen to share. All that's really different is the dress code. Maybe you like ten-gallon hats and mid-calf boots. Maybe you like studded leather jackets and slicking your hair with göt2b. Either way, you'll like The Vandoliers.
The Vandoliers is out Aug. 12 on Soundly Music.
---