ALBUM REVIEW: The Panhandlers Weave a Texan Tapestry on 'Tough Country'
---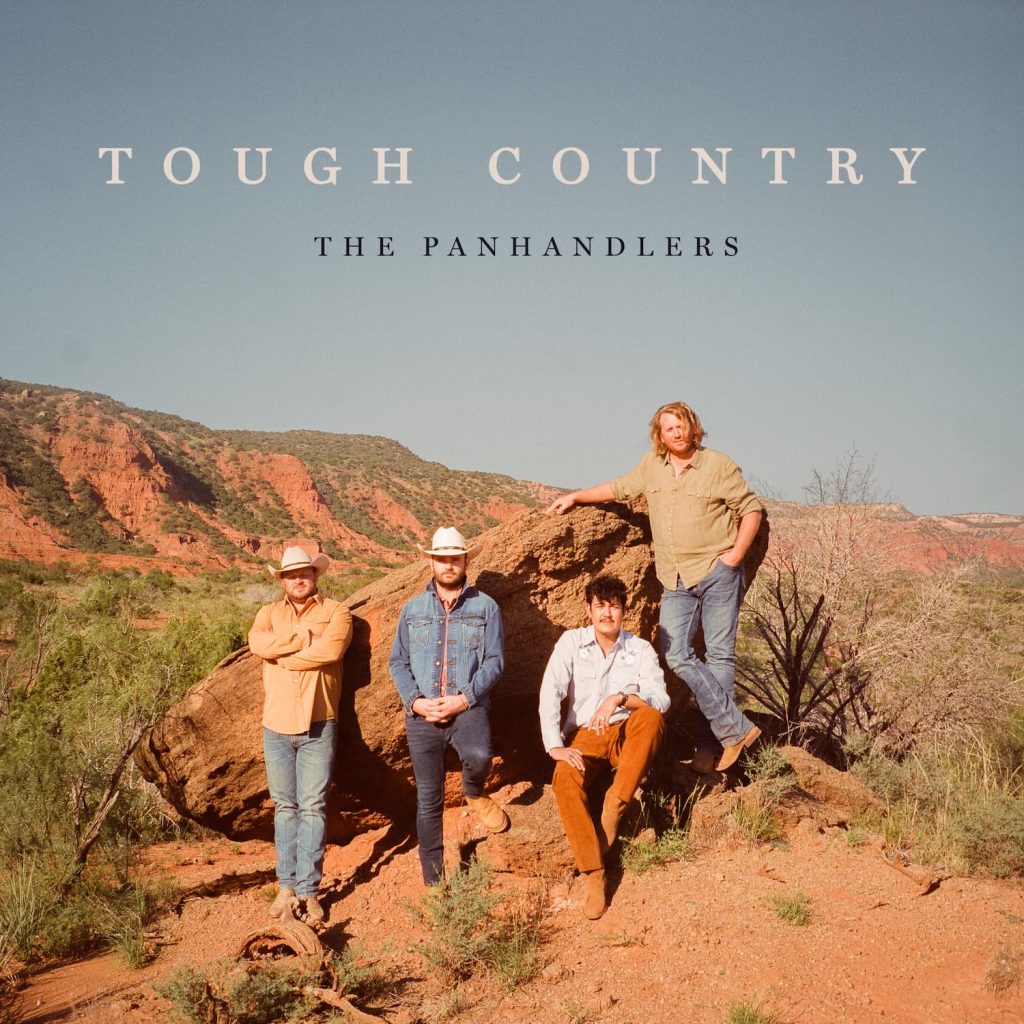 It's impossible to assess, let alone appreciate, the music made by The Panhandlers without first acknowledging the shoulders upon which they play.
The Panhandlers are a collective of successful solo artists and players — Texas-based singer-songwriters Josh Abbott, John Baumann, and William Clark Green along with frontman Cleto Cordero of Flatland Cavalry — whose bond is a common love for their own deep Texas roots and the musicians that have helped define and shape the region's musical heritage.
The quartet originally came together as a tribute project with a stated goal of offering up new covers to honor legendary Texas trio The Flatlanders. Comprised of Joe Ely, Jimmie Dale Gilmore, and Butch Hancock, The Flatlanders were originally a short-lived country trio from Lubbock in the early '70s, but after each member individually found fame and influence, they've gone on to make occasional records and appearances over the years.
As for The Panhandlers, their shared love of all things Lone Star led to more than inspired Flatlanders remakes. The creative chemistry spilled over into original songs of their own, including a 2020 self-titled album (ND story) filled with tunes that would make their idols proud — a compelling mix of West Texas country, swing, and rock and roll. The results were so pleasing that Abbott & Co. returned for more songwriting sessions and a sophomore release, Tough Country.
To the outsider, Tough Country is an interactive exhibit celebrating the sights and sounds of oft-ignored tributaries in the more mainstream rivers of these genres. To the insider, the 14-song set is a warm companion and welcome reminder of why the heart is so fond for "Where Cotton is King," as one song extols. There's a beauty from both vantage points, even if non-Texans feel a slight tinge of jealousy at the homecoming angle of it all.
"West Texas Is the Best Texas" is a clever regional send-up that politely dismisses everything but the titular region. "There's something in the dust out here, there's something in the wind," the Panhandlers sing, as they lament Californians transforming Austin, traffic clogging up Dallas, crowds ruining Houston, and even the "piney wood trees" that block sunrises in East Texas.
The tiny town of Valentine (187 residents, per the 2000 census) is the subject of one of Tough Country's finest numbers, "Valentine, for Valentines." Singer-songwriter Kaitlin Butts joins Cordero on vocals for a sweet and simple throwback. They sing, "We'll drive such a long way just for one sweet day / and we could not care any less / Starlight, star bright, drink wine through the midnight / I'll hold you so close to my chest."
The vulnerable pain of "Santa Fe," the generational testimonies of "Flat Land," the vivid imagery of "Tough Country," the hilarious revelry in "Lajitas" — it's all part of what it means to be a part of this Texan tapestry. On "Tough Country," there's a line that likely best captures the affection both The Flatlanders and The Panhandlers have for their native home: "A little slice of heaven holding up against hell … this land is what I am."
The Panhandlers' Tough Country was released March 3.
---