ALBUM REVIEW: Steve Poltz Explores Life's Moving Parts on 'Stardust and Satellites'
Posted On February 17, 2022
---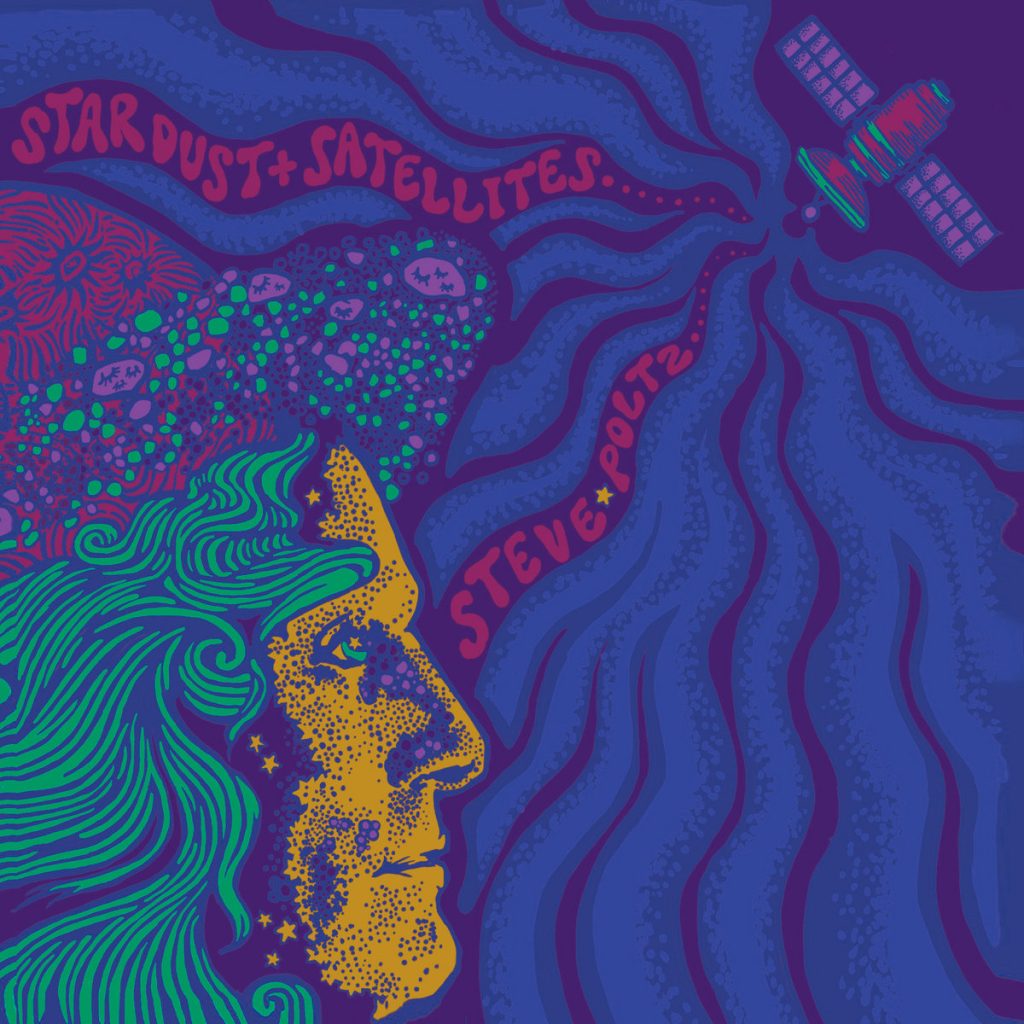 A master of full disclosure, Steve Poltz outs himself as an unrepentant entertainer on Stardust and Satellites, stuffing "Wrong Town," the peppy leadoff track, full of memorable one-liners. Cocky and self-deprecating at once, this witty folk vet with the engaging everyman voice declares himself "Americana if you wanna, I'm old-fashioned but I'm woke." He insists, "I'm everything to everyone, I'm Jesus and I'm Buddha, too," and proclaims, "Mostly I'm just here to sing for you." As if that wasn't endearing enough, he concedes, "For me it's therapeutic … I probably owe you money, 'cause you're my therapist." Thus does this charming man provoke chuckles while hinting at the darkness beyond the stage.
Such thoughtful candor is nothing new for Poltz. In the 2019 Wellness issue of No Depression's quarterly journal, he revealed, "Creating art in tiny ways every single day has helped me to work through my issues … I have always been quite a melancholy person." Happily, the quietly wonderful Stardust and Satellites, his 14th (!) solo album, finds him on solid ground, raking through the embers of the past and meeting the challenges of the present with a winning blend of wisecracks and touching insights.
The Nova Scotia-born, Nashville-based Poltz gets a valuable assist from Wood Brothers members Oliver Wood and Jano Rix, who produce and add subtle instrumental support, but his conversational singing and deft acoustic guitar are always the main attraction. Sublimely silly when the occasion permits, he lazily celebrates spring fever on "It's Baseball Season" and takes a breezy stroll down memory lane in the toe-tapping "Up With People," remembering those muddled high-school days of smoking dope and popping quaaludes, listening to Styx and Foreigner, and being "high on testosterone." Complemented by Wood's biting slide guitar, the exuberant "Can o' Pop" explores a more adult form of lust, involving motel shenanigans and an outraged parent.
Though Poltz never loses his sense of humor, the mood grows darker and tenderer when he ponders deeper relationships with lovers and parents. Highlighted by Lindsay Lou's yearning vocal harmonies, the mellow "Let's Stay Together" (not the Al Green song) says, "Try to be patient, try to be kind, it ain't that hard to be nice," emitting a whiff of desperation; on "Miles in My Heart" Poltz exclaims, "Forgive me for the words I've spoken out of haste, I wanna reconcile." More soothing than depressing, he gently considers mortality in "Conveyor Belt," sighing, "Don't let the time run out on me / My mom and dad have gone to sea."
Poltz closes with the haunting title track, asserting, "We're all made of moving parts and broken hearts," his restraint keeping easy sentimentality at bay. Poignant and ultimately uplifting, Stardust and Satellites will inspire a nod of recognition from anyone who's stared into the abyss, yet found the power to keep moving forward, one step at a time.
---