ALBUM REVIEW: Robert Earl Keen Follows a Laidback Trail on 'Western Chill'
---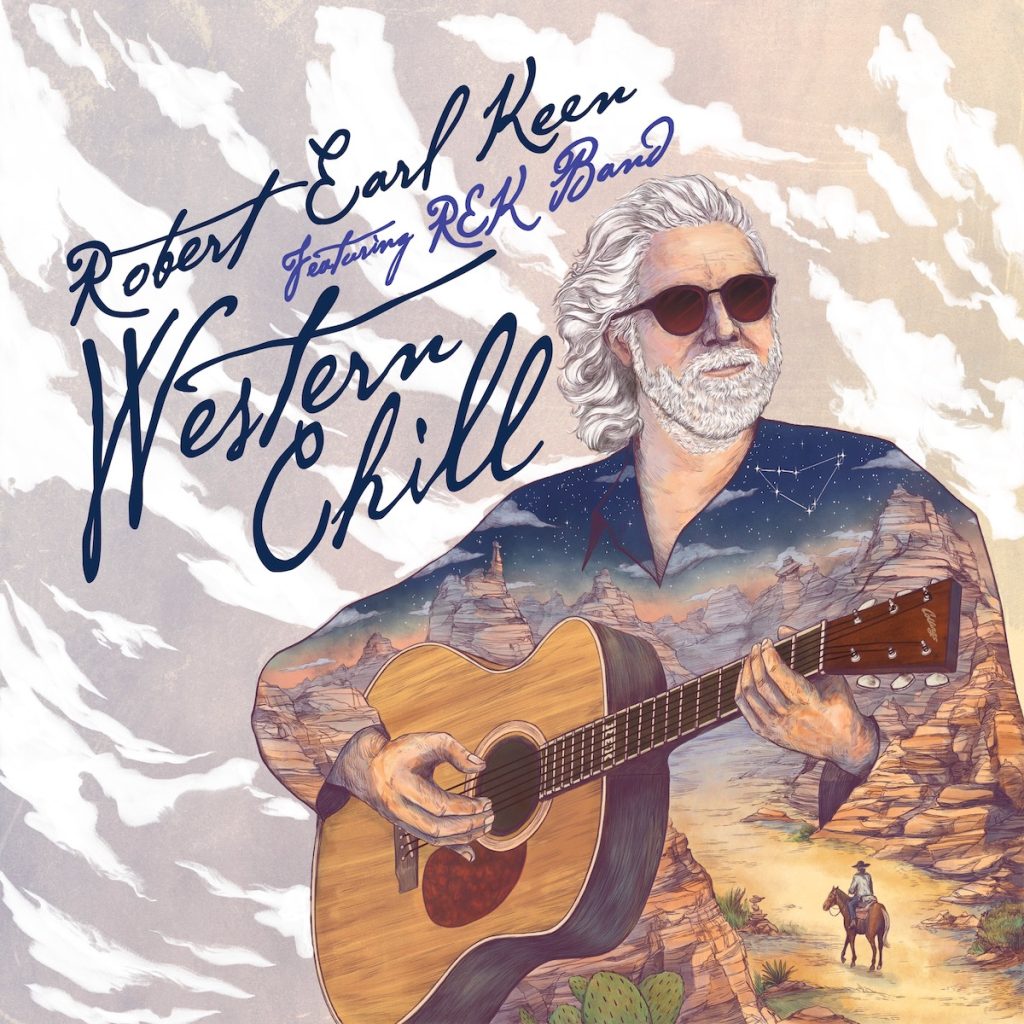 While Robert Earl Keen may be officially retired from touring, Western Chill makes it quite clear he's not retired from writing songs and making music.
Western Chill tracks the travels of a troubadour who's not heading off into the sunset but who's heading to the cool climes of laying back and enjoying the scenes of life as they unfold before him. These songs provide the soundtrack for chillin'. The Robert Keen Band — Bill Whitbeck on bass, Kym Warner on mandolin, and Brian Beken on fiddle — joins Keen on this excursion.
The title track opens the album, setting the tone for the entire journey. The track meanders lazily along with an airy jazz syncopation, blending early '60s pop with Western swing and slack-key Hawaiian rhythms. Every musician gets a chance to stretch out on the song's instrumental bridge.
Shimmering folk meets Tom Petty on "Waves," while Tejano stylings find a place in a Western waltz on "Balmorhea," a tribute to the vacation spot that Keen visited as a child and where he and his own family have spent many a relaxing day. On the lilting, Celtic-inflected reel "Hey Stranger," Warner's sparkling mandolin picking introduces the tune's musical theme, and Beken's spright fiddle bowings dance spryly under Warner's strumming and picking. It's a cool oasis along an already laid-back journey.
"Let's Valet It" vamps with a Django Reinhardt spirit, relaxing into the luxury of letting someone else do your work for you so you can focus on life's more precious moments. The softly swinging "Mr. Mockingbird," written and sung by Whitbeck, relives the pain and pleasure of a lost love, while a Fats Domino-like bassline meets up with Western swing on "Sweet Summer Rain," an ode to a refreshing summer storm that breaks the heat of a Texas summer day. The good timin' "Mr. Blues" two-steps across the floor of a Texas dance hall. The album closes with the soothing "Rippling Waters," with Warner's tinkling mandolin evoking cascading streams of water.
Eager to give his fans the experience of accompanying him, Keen offers a deluxe box set edition of Western Chill that includes a video of the making of the entire album, a songbook containing all the lyrics and music, and an 80-page graphic novel that follow the adventures of a Texas troubadour named Zane. The album itself, of course, is classic Keen, a songwriter and singer who never takes himself too seriously and whose zesty tales of love and woe provide a glimpse into the humor of human foibles.
Robert Earl Keen's Western Chill is out April 14 on Scriptorium Rex.
---