ALBUM REVIEW: Rob Ickes and Trey Hensley Pour High-Test Bluegrass Into 'Living in a Song'
Posted On February 8, 2023
---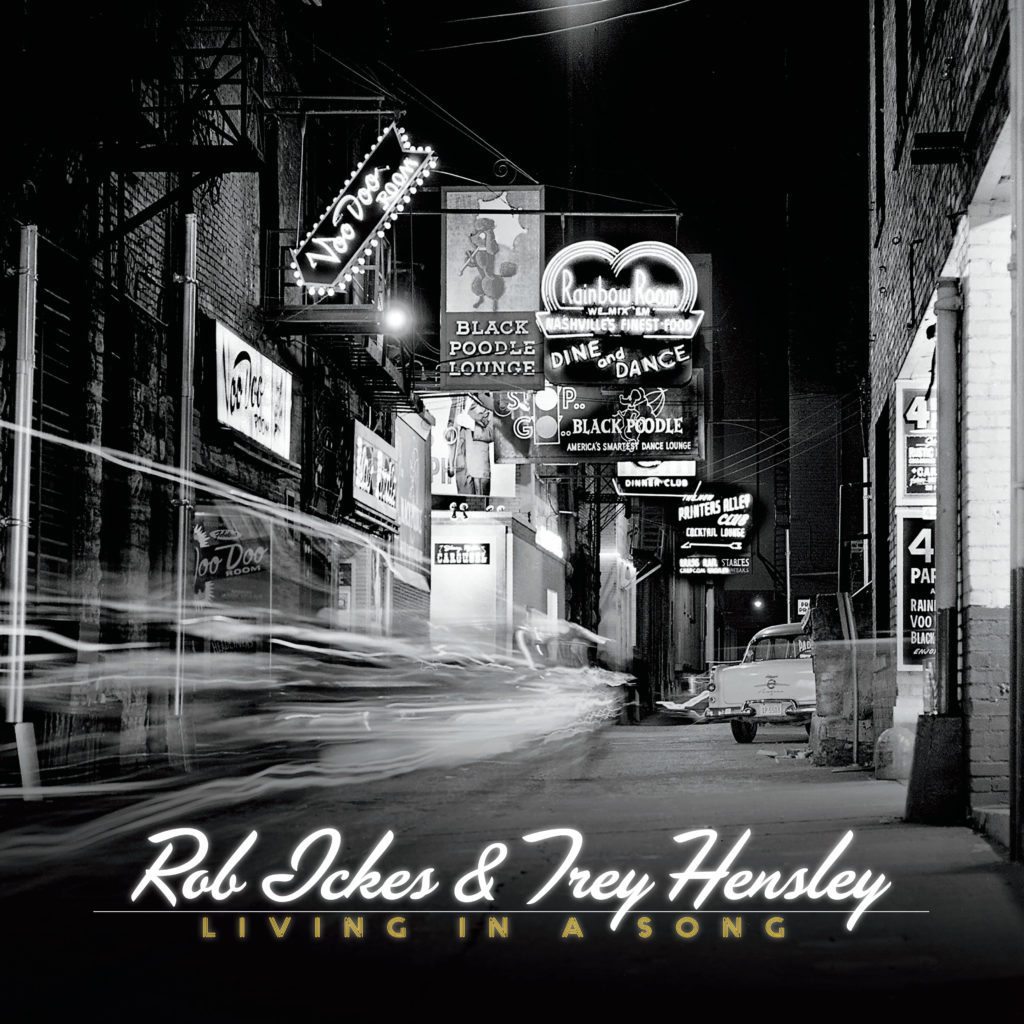 "Music City is a town that can knock you down and leave you in total despair," guitarist/vocalist Trey Hensley moans on his original "Backstreets Off Broadway," from his latest collaboration with dobroist Rob Ickes, Living in a Song. But due to their considerable vocal and instrumental skills, Hensley and Ickes don't have to live like the banished protagonist in the song when Nashville's Music Row tells him no: "He had nowhere to go / and now spends his time living out his dreams on nickels and dimes."
The duo has earned considerably more than nickels and dimes with their three previous collabs. After over two decades playing dobro with bluegrass stalwarts Blue Highway, Ickes left the band in 2015, teaming up with Hensley for 2015's Grammy-nominated Before the Sun Goes Down, which mixed old-school classic country from the '60s and '70s with bluegrass. On 2016's The Country Blues, the duo blended in Hank Williams, The Wood Brothers, Merle Haggard, and Sonny Boy Williamson, and 2019's World Full of Blues with Vince Gill and Taj Mahal brought in a horn section as well as a burbling B3.
Their latest offering, once again on Compass Records, is high-test bluegrass, with Hensley's lead vocals sounding like Lester Flatt as Ickes' dobro slithers around and behind him. "Moonshine Run" sounds like an updated take on Robert Mitchum's "Thunder Road," from the 1958 movie of the same name about a backwoods bootlegger with a lead foot and a trunkload of moonshine careening around mountain roads trying to elude the law: "Keep your foot down hard on the pedal and your hand close to the gun," Hensley cautions, as Ickes stays hot on his heels with his Scheerhorn resonator.
The sound is filled out with the help of acoustic bass from Mike Bub, Pete Wasner on piano and Hammond B3, John Alvey on drums, and fiddler Stuart Duncan. But its Ickes and Hensley's show, and they run away with it.
Even when the focus shifts a bit further south than high and lonesome territory on "Louisiana Woman," with Hensley vowing to fight gators, canebrake rattlers, and a big black bear with a Bowie knife to get the object of his desire to be his permanent squeeze, Ickes' dobro still keeps the roots grassy despite tugs from Duncan's Cajun-style fiddling.
All but two of the offerings here are originals. Doc Watson's "Way Downtown" gets run off the rails by Hensley's frenzied picking, and A.P. Carter's 1934 version of the gospel standard "Working on a Building" gets bounced around a bit, with a stiff chop from Hensley's guitar and slick, speedy runs by Ickes as Duncan sneaks in with mournful fiddle wails.
Everybody but Ickes and Hensley drops out for the acoustic finale, "Thanks," Hensley Flatt-vocalizing the mellow ode to everlasting love that shows off the power and skill that have placed this duo in the top tier of roots music purveyors. Living in a Song promises to keep them in that elevated slot.
Rob Ickes and Trey Hensley's Living in a Song is out Feb. 10 on Compass Records.
---