ALBUM REVIEW: Peter Mulvey and SistaStrings Find Heart on 'Love Is The Only Thing'
---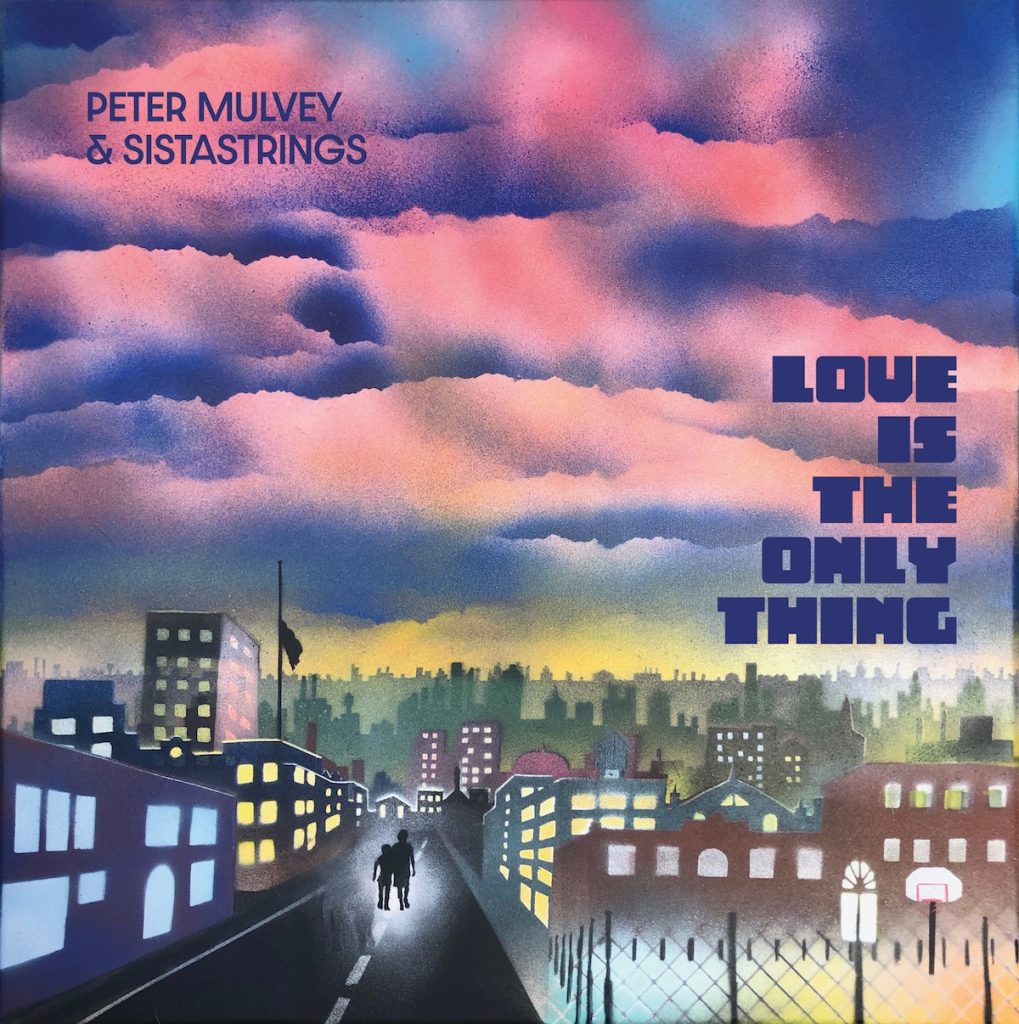 Prolific singer-songwriter Peter Mulvey and SistaStrings, the dynamic violin-and-cello duo of Chauntee and Monique Ross, make for a terrific tandem. Mulvey has long spun tales that explore our humanity, from the political to the personal. Since first uniting with SistaStrings a few years ago, he's found the ideal musical collaborators to heighten the stakes and raise the dramatic possibilities of his songs.
Mulvey and SistaStrings' creative chemistry coalesces on their new LP, Love Is The Only Thing. Over the course of a dozen tracks, the group looks to address the tumult of the current moment and delivers a sincere plea for a kinder, more just society.
Love Is The Only Thing is bookended by a pair of covers that serve to define that mission statement. Folk standard "Shenandoah" opens the album and the sturdy rendition, anchored by a gorgeous arrangement and Mulvey's warm vocals, is secondary to what the song choice represents. It's a song that's seemingly existed forever, serving as a communal outlet that brings people together to reinterpret and perform for generations.
The title track, a Chuck Prophet cover, closes the record and hammers home the overarching theme of the album. It's a call to come together, guided by an ebullient singalong of a chorus and joyful vocals from Mulvey that showcase that whoever and wherever you are, love is the tie that binds.
The effectiveness of "Love Is The Only Thing" is made possible by the songs that precede it. On "O My Dear (The Demagogue)," Mulvey sings of disenchantment with present-day America and how to best resolve it, while SistaStrings augments the narrative with an accompaniment that's alternately sorrowful and anxious. It's followed by "Old Men Drinking Seagrams," a brutal snapshot of a prejudiced small town.
"You and (Everybody Else)" is a stomping folk-rocker that reminds the listener that the search for meaning in life and feelings of loneliness and existential despair are universal. "Early Summer of '21" captures a moment of joy, written and conceived at the moment the COVID vaccine became widely accessible, and expresses hope that folks could come back together and appreciate each other a little more.
The penultimate song on Love Is The Only Thing is "Song for Michael Brown." Mulvey doesn't wax political on Brown's death at the hands of former police officer Darren Wilson in Ferguson, Missouri. Instead, he pleads for compassion and a sympathy for humanity that's long felt missing.
The characters and narratives displayed across the album present a life and nation that's messy, full of extreme highs and lows. Through their collaboration, Mulvey and SistaStrings explore the idea that love and compassion are at the root of all these situations, and their solutions. In their expression of that, they've created a heartfelt, moving listening experience.
Love Is The Only Thing by Peter Mulvey and SistaStrings is out Aug. 12 on Righteous Babe Records.
---