ALBUM REVIEW: Nick Shoulders Calls For a Country Conversation on 'All Bad'
Posted On September 5, 2023
---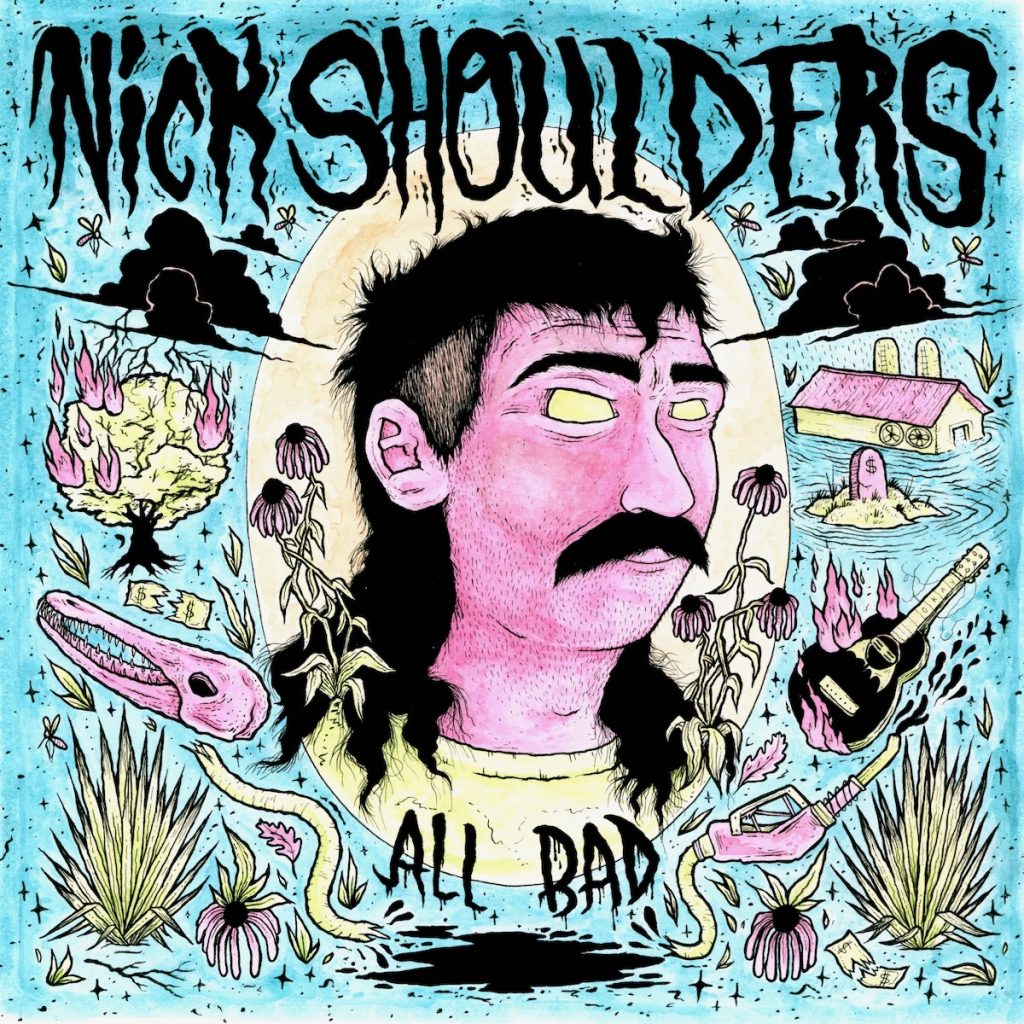 From the first second of All Bad, Nick Shoulders wants you to know this isn't your grandpa's country music. The album's instrumental overture, "Hoarse Whisperer," begins with a phaser blast and a sample of a menacing deep voice declaring "So if this is truly a conversation, then I say, let the conversation begin!" Shoulders and his longtime collaborators, bassist/harmony singer Grant D'Aubin, lead guitarist Jack Studer, and drummer Cheech Moosekian, then launch into an instrumental waltz and three-part-harmony crooning.
As All Bad unspools, Shoulders' "conversation" with country music sharpens into focus: Shoulders dares to speak the quiet part aloud, eloquently illustrating how the country music most people think of — Nashville's primary export — is white supremacist propaganda. Yet the part that people connect with, the storytelling, the sounds of resistance, intergenerational bonds — these are the parts of country music that are actually worth saving. The rest is just cosplay.
But this is a slow build: Shoulders slowly tweaks our noses by overlaying traditional country sounds with sly parodies. On "Hook Line and Sinker," Shoulders declares himself to be a "large-mouth bass…tard." He pokes at revered country songs with titles like "Mama Tired" (about the ills of doom-scrolling) and "Won't Fence Us In." But Shoulders never even approaches parody or camp on All Bad: His own reverence for classic country sounds is as deadly earnest as his lyrics.
"Won't Fence Us In" and "Appreciate'cha" are the most outspoken here, though Shoulders' confession in the title track that he "learned to wince at the church bell's toll / Preferred katydids and thunder's roll" is as radical as his fondness for prison abolitionists and his call to turn golf courses into a "WMA" — wildlife management area.
In a year that has seen just about every facet of the "culture war" flame its way across the commercial country music world while industry insiders drop their jaws in dismay, All Bad transforms those questions into conversation.
In short, this shit needs to burn down.
Shoulders takes on the same grievances as a certain viral singer, but adds actual substance and context. Country music is a part of many people's culture and exemplifies many people's pride in their roots. Country music can be a tool of outspoken resistance against the powerful. Country music is powerful to bring people together. Country music needs to have substance and offend the mighty — not the downtrodden — to do just that.
Nick Shoulders' All Bad is out Sept. 8 on Gar Hole Records.
---