ALBUM REVIEW: John Németh's Voice and Harmonica Set to Full Blast on 'May Be the Last Time'
Posted On November 29, 2022
---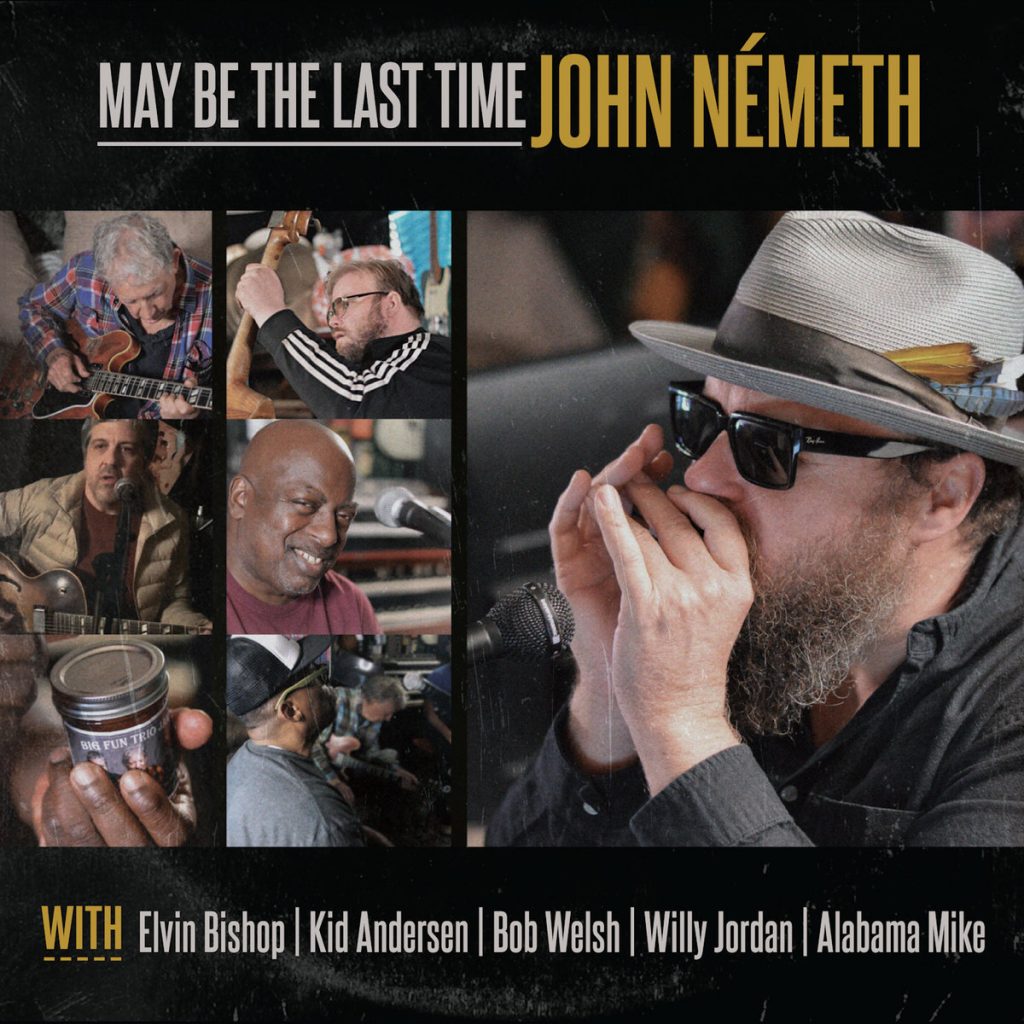 EDITOR'S NOTE: As the year nears its close, we like to take a look back at albums we weren't able to review earlier in the year. May Be the Last Time was released in September via Nola Blue Records.
When James Brown and The Rolling Stones talked about the last time, they were concerned with affairs of the heart. Brown didn't want to be alone, but had a heart of stone causing him problems in his 1964 "Maybe The Last Time" plea. Mick and the boys were a bit more dismissive in their 1965 "The Last Time," saying goodbye to a lover who didn't try very hard to please. But when Idaho harmonica player and vocalist John Németh addresses that concept, he's got a lot more at stake.
Faced with jaw amputation surgery to remove an ameloblastoma from his lower jaw, the 2022 Blues Music Award winner for Best Instrumentalist-Vocals wasn't sure whether he'd ever be able to play or sing again. So he decided to give himself a big sendoff for what he feared might be his last time, taking a gaggle of old friends into Kid Andersen's Greaseland Studio to knock out the performance of his life on May Be the Last Time.
Németh is one of the best soul singers in the business, with a floor-to-ceiling range that raises goosebumps on anyone within earshot. He puts that to good use here with some bone-chilling runs worthy of soul godfathers like Wilson Pickett, Otis Redding, and Solomon Burke.
Taking his cue from the Staple Singers' 1954 take, Németh loads up his version of "The Last Time" with gospel soul, like the Dixie Hummingbirds with Pickett out front screaming like a panther, cutting loose in some backwater juke-joint, talking about getting high and goin' fishing.
Németh tackles Pickett head-on with "I Found a Love," the aisle-jumper that took Pickett out of the church and onto the Chitlin' Circuit. Németh's performance here is incendiary, scraping the paint off the ceiling with his falsetto, bucketfuls of soul juice dripping down the walls and puddling on the floor. Willie Jordan, Elvin Bishop's drummer in his Big Fun Trio, helps out with Pickett's grittier range as well.
Bishop is a big presence here, playing guitar on every cut as well as revising his 1973 hit "Stealing Watermelons." This take is a bit snakier, more funky, Bishop's twangy string-pulling punctuated with Németh blasting away on harp like an impatient big city cabbie.
Hank Ballard's 1954 "Sexy Ways" gets a funk injection and a blues transfusion courtesy of Németh's harp. Slim Harpo's "Shake Your Hips" gets a vocal soul makeover but retains its blues cred with Németh"s relentless harp attack. Junior Wells' "Come On in This House" gets some added grit from Németh's' lower vocal register and some dangerous back-alley Chicago blues jabs from Bishop's guitar.
Németh had the surgery in May and is said to be recovering nicely, with plans for a tour in 2023. Hopefully this won't be the last time, but rather simply a celebration of the best Németh has to offer and a promise of even better things to come.
---