ALBUM REVIEW: Half Gringa Seeks Her Full Self on 'Ancestral Home' EP
Posted On January 25, 2023
---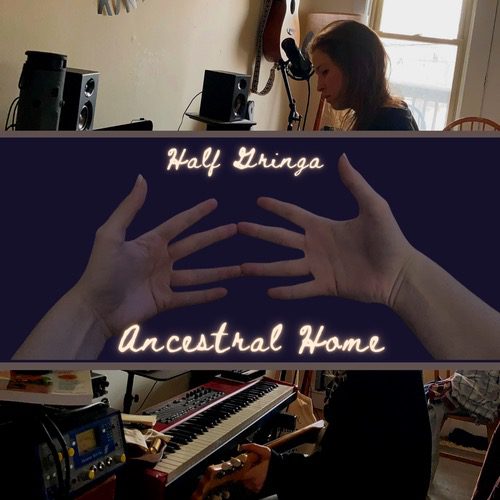 "It's who you become in the end," Isabel Olive sings on "Miranda," from Ancestral Home, her latest collection of songs under the moniker Half Gringa. Across five tracks, Olive is a seeker of selfhood, carving identity from passed-down stories, truths and lore from the past, and, of course, ancestors. A continuation of the lo-fi indie rock she explored on the 2020 breakout Force to Reckon, the Ancestral Home EP packs a lot of punch into its less-than-20-minute run time.
Created remotely without her usual band members, and instead in collaboration with co-producer Nicholas Papaleo and drummer Abby Black, Olive manages to make a lot out of this minimal arrangement. Ancestral Home is dreamy and dark, still full of sound thanks to Olive's layered vocal harmonies, guitar, and keys. Each song continues to slowly build on itself, usually reaching a dramatic peak, somehow achieving something simultaneously quiet and somber and anthemic and big. Even on the seemingly stripped-down closer, "No Kind of Fire," Olive gradually adds and takes away dimensions as it goes, switching between just her voice with keys or guitar and a driving percussion-assisted harmony.
Olive's exploration of her Venezuelan-American roots in the songs on this EP yields haunting imagery. "There's a woman inside and she dies protecting me every night," she sings on the brooding opener "Some Curse," a meditation on the many selves contained within any one person, whether of unknown origin or of their own making. "Sevenwater," enriched with soft horns in the background, finds Olive trying to make sense of interconnected dream-like scenes that play like a fantastical apocalyptic journey. And on "Miranda," Olive looks at the insidious ways inherited trauma creeps into the present, but then teaches you how to be better. "I am revising the prayer," she sings, "Look to the past and it's there."
Half Gringa's Ancestral Home EP is out Jan. 27.
---