ALBUM REVIEW: Family Takes Front Seat on Billy Strings' 'Me and Dad'
Posted On November 16, 2022
---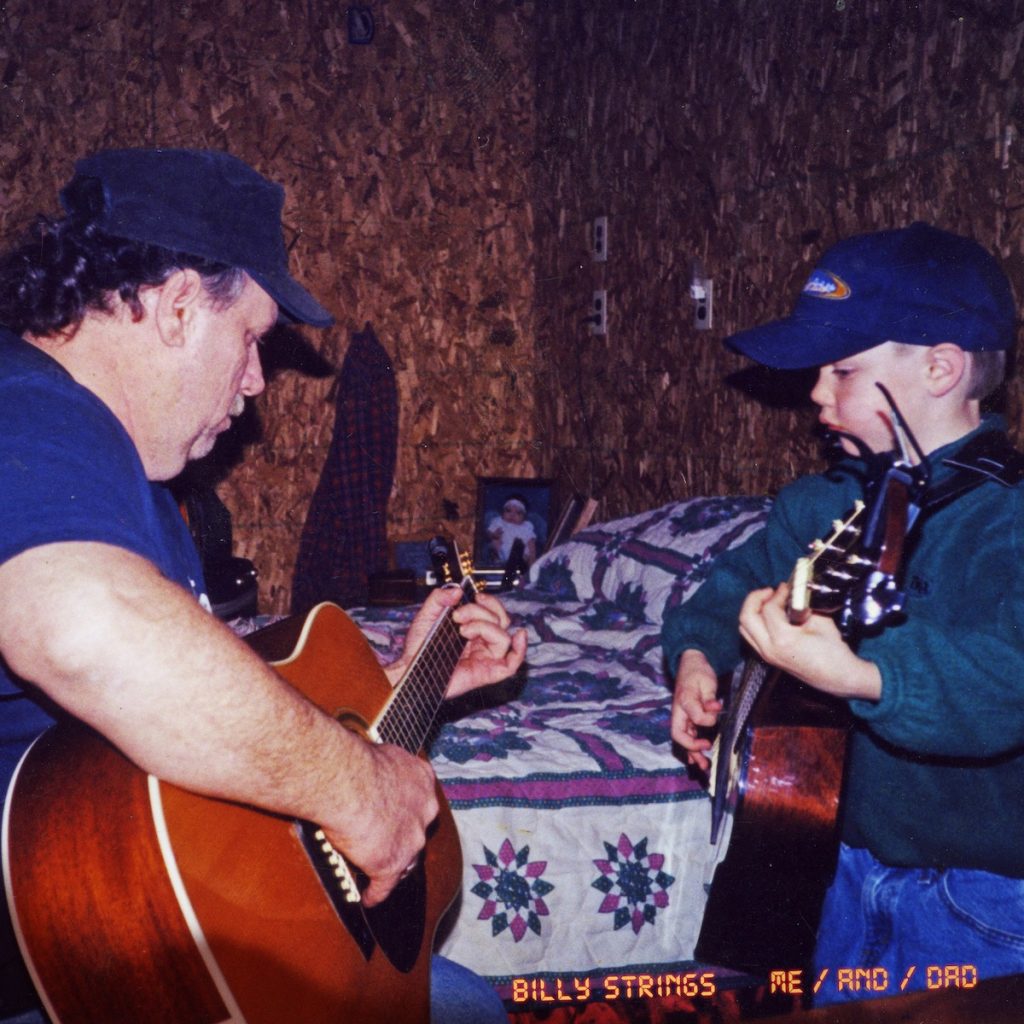 Plays well with others. If Billy Strings still got a report card, that box would not only be checked but starred, bolded, underlined, and crammed with exclamation marks.
The youthful stringpuller, who just turned 30 last month, has already racked up an eclectic resume packed with collaborations with artists as diverse as Primus, The String Cheese Incident, and Post Malone. Strings, born William Lee Apostol, got his nickname from his aunt when he was 6 and already playing like a pro in bluegrass gatherings around his Michigan hometown.
Bluegrass has always been his home base, though Strings credits his time in a metal band for honing his performance skills. In his hands, bluegrass gets bent in a way that would have the original high and lonesome pioneers scratching their heads. Strings doesn't tamper with the essence of the genre, but his presentations, enhanced with effects pedals, distortion, and hard rock/metal stamping about in the melodies shade the music in a way not seen since newgrass pioneers Sam Bush and Béla Fleck turned bluegrass around in the 1970s with their rocky, percussive infusions.
For his latest project, Me and Dad, Strings returns to his roots, teaming up with stepdad Terry Barber for an acoustic collection of grassy standards bolstered by some big-time pickers, including strong representation from the McCoury organizations with Ronnie McCoury on mandolin, Rob McCoury on banjo, Jason Carter on fiddle, and former Del McCoury Band bassist Mike Bub. Jerry Douglas guests on dobro, Michael Cleveland contributes additional fiddle, and Strings' mother, Debra Apostol, makes a vocal appearance on the final cut.
Dad takes the lead vocal on "Little White Church," sounding like a rougher version of Doc Watson if Doc had been gargling with moonshine before each take. Previously covered by stalwarts including Mac Wiseman, The Osborne Brothers, Jim & Jesse, and Jimmy Martin, the Strings version is a rambunctious good-time rattle propelled by the McCourys' banjo and mandolin tickling. The Strings family's lightning fast guitar runs mesh so seamlessly its hard tell if its Dad or Billy's fingers on display at any given moment.
Barber leads vocally once again on George Jones' "Life to Go," doing an impressive Possum imitation on the jailhouse murder ballad as Douglas' dobro weeps copiously behind him.
Strings takes the lead vocal on Bill Monroe's "I Haven't Seen Mary in Years," Ronnie McCoury's mandolin weepin' and cluckin' like a henhouse after a fox raid. He stretches out his tonsils once again, sounding like Monroe himself, on the grassy chestnut "Long Journey Home," a showcase for Strings' fleet fingers as the tune gallops. The McCourys chase father and son Strings around the studio, hurling instrumental jabs at one another, bobbing and weaving in perfect rhythm.
The project closes out with a family reunion, Strings' mother taking the lead vocal on "I Heard My Mother Weeping," backed only by her son and husband on vintage Martin guitars, replicating the close-to-the-bone family harmony of Doc Watson's 1964 version with his wife, Rosa Lee Watson.
No matter your musical affiliation, this one will draw you in. It's a cross-generational celebration paying tribute to Strings' musical roots, welcoming both strangers and old friends to gather 'round.
Billy Strings' Me and Dad is out Nov. 18 on Rounder Records.
---