ALBUM REVIEW: Enthusiasm and Creativity Make Leonard Cohen Tribute a Triumph
Posted On October 13, 2022
---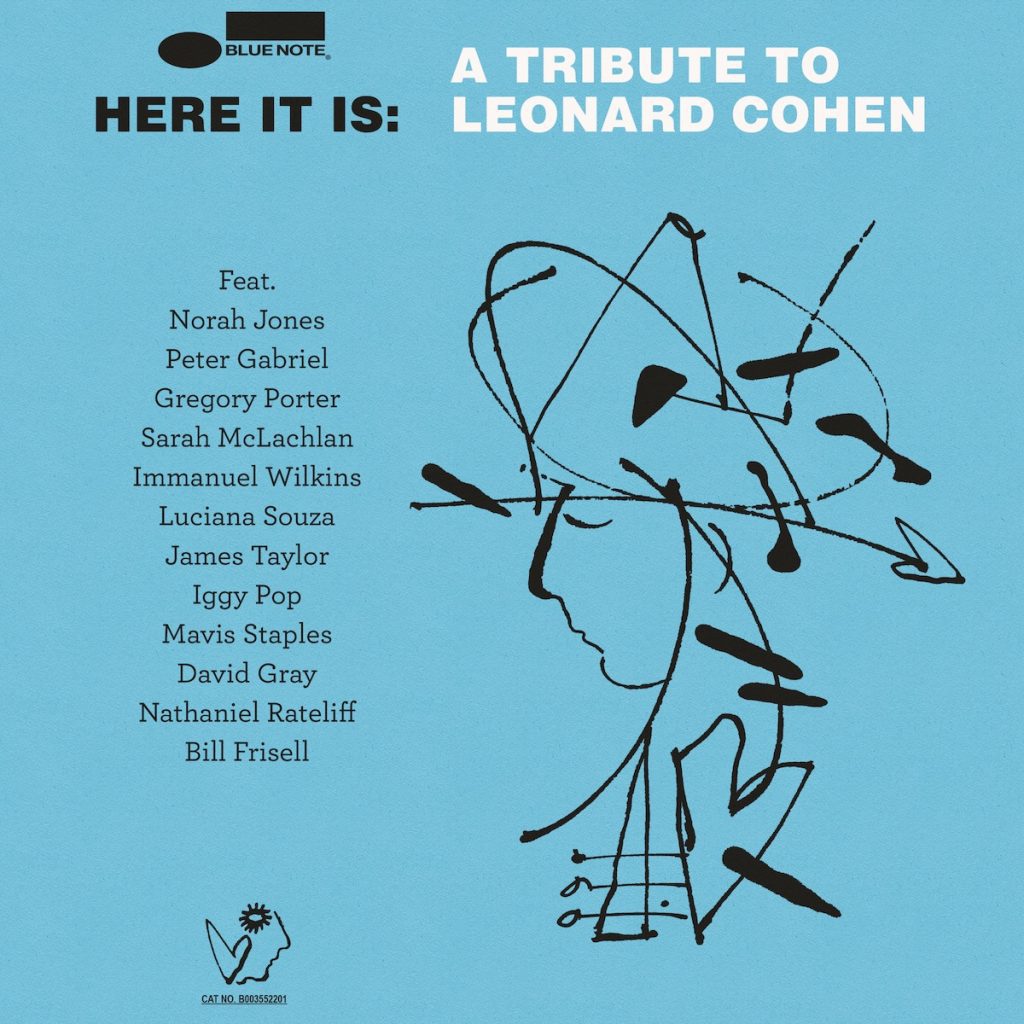 Here It Is: A Tribute to Leonard Cohen, produced by Cohen's longtime friend Larry Klein, features a who's who of popular music paying homage to the Hall-of-Fame-inducted and baritone-voiced troubadour. Ten distinct singers are joined by a stellar group of jazz-minded musicians who provide accompaniment on each track: guitarist Bill Frisell, saxophonist Immanuel Wilkins, pianist Kevin Hays, bassist Scott Colley, and drummer Nate Smith. Additional contributors include Greg Leisz on pedal steel guitar and Larry Goldings on organ.
On the classic "Hallelujah," Sarah McLachlan reiterates the original's juxtaposition of despondency and resilience — with, however, a breathy and lighter cadence. Mavis Staples' version of "If It Be Your Will" transforms Cohen's introspective plea to an abstract God or Cosmic Order into what sounds more like a heartfelt prayer offered to an accessible Higher Power. Wilkins' sax part is particularly compelling.
Iggy Pop offers a spoken-word-ish and slightly punk-inflected iteration of the title song from Cohen's penultimate album, You Want It Darker. Iggy doesn't emanate the same urgency or gravitas as Cohen, who is essentially delivering a memento mori, though his rendition illustrates the versatility of the piece and his own interpretive originality. Norah Jones places "Steer Your Way," also from You Want It Darker, in a pop/dreampop context. Jangly guitar, tinkly piano, and mournful sax parts facilitate a hazy and otherworldly atmosphere.
On "Here It Is," interwoven percussion and horn parts evoke a sense of time's relentless passing, Peter Gabriel successfully emulating Cohen's resonant timbre. On "Famous Blue Raincoat," Nathaniel Rateliff brings to life what may be some of Cohen's most precise lyricism, impressively exercising a mercurial restraint. James Taylor's phrasing on "Coming Back to You" is occasionally forced, though his delivery is intriguingly ethereal in comparison to Cohen's more solemn performance. Frisell's suave guitar solo is memorable.
With the exception of tracks from You Want It Darker and 10 New Songs, the album focuses on the generally more popular first half of Cohen's oeuvre. It would have been satisfying, perhaps, to have heard a take from the pivotal I'm Your Man (I'm imagining Conor Oberst doing the title number), the gritty The Future (Drive-by Truckers could have been enrolled?), or even the cerebral Dear Heather (with Laurie Anderson taking a stab at the title cut!). That said, Here It Is: A Tribute to Leonard Cohen is an organizational and aesthetic triumph. The project brims with enthusiasm, talent, and a sense of deep respect for one of the iconic voices of our times.
Here It Is: A Tribute to Leonard Cohen is out Oct. 14 on Blue Note Records.
---